About Sir Sam's Ski & BikeContact Sir Sam's Ski & BikeLocation Map
Did you know that some of the region's best downhill skiing — boasting abundant natural snow and a comfortable family-friendly atmosphere — is just a short drive north of Peterborough in the Haliburton Highlands?
Perched on top of one of Haliburton's most scenic peaks with views of Eagle and Moose Lakes, Sir Sam's Ski & Bike is considered by cottagers and locals to be one of the Kawarthas' hidden gems. Open to the public, the family-owned ski resort offers downhill skiing, snowboarding, and snowshoeing amenities rivalling other area ski hills.
"Guests say Sir Sam's reminds them of Tremblant in days gone by," says Chris Bishop, Sir Sam's Marketing Manager. "It's not your typical ski chalet."
A step inside the chalet proves this. Soaring ceilings with wide rustic wood beams, carpeting, chairs with leather seating, and five roaring stone fireplaces greet skiers when they enter the chalet. Sir Sam's also has the largest sundeck in the province, offering skiers another spacious area to relax between runs.
"Sir Sam's was built by my parents to be a comfortable destination resort," Chris explains. "At other resorts you might have 200 people in a room, but Sir Sam's only allows for 100 people in a room. We are much more spacious — you won't be bumping into people here."
History on the hill
Sir Sam's will celebrate its 48th anniversary this year. "We are the second oldest family-owned ski hill in Ontario and all five generations of Bishops have skied here," Chris shares.
That in itself is amazing, since Sir Sam's founder and Chris' father, RJ (Bob) Bishop Jr., had never even seen a tow rope when the Ministry of Tourism raised the idea in the 1940s of launching a ski resort in southern Ontario.
Canadian skier Clint Melville was tasked with finding suitable locations and named the current Sir Sam's site among his picks. Unfortunately, the landowner at the time wasn't interested in letting the site be used as a ski area. An alternate ski area floundered for several years (due to a southern exposure and lack of space), and was ultimately abandoned in 1951.
Still, Bob persevered, determined to turn his vision of a Haliburton ski resort into a reality. In 1965, the Bishop family purchased 1,800 acres of land that had once been owned by Sir Sam Hughes, Canada's Minister of Militia and Defense during World War I. Naming the resort after its famous owner, Bob immediately started construction of the building, trails and lifts. His passion inspired his children to continue in his footsteps, with each of the five Bishop children currently involved in the day-to-day operations on the hill.
"As a local and family-run business, we try harder to make things great here at Sir Sam's," Chris says. "Because we're the frontline people here on the hill, skiers see us and know that we'll solve any issues that come up."
Snowy fun for everyone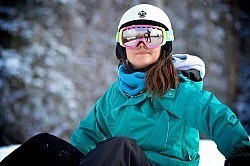 Sir Sam's has skiing and snowboarding options for everyone in the family — from beginner to expert.
If you're nervous about strapping yourself to skis or snowboards, there's always the picturesque snowshoe trail.
Investing in the resort to bring the best experience to guests is very important to Sir Sam's, with more than $5.5 million in improvements made over the years. The resort offers two quad chair lifts, two double chair lifts, one covered surface lift, 14 groomed runs with a variety of levels of ability, modern high-capacity snowmaking equipment and, most recently, a revamped terrain park.
"We have more variety in our terrain than our competition, there's no doubt about that," says Chris of the resort's improved terrain park. "It's truly first class."
In early January, Sir Sam's added new rails and boxes, a big air jump, grooming equipment, and jumps. There is also now a permanent boardercross course, plus thrilling snowboard races during the season.

"We also have great uphill capacity, with lift line waits shorter than anywhere else," Chris says. "The longest we've timed any line is seven minutes, and that was the longest line on our busiest day of the year."
"At Sir Sam's, you get to spend more time skiing," he adds. "There's more value for your dollar here."
Affordable amenities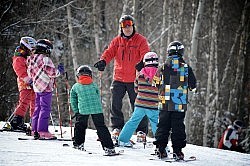 Sir Sam's recognizes family fun can be expensive. For the 2013 season, the resort made its lift tickets, rental packages and dining more affordable — even offering free skiing to children under age six when accompanied by a paying adult.
Their Sunday Special offers three hours (1:30 – 4:30 p.m.) of skiing and equipment rentals for $45 — reduced to $25 for just the lift ticket if you bring your own gear. Note that, on the Family Day weekend (February 15 – 17, 2014), the Sunday Special will be offered on Family Day Monday instead of Sunday.
Food and beverages are also competitively priced as Sir Sam's, often less expensive than at other resorts.
While some skiers may only want to head to Sir Sam's for the day, others may want to make a weekend of it. This year, Sir Sam's introduced a two-day weekend special as well as a cap on the fees for families.
Sir Sam's has also partnered with hotels throughout Haliburton to offer guests value-added packages or discounts on accommodations.
Family friendly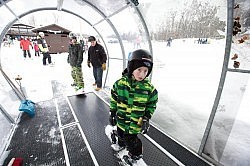 "Sir Sam's has a great family-friendly atmosphere," says Chris.
Throughout the winter ski season, weekly ski challenges, deck barbeques and live entertainment round out the fun-focused atmosphere on the hill.
Held every Sunday, the Sir Sam's Ski Challenge is an easy-style race for skiers of all ages, with racers from six to 76 vying for cash and prizes.
What is unique about the Sir Sam's Ski Challenge is that the fastest skier may not win the top cash prize: it's based on participation and a random draw, so the more you race, the greater your chance of winning.
Safety is also very important to Sir Sam's and their covered ski lift — the first of its kind in Canada — proves their commitment to keeping skiers safe. Dubbed the "Time Tunnel", the climate-controlled and totally enclosed lift provides peace of mind for newbies and parents of young skiers.
"There's a bit of a learning curve when using a chair lift, but with the covered lift, skiers simply step on to the moving belt to be taken to the top of the hill," Chris explains. The ride to the top of the hill is made even more fun with music piped in for skier to enjoy.
Ideal day trip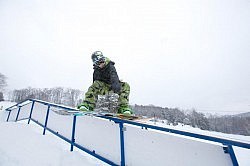 "When people come here for the first time, they always ask 'Why didn't we come here sooner?'," Chris says.
"They can't get over how great the snow is and how friendly the staff and other skiers are."
Cottagers have made it a tradition to head to the hill for an afternoon of skiing, but Sir Sam's proximity to Peterborough also make it an ideal day trip.
The Bishop family frequently meets new skiers and boarders on the hill.
With Family Day only a few weeks away, now is the time to start planning your outdoor winter adventure.
Sir Sam's affordable ski packages, cozy atmosphere, and helpful staff will inspire you to make a trip to Haliburton one of your new traditions.
Sir Sam's Ski & Bike
1054 Liswood Lane
Haliburton, Ontario
K0M 1S0
Phone: 705-754-2298
Web: www.sirsams.com
Email: info@sirsams.com
Open five days a week (Wednesday to Sunday).
Wednesday to Friday: 9:30 a.m. – 4:00 p.m.
Weekends and Holidays: 9:30 a.m. – 4:30 p.m.
Open Family Day Monday, every day of March Break, and Easter Weekend (weather permitting)
All photos by Michael Hurcomb.