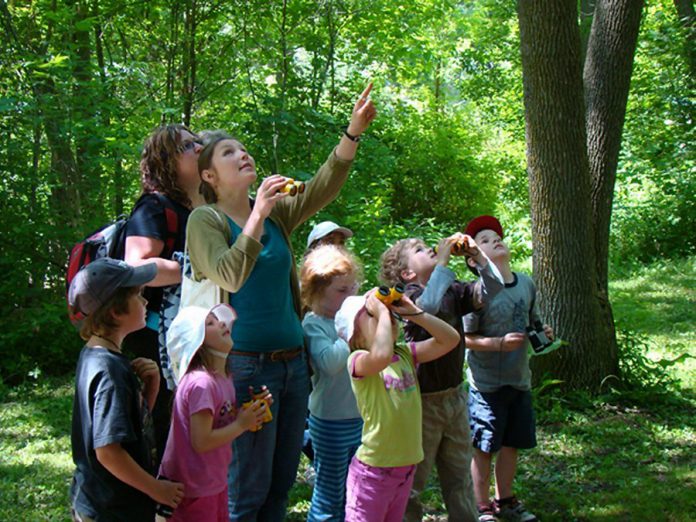 I was at the Cobourg Home Depot on Sunday and noticed they added a large sign by the front door counting down the days to March 20th — the first day of Spring.
The sign provides hope that winter is finally coming to an end and warmer days are within reach.
While the 20th heralds the arrival of spring, we all know there are several more weeks of cold and snow yet to go before the grass turns green and leaves appear on the trees.
Many groups in town, including GreenUP, are offering workshops and events that will help ease us into the spring season and take advantage of those cold days yet to come.
Here are some selected workshops and events leading up to the first day of Spring.


Plant a war garden
Coming up on Sunday, March 9th from 1 to 3 p.m., Fleming College's Museum Management and Curatorship program, in partnership with the Peterborough Museum and Archives, will be hosting a "Vegetables for Victory" war garden workshop.
Held at the Museum and Archives, you're invited to get your hands dirty by starting your own war garden in a planter. Paint a planter, plant heirloom seeds, and learn about the history of war gardens and community gardens in Peterborough.
Everything to get your war garden planter started will be included in the workshop. There will also be refreshments and snacks provided to those in attendance.
The Vegetables for Victory workshop is absolutely free to attend. If you're interested in taking part, you're asked to call the Museum and Archives to register at 705-743-5180 or visit them in person at 300 Hunter Street East.
Get seeds for Spring planting
Also happening on March 9th is Peterborough's annual seed exchange and sale. Seedy Sunday, as it's called, is happening from 1 to 5 p.m. at George Street United Church.
Seedy Sunday is a great opportunity to come out, meet other gardeners and pick up some great heirloom seeds for the growing season ahead. You don't necessarily have to have seeds to trade, you can purchase seeds from any of the vendors at the event.
There will be an incredible diversity of vegetables, flowers, and herbs available for sale, as well as a many community groups showcasing the great work they do. Take part in informative hands-on workshops and the ever-popular Seed Exchange Area where you can trade seed with other gardeners and learn more about seed saving. The event is free to attend.
If you're interested in becoming a vendor at Seedy Sunday or want to volunteer at the event, get in touch with Jill Bishop at jill.pcgn@greenup.on.ca or by phone at 705-745-3238 ext. 204.
Learn how to start seeds
After you've got your seeds at Seedy Sunday, you can learn the best practices of getting them off to a good start by checking out the "How to Start Your Seeds Workshop" being held on Wednesday, March 19th 11 a.m. to 1 p.m. St. Andrew's United Church.
Join the Peterborough Community Garden Network and the Nourish Project in learning how to start your seeds indoors. This workshop will provide hands-on insights into starting your seeds indoors, what seed needs to be started indoors, when they should be planted, and what equipment and supplies are needed to start growing. The workshop is free to attend, but registration is required. To register, contact Jill Bishop at jill.pcgn@greenup.on.ca or by phone at 705-745-3238 ext 204.
Find out about the Ontario Children's Outdoor Charter
On Thursday March 20th, the Otonabee Region Conservation Authority is holding its 55th Annual General Meeting. Held in Ennismore this year, the event is featuring keynote speaker Bill Kilburne of the Back to Nature Network. He'll be speaking about the Ontario Children's Outdoor Charter and environmental engagement.
The new Ontario's Children's Outdoor Charter, the first of its kind in Canada, strives to turn that around by encouraging organizations and individuals to help children to get outside in order to be more active and to experience nature.
Developed by a coalition of agencies, including the Ontario Ministry of Natural Resources and the Back to Nature Network, the intent of the Ontario Children's Outdoor Charter is to provide a framework that can be used by organizations and individuals to incorporate into their programs and communications so that they can encourage and advocate for more children to explore, discover, play, learn, and understand our environment.
The event also features environmental excellence awards, a year in review, and annual elections and appointments. There will also be exhibits and refreshments.
If you're interested in attending, contact Kim Duke to RSVP by emailing kduke@otonabee.com or by phone at 705-745-5791 ext. 200. The event is free and being held at the Ennismore Community Centre Auditorium, 553 Ennis Road in Ennismore.
Children's Outdoor Charter Announcement