In just two years, Dusk Dances has become a must-see event for Peterborough audiences looking for something different to do on a summer's evening. This fun-filled evening of magical dance, physical theatre and music is celebrating its 20th anniversary by bringing back some of their best dances ever, along with new work never before seen.

"Public Energy and Dusk Dances are both turning 20 this year so this year's event will be something special," says Bill Kimball, Artistic Producer of Public Energy, which is presenting the event. "We first brought Dusk Dances to Peterborough in 2004 on their 10th birthday, and this year's event includes a re-mount of my favourite work from that program, Inner City Sirens II."
Bill explains that the entire program features some of Toronto's — and Canada's — best dance artists working at the top of their game. "We will also see one of Montreal's hottest companies and to round out the program a brand new work from a local choreographer working with young dancers," he says.
This year's Dusk Dances features five 10-minute dance performances that take place outdoors at Rotary Park in Peterborough. The event runs from Thursday, July 24th, through to Sunday, July 27th. You will be welcomed by your enthusiastic host Dan Watson, star of the recent hit play Ralph + Lina. The show will open at 7 p.m. with a rousing performance from local recording artist and songwriter Nick Ferrio & His Feelings, followed by the dances at 7:30 p.m.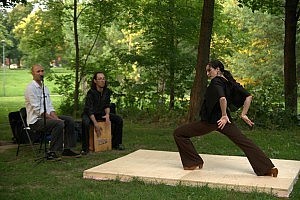 Dusk Dances prides itself on diverse programming. This year is no different, with the presentation of a fiery and vital flamenco artist from Montreal, Myriam Allard. A Quebec-born artist who has lived and studied extensively in Spain and around the world, Myriam is at the forefront of the contemporary flamenco movement. She both choreographs and performs in "Cercania / 1", accompanied by singer Hedi Graja and percussionist Miguel Medina, in this dramatic focus on the pure rhythm of the dance.
The delightfully comedic dance number "1981 FM" features Mairéad Filgate, Zhenya Cerneacov and Brodie Stevenson, who are headed out for a classic afternoon drive in their vintage Chevette when they experience car trouble. After a bit of Keystone Cops confusion over who might get the engine to start, they break out in an impromptu dance party in, around, and on top of their stalled vehicle.
Along with "1981 FM", the enchanting "Unquiet Winds" returns as a favourite from last year's Dusk Dances season, featured elsewhere on their cross-Canada tour. Inspired by medieval Japanese and European love poems and choreographed by the incomparable Denise Fujiwara, this dance uses elements of Japanese Butoh. The fairytale-like exchange between Festival Director Sylvie Bouchard and her dance partner Brendan Wyatt keeps audiences watching with rapt attention.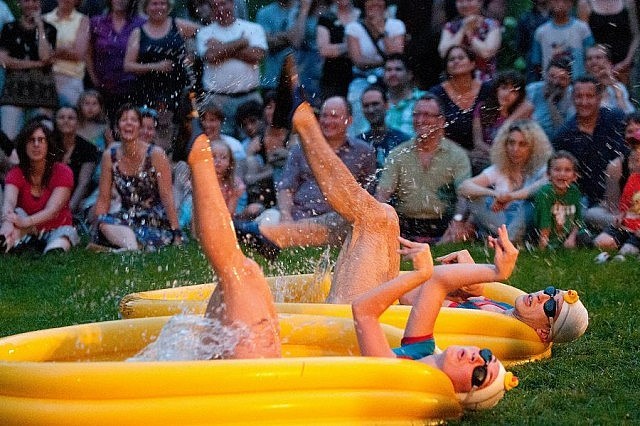 To celebrate Dusk Dances' 20th birthday, one of the greatest audience favourites of all time is being brought back to life: "Inner City Sirens II" by choreographer Julia Aplin. This whimsical piece involves the hilarious athletic shenanigans of two reigning World Champions in the sport of pairs synchronized swimming for kiddie pools. This one is a sure delight for children and adults alike, as our earnest competitors strive to overcome their challenges and achieve glory in their sport.
With a high value placed on local participation, Dusk Dances is proud to present "Quanta", a brand new work from local choreographer Andrea Lithgow. Andrea's career has included work with many of Canada's leading dance artists and this performance includes dancers from Kawartha Children's Dance Centre: Megan Brohm, Taylor Brohm, Lexie Riley, Marina Thornbury, and Arianna Webster. Inspired by quantum theory, "Quanta" will explore the deep connection we experience with each other and everything around us.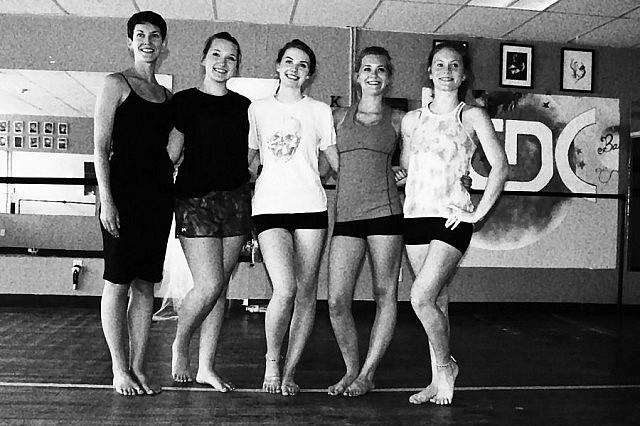 Everyone can connect with something at this innovative outdoor dance festival that brings high-quality contemporary and traditional dance to the beautiful setting of a public park, so bring your blankets and your chairs down to Rotary Park (located at the lower section of Nicholls Oval, accessed from Hazlitt Street on the east side and the London Street footbridge on the west side).
All are welcome to this pay-what-you-can event. A minimum donation of at least $10 is suggested to help fund more great dance and performance from Public Energy and Dusk Dances.
Cercania / 1
1981 FM
Unquiet Winds
Inner City Sirens, Part II