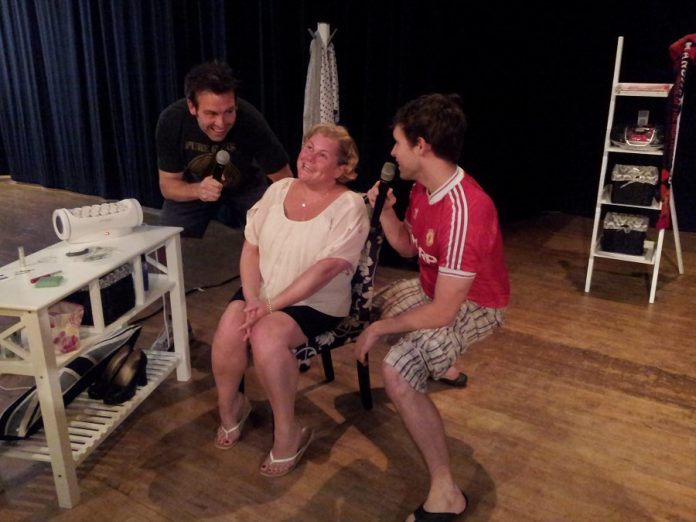 I walked out of the Globus Theatre's production of Do You Take This Man? with my face still wet from tears. Tears from scenes so funny that I cried with laughter. Tears from drama so raw and powerful that I was overcome with emotion. Looking at the theatregoers who were exiting the theatre, I could tell that I was not alone; smiles and tears from an appreciative audience seemed to be in style that night.
I had no idea what sort of emotional rollercoaster I was in for when I took the journey from Peterborough to the beautiful Lakeview Arts Barn in Bobcaygeon. Thank goodness for the ride home. It gave me time to process the powerful and memorable drama I had just watched — it's a production that's going to stick with me for a long time.

Written by and starring Globus Theatre Artistic Director Sarah Quick and directed by James Barrett, Do You Take This Man? was originally a one-woman show that Sarah toured throughout North America, Europe, Australia, and New Zealand over a decade ago (it was CBC's Pick of the Edmonton Fringe in 2002). For her revival, Sarah has added two additional voices to her show, which add more depth and perspective to the drama, via the talents of Allan James Cooke and Tim Ziegler. Together, the company presents a powerful cutting-edge dramedy full of laughter and tears.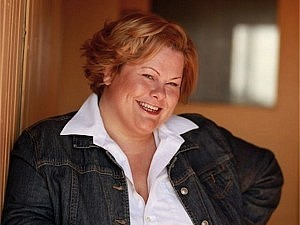 Do You Take This Man? is a unique love story between three likeable characters: a lady, a charmer, and a chump. Joanna, played by Sarah, is a woman who gave up on love until she met a soccer-obsessed fellow named David, played by Tim Ziegler. Allan James Cooke is Murray, David's comical best friend who's even more obsessed about soccer than David and is more interested in "beer, birds, and best mates" then actually settling down.
Picking up the story on the morning of Joanna and David's wedding day, which they are holding on a Monday instead of a weekend, the three actors give different view points of the story of Joanna and David's love affair — from how they met to the different stages of their life together — through engaging conversational monologues.
But it's not just a story about Joanna's love for David. The story is also about the bond between best friends, and the brother-like relationship between David and Murray. Love, loyalty, commitment, and friendship are what holds these three together, creating an engaging and emotional journey.
The success of Do You Take This Man? comes from the extraordinary talents of the cast. Their natural wit and likeable characters make them immediately endearing to the audience and their performances are so convincing that you forget that they are actually actors playing roles. They play the characters with so much conviction that you honestly believe that they are telling you their personal story.
Unlike most stories, the narrative is unique because the drama is not motivated by conflict but by love that both Joanna and Murray have for David. It's impossible not to allow all three characters into your heart and share the love they have for each other. You want them to be your friends, to high five them during the good times and to hug them during the bad ones. You want to go to a bar and share a beer with them after the show. You want to check up on them tomorrow. Unfortunately for the audience, after the curtain call our relationship with the characters comes to an end.
Sarah's character Joanna is the guide into the heart of the story. With a dry wit and an honest delivery, Joanna is a woman who was about to throw in the towel on settling down until she met David during a night at the pub. Passionate and funny, Joanna is the key figure in the narration.
Allan James Cooke portrays Murray as the ultimate best mate. Goofy, fun, and loyal — with an infectious grin that can warm the most cynical heart — Cooke provides comic relief between packing an emotional punch. From stripping down to his skivvies, to breaking the fourth wall while doing the worst Dolly Parton impersonation in the history of entertainment, Cooke's performance is warm and inviting. You can't help but feel cheated that he is portraying a fictional character because Murray is the kind of guy you want to hook your sister up with. Cooke is a true crowd pleaser.
While Joanna and Murray control the narration of the production, the actual story is very much David's, giving Tim Ziegler the hardest role to play. With a subtle charm and a natural charisma, the audience falls in love with David, primarily due to the fact that Joanna and Murray love him so much.
Ziegler gives a likeable and natural performance as a great guy with great friends. Often crossing into the monologues with Joanna and Murray, Ziegler has a different chemistry with each character, making the personal relationship come to life.
Ziegler's chemistry with Cooke is especially good. The pair seal their relationship with a long monologue about testicles that is smart, funny, and even a bit educational, without ever becoming vulgar or perverse. A delightful karaoke scene during the halfway mark of the show made me stop breathing because I was laughing so hard. Demonstrating the bond of friendship between two men is often difficult, but Ziegler and Cooke manage to really create something special together.
Ziegler also has an outstanding moment near the conclusion of the play, with a lengthy monologue about soccer that's so powerful and gut wrenching that there wasn't a dry eye left in the house. It was an outstanding moment from an outstanding actor.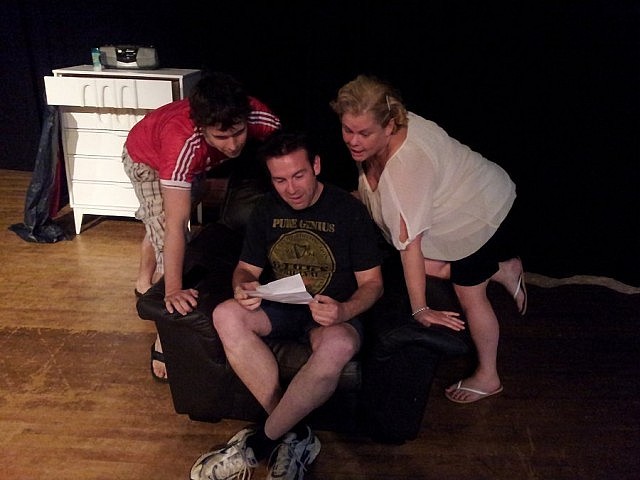 Speaking not just as a writer or reviewer but as a man who has been touched by something very powerful and special, if I had the money I would buy a ticket for each and every one of you to go to Do You Take This Man?. I've never seen a production that took hold of my heart and affected me so deeply. Maybe that's because this is a story about love and loyalty, which are two values that are extremely important to me. There are twists and turns in the show that I can't reveal without spoiling the play, but I can let you know I was up all night thinking about it afterwards. It is, without any doubt, the finest piece of theatre that I have seen in the Kawarthas this year. It may even be the finest piece of theatre I've seen in my life.
Beer, birds, and best mates. Not only a recipe for a good time, but also for an amazing production that will stick with you for a long time. The only thing wrong with the play is that it's only running for two weeks, and one week has already passed. Hopefully, Globus Theatre will do another revival of the show soon, but you still have another week to catch it.
Do You Take This Man? continues at the Lakeview Arts Barn (2300 Pigeon Lake Road, Bobcaygeon) from Tuesday, July 29th to Saturday, August 2nd. For tickets and more information, call the box office at 705-738-2037 for ticket information and visit www.lakeviewartsbarn.com.