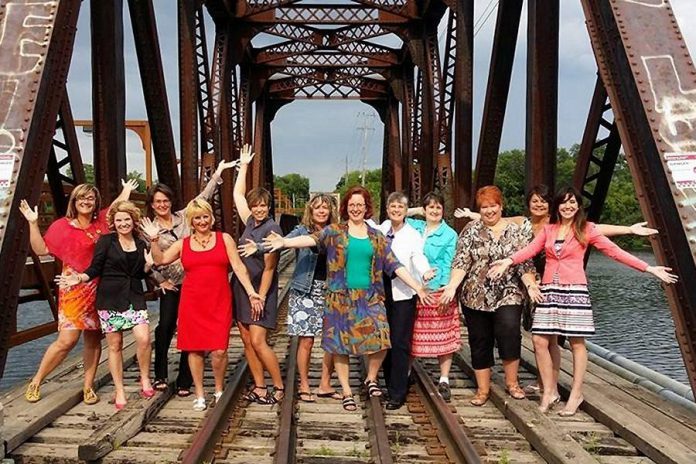 They hug, they shrug, they laugh — sometimes hysterically — and they even occasionally use a bad word. They're the 150 women or so who belong to a sorority, of sorts, here in Peterborough: the Women's Business Network (or WBN for short).
Not sure what to expect, but figuring I should at least put on a little makeup and maybe something more business-like than my usual radio attire, I was the welcomed media guest at the first WBN networking event for the 2014/15 season.
I arrived late; not for a dramatic entrance, but rather because I had to redo my radio hat and don by kawarthaNOW feature-writer hat. So when I went into the Holiday Inn through the back door after eking out a non-spot parking spot for myself, I was a little nervous — not just that my car would be towed, but also that I wouldn't know a soul.
But I recognized faces from Facebook, and names that resembled Twitter handles, and quickly realized it would have done me well to have entered via the front door where I would have found a registration desk and a name tag for myself.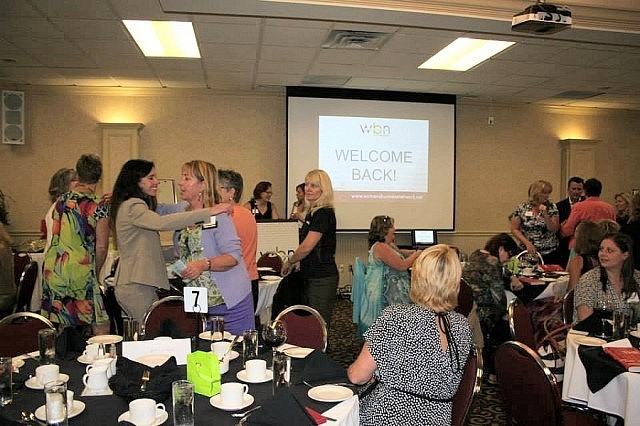 Most gals had a cocktail in hand and were making their way to an assigned table, so I jumped on board, looking for the one person I knew I knew in the room, who fortunately was just on the other side of the dining-room door — kawarthaNOW's publisher Jeannine Taylor.
So far, so good. I also knew the two men in the room. Both work for the media.
WBN dinners begin with a roundtable introduction, so that helped. At my table, we had a floral shop owner, a dental hygienist (who graciously listened to my rotting tooth story), an entrepreneur, a woman who's lived in 11 countries and can't be more than 25 or 30 years old, an employee of AON, and a few more. Everyone was welcoming and friendly. The table "facilitator" helped keep us on track, and made sure we didn't brag too long — though the thing with most women is that they don't brag enough.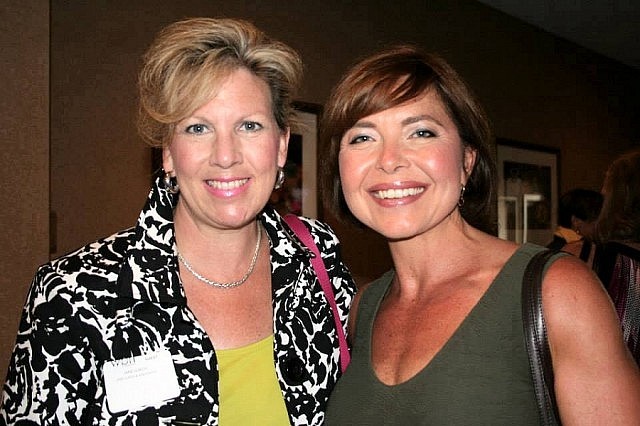 The monthly meeting includes a few traditions. There are announcements and, like Rotary, you can pay a toonie and talk for a minute or two. This is one of the real values of the WBN networking event if you ask me. If your business has an event coming up, you can highlight it to over 150 other businesses in town. The event also wraps up at the end of the night with door prizes, which allow the giver to speak for a minute about their business — another excellent promotion to a captive audience representing businesses in town.
Dinner was to-die-for, as it usually is at the Holiday Inn. It was a buffet, although there are also two seated meals for WBN members each year (an announcement that drew applause from women in the room). During these events, there's also a 50-50 draw with proceeds going to local organizations like the YWCA.
There's also the feature event, a keynote speaker who's usually a woman. At this particular event, it happened to be a man who brought a rather remarkable, inspiring, and motivational message about dreaming big.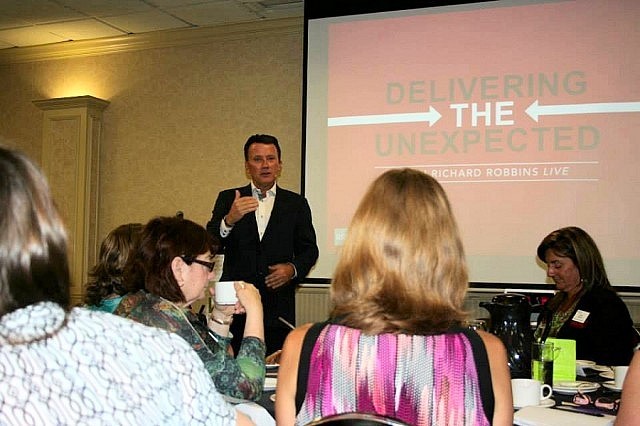 Richard Robbins, born and raised in Peterborough (he's a Kenner Collegiate graduate), had most of the room in stitches, holding our bellies, and wiping our eyes.
A true motivational speaker, his most memorable line at this event was, "If you're going to fail at something, fail fast." His point was that failures are stops on the road to success; just don't make them long stops.
This is what WBN is all about: putting minds and bodies with something in common (their chromosomal makeup) into the same room once a month for a couple of hours, feeding them, complimenting them (most people dress up a little), offering them tips on how to be better than they are, and then letting natural connections blossom.
When I went to the WBN event, I expected it to feel a little sorority-ish, Rotary-ish, and clique-ey. What I found instead was that the event was a real opportunity to challenge myself to think bigger, to be courageous and brave, to laugh with other women, and to come away feeling like I was part of something bigger than myself.
I'm not a business owner, and that was always something that blocked me from attending these events. I'm just a female who's an employee with HITS 100.5 / The Wolf and a freelancer. I didn't think I had anything to offer, and I still wonder what I have to offer. But I certainly had much to gain by attending the event. And I am absolutely certain that after a few of these meetings, I'd be far more certain of what I had to offer.
Will I join? As soon as I can scrounge up the pennies for the annual membership fee.
If you're a woman in business (or a woman with an interest in business) in Peterborough and you want to find out more about WBN, visit www.womensbusinessnetwork.net, WBN's Facebook page, or follow WBN on Twitter @wbnptbo.