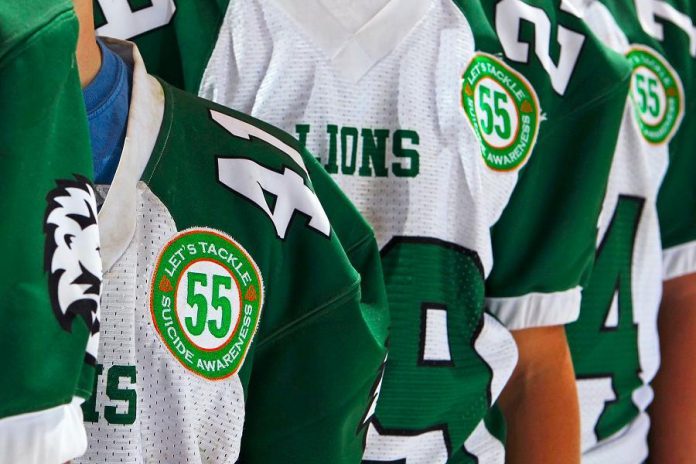 Dave Pogue knows, better than most, just how a community can raise a cause to unbelievable heights.
His 23-year-old son Mitchell decided to take his own life in August 2013 — a decision Pogue speaks about freely and frankly.
"No one saw it coming," Pogue says. "To this day, nobody knows why. You can go back and analyze every single conversation you have for years and guess about what you should have paid attention to, but you'll never really know."
What we do know is that Mitchell was a strong and independent leader. He was a football player — a kid other kids looked up to.

Mitchell's suicide was the most terrible thing imaginable for his parents Dave and Heather Pogue. But something else happened after he died: the Pogues had a strong network of business and personal friends and Mitchell's death mobilized them into action.
"Mitchell's death scared them," Pogue explains. "They said, 'My gosh, if this can happen to you, then it could happen to us. We have to do something about this.'"
"Despite our grief, we realized that we had a little momentum here and that we needed to capture it," he adds. "Suicide is a horrible thing, so we'd better wake up and start talking about it."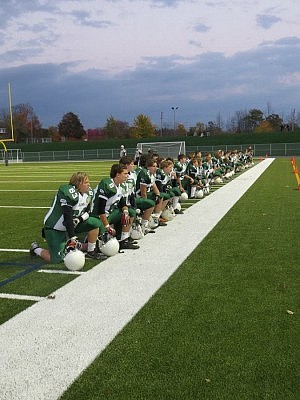 Pogue started talking about suicide where his son was most at home — on the football field.
Within two months of Mitchell's death, Pogue had formed the Team 55 Tackles Suicide Awareness group (55 was Mitchell's football jersey number when he played for Adam Scott Secondary School) and took the ball right to the kids' field.
The first Team 55 Friday Night Lights football night was held on October 18, 2013. It drew 1,500 supporters to Thomas A. Stewart Secondary School's lit fields and raised more than $20,000 for local mental health education programs.
"We never expected that," Pogue says. "The night had an air of sadness, as it was very fresh for all of us. This year, we'll take a couple of minutes to remember Mitchell, but we're not trying to sensationalize it because he made a stupid decision. What we're trying to do is keep other families from ever having to go through this."
Staying focused on that goal, Pogue's organization has now put out a new challenge — not just to all the high school football players, but to the entire community — for people to become trained in suicide prevention conversation through the safeTALK (Suicide Alertness For Everyone) program.
safeTALK is a three-hour session delivered by the local Canadian Mental Health Association (CMHA) that prepares participants to identify and engage people who have thoughts of suicide and connect them with further help and care. It used to cost each participant about $45; now, thanks to the money contributed by the community to Team 55, participants pay just $20.
Not only that, but Team 55 has paid to have seven more CMHA trainers educated to deliver the course to meet demand, and they plan to add three more. Moreover, since they started funding the safeTALK initiative this past April, the CMHA has trained the equivalent of one community member each day to be able to talk safely to others who may be at risk of suicide.
The next phase includes local football teams forfeiting a practice night to take the safeTALK training. If they do, they earn the right to wear the Team 55 patch in Mitchell's honour.
"It's three hours of your life to save someone else's," Pogue points out.
That's pretty close to Pogue's heart. He remembers how uninformed he was about suicide.
"I never thought I'd be spearheading something like this," he says. "I often tell people I would trade it in a heartbeat to have Mitchell back. But if someone had been doing something like this two years ago, maybe we would all have been a little more aware and maybe Mitchell would still be here."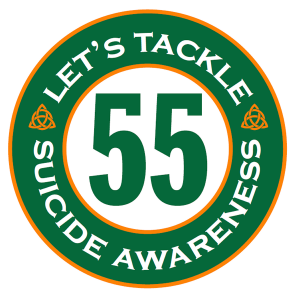 This year, the Team 55 Friday Night Lights football game takes place on Friday, October 3rd at Thomas A. Stewart Secondary School (1009 Armour Rd, Peterborough).
The event will feature former Canadian Football League star Michael "Pinball" Clemons, who will speak to high school students in the afternoon and take part in the opening ceremonies at 6:15 p.m. Peterborough Mayor Daryl Bennett and Peterborough MPP Jeff Leal will also take part in the opening ceremonies. Game kick-off is at 7 p.m.
Pogue says the event, which remains free and is open to the entire community, will have a different flavour this year.
"We're letting Mitchell rest now," Pogue explains. "He got this started, and the rest of the community is now running with it. It's now the community's Team 55 and we're focusing on telling the good stories — the stories of people who have a new awareness of suicide."
Connect with Team 55 on Facebook at www.facebook.com/team55tacklessuicide and on Twitter @Team55Tackle.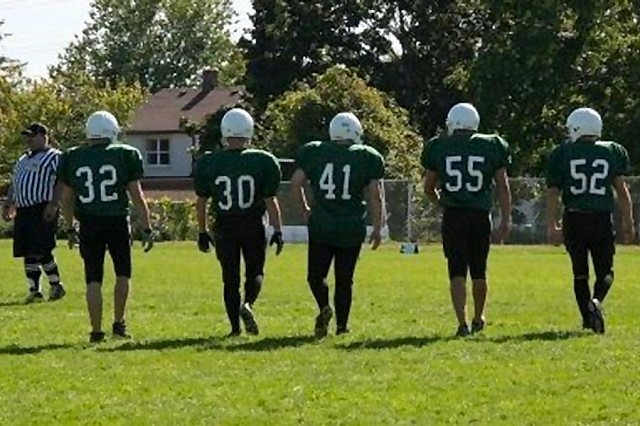 All photos courtesy of Dave Pogue.