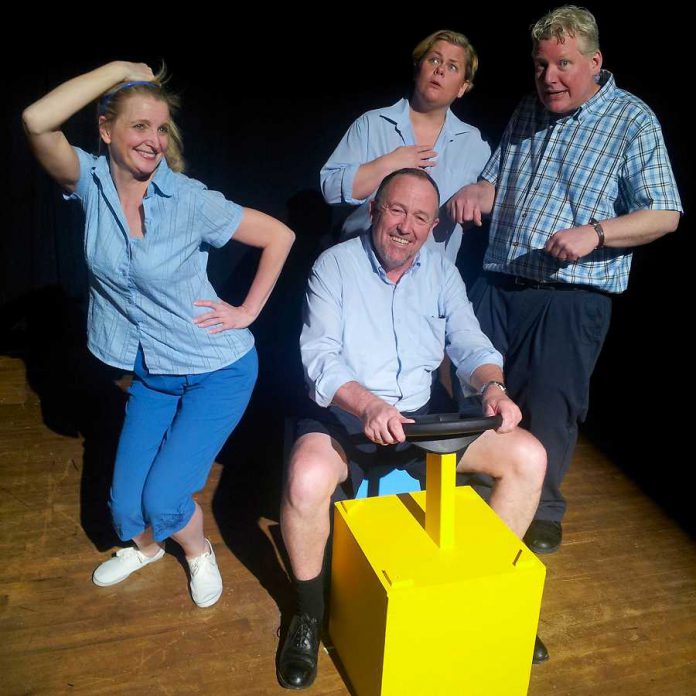 One thing I've learned this year is that taking the 40-minute drive from Peterborough to Lakeview Arts Barn in Bobcaygeon means I'm going to see some of the best theatrical productions that the Kawarthas has to offer. James Barrett and Sarah Quick, the artistic directors of Globus Theatre, consistently bring together the finest talent to a beautiful and unique theatre space.
In fact, I consider Quick's original production of Do You Take This Man?, which was performed in July, to be the single best play of the 2013/2014 season. To say the least, 40 minutes is never too long of a trip to see theatre this good — you are never disappointed.
Now Quick and Barrett want to bring you on a different kind of trip in a revival of their successful 2010 production of Sunshine Express.
They are joined by Toronto-based actors Anna Black and Mark Whelan in a hilarious and thoughtful comedy, in which the four of them effortlessly perform nearly 30 unique characters — sometimes in the same scene — in a tribute to the seniors' bus tour industry.
In Sunshine Express, the audience is welcomed aboard a "Charlie Cheetles Charters" tour bus going from Ontario to Florida and back. Their tour guide for the trip is the warm and welcoming Sandy (Quick) and friendly and enthusiastic bus driver Tommy (Whelan). The trip is seen through the eyes of Alan (Barrett) and Brenda (Black), a couple dealing with the daily stresses of kids, money, and the Canadian recession. When Alan turns 40, a well-meaning elderly aunt books the couple onto a seniors' tour bus down to the Sunshine State.
Boarding a bus filled with eccentric elderly characters, the couple initially seems out of place and Alan's jaded skepticism about the entire trip is duly noted. Soon they experience border crossings, lemon smuggling, southern breakfasts, Wal-Mart visits, Happy Hour, Bingo, sing-a-longs, and the politics of getting back to the bus on time and the "slow clap."
As their journey goes deeper into the American South, Alan and Brenda realize that — despite the age gap — they aren't that different from their elderly traveling companions, and they discover you're never too old to make new friends and have a good time. Their journey is filled with laughter, love, and a lot of heart as Alan and Brenda discover the true magic of Charlie Cheetles Charters.
It's difficult for me to express the masterful approach it takes for the actors to perform nearly 30 different characters, or to describe every performance and character individually. It's something you have to see for yourself. Through body language, facial expressions, accents, voices, and movement, the actors instantly change characters to the point that they seem to physically change before your eyes, but the audience is able to keep straight just who is who.
Beyond their four primary characters, the cast take turns playing different couplings and pairings, with Quick and Black sometimes even believably playing old men. During one incredible musical number at the end of the first act, the four actors manage to perform as all of the passengers of the bus, including their primary characters and every single one of their multiple senior counterparts. It's an achievement that has to be seen to be believed.
From party girls to flea marketers, to the deaf and the senile, the newbies and the experts, the honeymooners and the couple celebrating their 73rd wedding anniversary — and especially Stanley and Ena (Black and Barrett), who cap off the majority of the scenes with an endearing ongoing gag — the four actors play an entire bus load of loveable seniors who worm their way into the audience's hearts, just as they work their way into Alan and Brenda's.
A special shout-out goes to Mark Whelan for playing two different bus drivers in a Jekyll-and-Hyde switcheroo that would even impress Fredric March. By simply changing his voice and smile and putting on a pair of glasses, Whelan transforms himself from friendly and charming bus driver Tommy to dour-faced Ray, who hates food and drink on the bus and doesn't necessarily like the passengers either. It's an amazing transformation, especially when Whelan doesn't even step off the set.
A clever production with tons of heart, Sunshine Express is another triumph for Globus Theatre and another example of Sarah Quick's incredible writing. We are so fortunate to have world-class talent like this in our area.
Sunshine Express runs until November 15th at Lakefield Arts Barn in Bobcaygeon. Evening shows begin at 8 p.m., and there are 2 p.m. matinees on November 5th, 7th, 8th and 15th. Tickets are $28.50 for adults and $20 for students (or, for dinner and theatre, $59.50 and $50).