Local performer Dane Shumak has become one of the most ambitious individuals in Peterborough's theatre landscape.
Having just come off of Art for Awareness' successful production of Rent, where he played the role of Tom Collins, in the last year Dane has directed three shows (Spring Awakening, The Last Five Years and The Pillowman), produced two successful concerts, played the key role of Bill Skykes in the Peterborough Theatre Guild's production of Oliver, and started his own theatrical company, Cordwainer Productions.
"I've been a drama kid forever," Dane says with a grin, stating the obvious.
On Saturday, March 7th, Dane is producing a special concert at the Gordon Best Theatre in Peterborough to help raise funds for his latest project, Dogfight: The Musical, to premiere at Market Hall on April 9th. The third such concert he has held, Dane's concert series has been growing in popularity among members of the Peterborough theatre community.
"I think the best way to get publicity generated is by showing people a preview," Dane says. "I realized these concerts are a great fundraiser, and everyone performing in the concert is in Dogfight."
Performing in the show are local favorites Caitlin Currie, Kevin Lemieux, Kalene Lupton, and Justin and Mark Hiscox. Headlining the evening will be Dogfight's stars Ryan Hancock and Bronte Germaine, who will be performing The Civil Wars' album Barton Hollow.
Originally from Toronto, Dane came to Peterborough in 2011 to attend Trent University. However, as Dane explains, his love for theatre almost prevented him from coming to our community.
"I considered auditioning for Ryerson or Sheridan," Dane says, "but one of my teachers said 'Unless you find that the theatre is the only thing you can possibly do or you die, than try to find something else to do because it is such a hard life.' So I sat down and I made a list of all the things that were important to me and theatre was not at the top at that time."
But once he arrived at Trent, Dane discovered that Peterborough had its own vibrant arts scene that would allow him to continue his interest in theatre.
"In my first year or university, I found out The Anne Shirley Theatre Company [ASTC] was doing Xanadu," Dane continues. "I auditioned, and I got a call back, but when I came to the callback I felt sick. I didn't know if I was nervous sick, or if I was really sick. I almost didn't show up, but I'm glad I did. I ended up getting the part and the next year I was the vice-president of the company."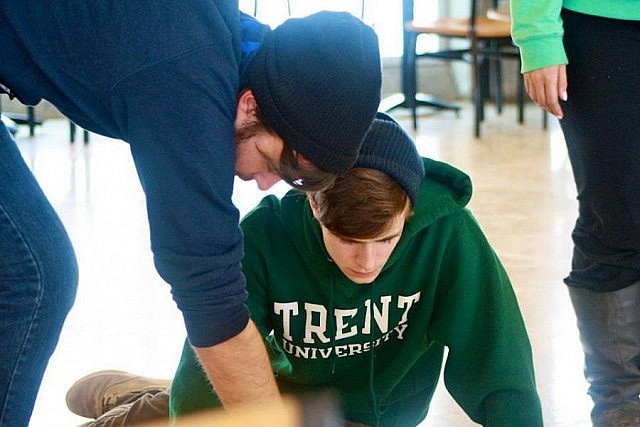 In March 2014, Dane made his directorial debut when he brought the controversial Broadway hit Spring Awakening to Market Hall.
"I fell in love with directing," he says. "I love acting, and it lights a lot of creative fires in me, but acting is a hobby. I never want to act professionally. However, I do want to direct professionally."
Dane believes that a part of his success as a director comes from the skills he has been learning as a business major at Trent.
"I'm going to graduate at the end of this year with a business degree," Dane explains, "and I realized that directing combines everything I enjoy about business — all of the managing and organizing of people."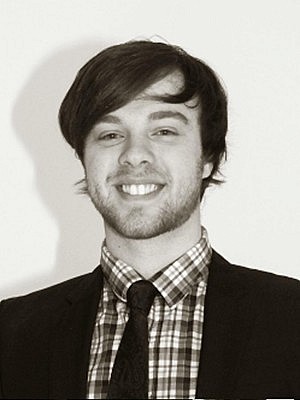 Dane incorporated his own theatre company, Cordwainer Productions, in January 2014. Physically and emotionally exhausted from Spring Awakening, starting his own company was a huge jump for a first-time director.
"After Spring Awakening, I didn't know if I had the guts to do this constantly," Dane admits, "but I exhaled and I got funding from ASTC and the Trent Central Student Association to launch the company. I realized that the wheels had started and there was no stopping it."
For Cordwainer Productions' debut production, Dane brought together Ryan Hancock, Bronte Germaine, and Justin Hiscox, who he had worked with on Spring Awakening, to do the musical The Last Five Years. That latter production was a success and one of the best theatrical productions in Peterborough in 2014.
"What working with Ryan and Bronte let me do was pull the reigns back and focus on them," Dane says of his two stars.
"Their chemistry is natural. Justin was so supportive and I could have never done it without him. It just sort of gelled and was wonderful and it invigorated me to want to do it all over again."
This April, Dane brings his cast from The Last Five Years together again in Dogfight: The Musical.
"It focuses on a group of Marines who are about to be shipped to Japan for basic training before they go to Viet Nam," Dane says of the premise of the show. "These group of Marines hold what they call a Dogfight, which is a time-honoured actual Marine tradition where Marines put in a pot of money, rent a hall, and the man who brings the ugliest girl to the Dogfight wins the remaining money. So what happens is that Eddie Birdlace, the male lead, meets Rose Fenney and brings her to this party but on the way to the party finds out that he kind of likes her. Making Bronte up to look unattractive is going to be the biggest challenge."
An intensely emotional musical filled with comedy and high drama, Dogfight is another example of Dane's insistence of bringing often unorthodox productions to Peterborough.
"I want the kind of theatre I do to transcend the moment of beginning and end," Dane says. "The audience can imagine themselves in the play, and that they continue talking about it afterwards."
With Dogfight over a month away, Dane is looking as far in the future as 2016 for future projects.
This fall, Dane plans to produce American Idiot, a stage musical based on Green Day's 2009 rock opera. Furthermore, in his most ambitious move yet, Dane wants to restage Spring Awakening in Toronto.
"We've booked a theatre in Toronto and we are exploring getting the rights to do the show for the 2016 season," Dane explains. "We'd like to do a five-show run at Market Hall and then to do six shows in Toronto."
One of the newest movers and shakers in the Peterborough arts community, Dane Shumak is quickly moving to the top of his game. A true visionary with boundless ambition, the rise has been hot and fast.
With a supportive community behind him and loyal friends and colleagues helping making his artistic vision reality, what is the secret of Dane's success?
"My rule is, whether I like somebody or not, if they deserve respect then they deserve respect," Dane reveals. "It's scary as hell to stand up on a stage and give your heart out, so you should feel that the people standing on stage beside you are going to catch you when you fall and support you back stage. It's so important to me to be an honest and genuine person, as well as being good."
Photos courtesy of Dane Shumak except where noted