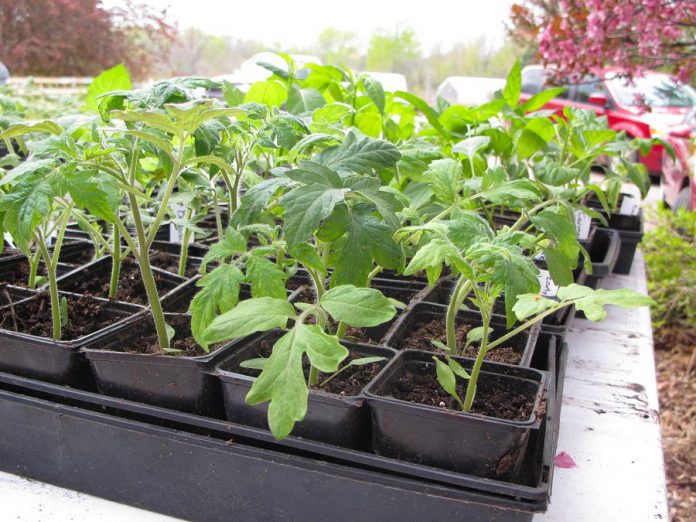 It's once again time for the annual GreenUP Plant Sale, being held this Sunday (May 17) from noon to 4 p.m. at GreenUP Ecology Park on Ashburnham Drive. The sale offers one of the best local selections of native trees and shrubs, vegetables and flowers. Everything you need to spring into the gardening season can be found in one location.
One of the biggest draws of the afternoon sale will be for those who want to grow their own vegetables. The sale is a great opportunity to purchase vegetable plants you may not be able to find in traditional garden centers. These include heirloom vegetables like tomatoes and peppers, culinary herbs, and more. Grown right here in Peterborough, these plants take growing and eating local to a whole new level.
Vegetable plants aside, you can also find a large selection of native plants and wildflowers available for purchase. Choosing to grow these types of plants is especially important, given the crisis we've seen with pollinator species like bees and Monarch butterflies.
There are so many reasons to choose native plants over non-native species found at many traditional retail outlets. Whether you want to attract pollinators to your backyard or balcony, or are looking for low-maintenance options for your garden, native plants are the best choice for a variety of reasons including:
They're pest and disease resistant
Tolerant to dry conditions
Fruit, vegetables and herbs are often edible
Native plants are vital for pollinators like butterflies, birds and bees
Provide shelter, nesting sites or food for wildlife and insects
Promote healthy soil.
If you're looking to add a tree to your property, this is the weekend to do it. With nice weather in the forecast, planting a tree would be a great family project. If you're looking for that perfect tree, there are plenty to choose from at the park.
Thinking about trees, when it comes to choosing a type to plant, going with a variety that produces fruit or nuts is worth considering. These types of trees have the potential to provide food for yourself, but also our communities as a whole.
Planting new trees is especially important with the arrival of the emerald ash borer in our region. We'll be loosing large numbers of ash trees, and it's important to not only replace those trees, but also plant diverse and native species to prevent large tree losses in the future.
While trees and plants are the focus, there's so much more you can purchase at the plant sale to make your garden shine this year. You can also pick up leaf compost, cedar mulch, and woodchips. Proceeds from all purchases at the plant sale go towards the continued operation of GreenUP Ecology Park, education programs, school visits and more.
Another exciting development is the fact you can now pay for your purchases with VISA, MasterCard and Interac debit at the park. This is another change to make the entire park experience better and more convenient for everyone who visits.
This year's plant sale is running from 12 to 4 p.m. on Sunday, May 17 at GreenUP Ecology Park. The park is located next to Peterborough Utilities at 1899 Ashburnham Drive. Eager plant shoppers are advised to arrive early for the best selection.
The Night Kitchen will also be on hand with their wood-fired pizza oven serving up fresh, delicious pizza.
If you have any questions regarding the GreenUP Ecology Park or the plant sale, give Marcy a call at 745-3238 ext. 212. Be patient, as she's not in the office all the time, but will get back to you!