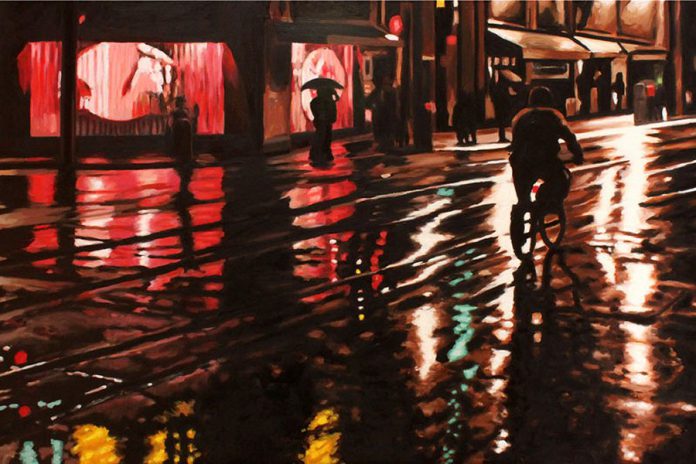 Bike Art Show, Tyler Lambert, and Lucky Jackson at Gallery in the Attic in Peterborough
The new wide-open three room gallery format at Gallery in the Attic features three distinct shows this month.
Bike Art Show
The Bike Art Show is a local all-star cast of artists (and cyclists) depicting their favourite mode of transportation. A range of mediums including photography, printmaking, and painting will include works by the likes of Rob Niezen, Jeff Macklin, John Marris, Phillip Chee, Hartley Stephenson, and Tegan Moss.
This month also boasts three separate openings at GITA and this one is as colourful as they come with performances by Peterborough slam poet Sasha Patterson, Bike-lesque (intriguing) by Naomi Duvall and Becca Campbell, live music by Chris Culgin and Derek Bell, and a film screening by Lester Alfonso and Tegan Moss.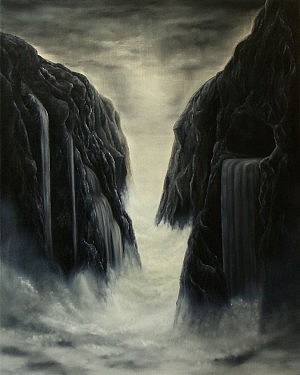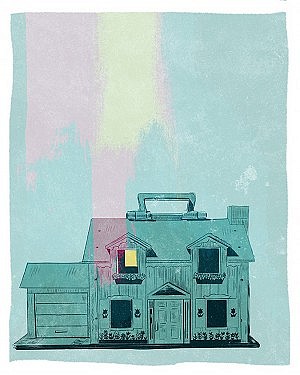 The show runs June 1st to 27th with the opening night extravaganza happening on Wednesday, June 3rd from 7 to 10 p.m. The cost is $5 or pay what you can, with over $400 in door prizes from Spokes N' Pedals, Fontaine's, B!ke, and Wild Rock Outfitters. This show was lovingly organized by cyclinista Sally Goodwin and sponsored in part by Peterborough Moves with the hope that this inaugural show can become an annual event.
"Reflections" by Tyler Lambert
In the next room over in a land far far away, we have the fantasy art landscape paintings of Tyler Lambert. I have noticed a number of his dark brooding scenes among the group shows of the Little Red Hen Collective here in the past. Several that I have seen have piqued my interest due to the incredibly dark scenery that renders them nearly opaque. The choice to depict something shown by nearly absent light is an interesting one.
I can't help but harkening to the fantasy art mainstays of Dungeons and Dragons, H.R. Giger, and Heavy Metal magazine in looking at Lambert's work. You'll have the chance to ask him about his influences at the first opening of the month on June 1st from 6 to 8 p.m.; featuring live music from honeyed crooner Chelsey Bennett and a live painting demonstration by the artist.
Lambert's "Reflection" will run until June 13th.
"CHILDWOOD" by Lucky Jackson
A different kind of fantastic imagery animates a prolific new series of paintings called "CHILDWOOD" from Lucky Jackson.
Her childhood themes and pop culture stylings takes a refreshing turn in the narrative created by these works about a girl growing up in 70s and 80s suburbia.
Jackson has always had a knack for creating endearing work that doesn't quite tip the scales into cutesy, and I particularly like that this exhibit enters the unknown terrain of a child's imagination to places just a little bit eerie. The potential dangers of suburbia might be real, or just so much make-believe.
"CHILDWOOD" runs June 5th to 13th with an opening reception and meet the artist on Friday June 5th from 7 to 9:30 p.m. (Update 06/07/15: the exhibition has been extended until the end of June).
Gallery in the Attic (140 1/2 Hunter St. W. upstairs, Peterborough) is open Tuesday through Saturday 12 to 5 p.m., unless otherwise noted for events. Visit Gallery in the Attic on Facebook or call 705-868-1162.
---
"Creative Evolutionism: An Unnatural History" by Tara Azzopardi at Evans Contemporary in Peterborough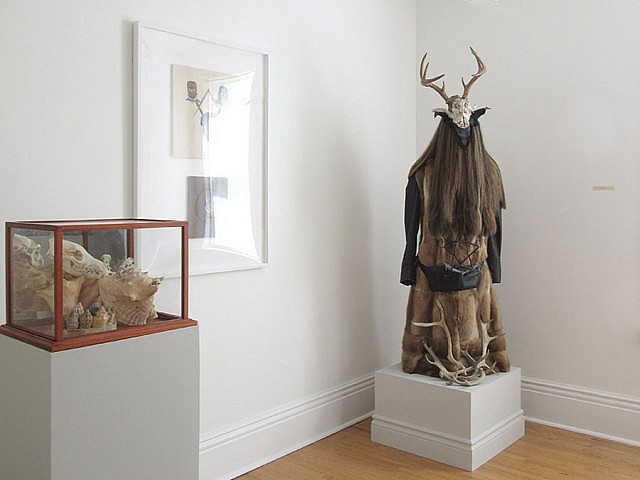 I cannot help but have a certain affection for this show. Not only because it is Evans' final show in the splendour of the 1907 Edwardian house, but also because it takes the annals of natural history and turns it on its head(s).
Prehistoric fishes, ancestral humans, and the actual skulls of various mammals and birds all figure into this curatorial hodge-podge, along with other naturalistic ephemera you might find at a museum. But here you'll find them presented in a considerably different fashion.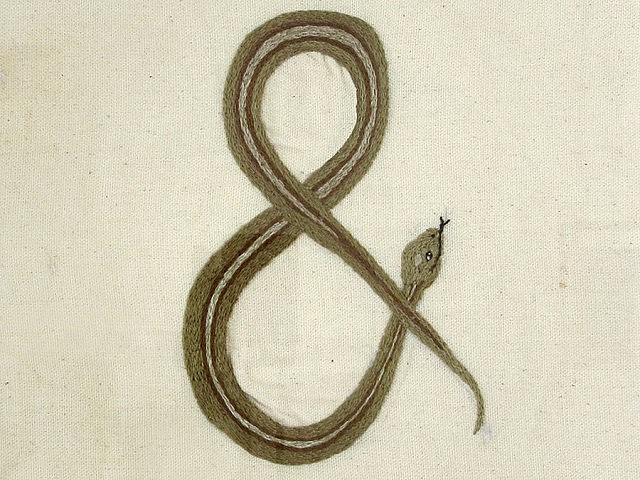 A heart-shaped snakeskin draped on velvet, or a hand-stitched diagram on the phylogeny of the Wolf Man, are part of the new order Azzopardi has constructed. In taking her many interests in contemporary culture under the wing of a University of Toronto education in archeology and anthropology, she teases us with questions about how museums of the future will remember us now.
"Creative Evolutionism" is on now until June 18th at Evans Contemporary (302 Pearl Ave., Peterborough). The exhibition can be viewed between 5:30 p.m. to 8 p.m. on Wednesday and Thursday evenings, or viewings can also be made by appointment by contacting evanscontemporary@gmail.com. For more information visit www.evanscontemporary.com.

Evans will soon be moving to their new location at 129 1/2 Hunter St. W (above Catalina's and across from Gallery in the Attic). Built in 1899, the building shares the charm and unique atmosphere of their current Avenues location. The new gallery will be a welcome addition to the vibrant visual arts community in the downtown core and the Hunter St. Cafe District's many attractions.
---
"White Shadows" by Rebecca Last at Christensen Fine Art in Peterborough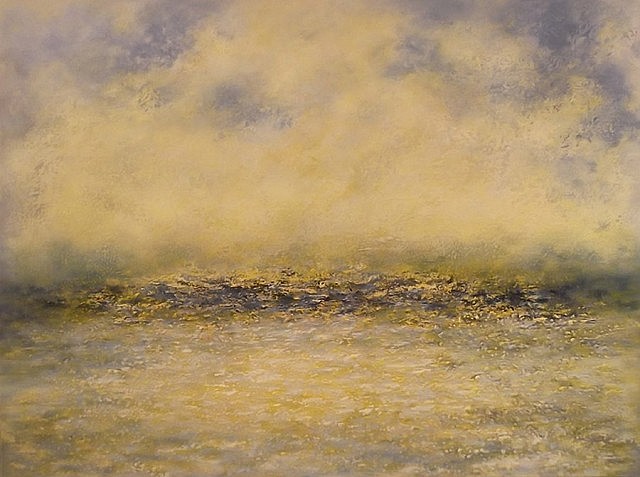 The drama and power of the Canadian landscape has been an unremitting source of inspiration for artists here. Rebecca Last's studio-cabin sits upon the northeast shore of Rice Lake and the dramatic weather systems she faces out toward have become a consistent focus for her large dappled landscapes of water and sky.
The endurance of her focus is a testament to the endless permutations that this most reduced of landscapes can offer us. Those most basic elements of Water and Air hold the echoes of their unseen complements in Earth and Fire.
In painting them, Last looks to map those moments of roil and contemplation within ourselves. The scope of the moon's penumbra or a dark horizon crosses over, ever so slightly, into abstraction and the realm of thoughts.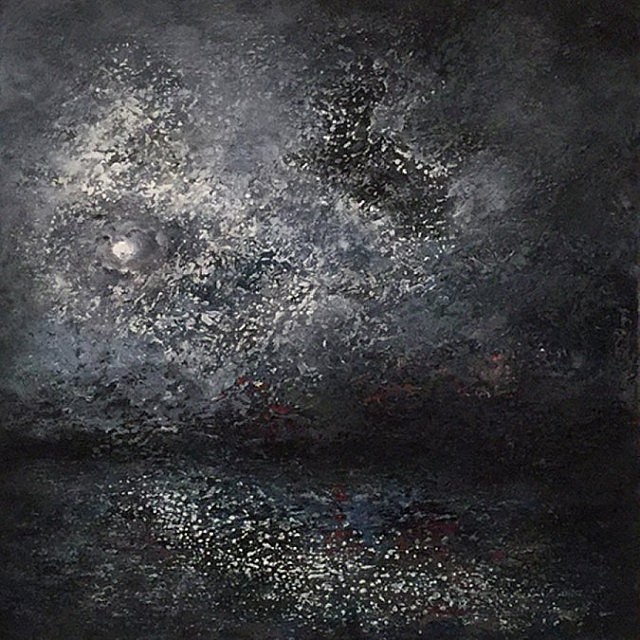 "White Shadows" has its opening reception on Friday, June 6th from 6 to 9 p.m., with the exhibition continuing until June 27th.
Christensen Fine Art (432 George St. N., Peterborough) is open Monday to Friday from 10 a.m. to 4:30 p.m. and Saturday from 10 a.m. to 4 p.m.. For more information, email info@christensenfineart.com, call 705-876-9623, or visit www.christensenfineart.com.
---
"Backcountry Vistas" by Lloyd Wilson at The Gallery on the Lake in Buckhorn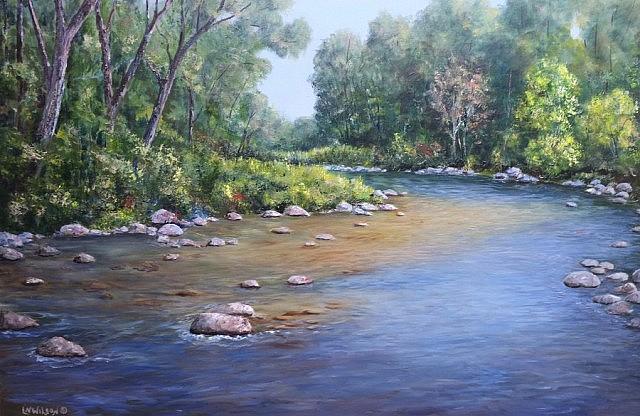 In terms of iconic Canadiana, the landscape paintings of Lloyd Wilson are as indicative as you get at portraying the particular flavour of cottage views and canoe panoramas that this region is famous for.
An island of evergreens marooned in an expanse of water, or a campsite view of forested peninsula and distant inlets, kindles my yen for a paddle on the Mississauga River, or a return to a secluded lakeside dock.
Here is the Canada we know and love.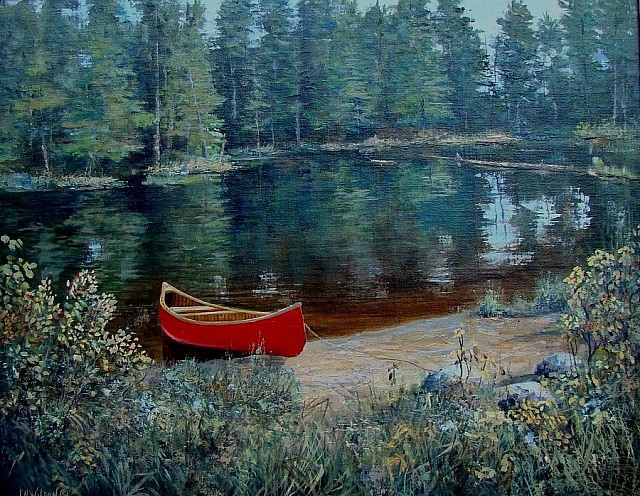 "Backcountry Vistas" opens on May 30th with a "meet the artist" reception from 1 to 4 p.m. and runs until June 27th.
The Gallery on the Lake (65 Gallery on the Lake Rd., Buckhorn) is open 10 a.m. to 5 p.m. from Wednesday to Sunday. For more information, call 705-657-1108 (toll free at 888-242-7475), email info@galleryonthelake.com, or visit www.galleryonthelake.com.
---
Art from the Kawarthas at Proximity Fine Art on Stony Lake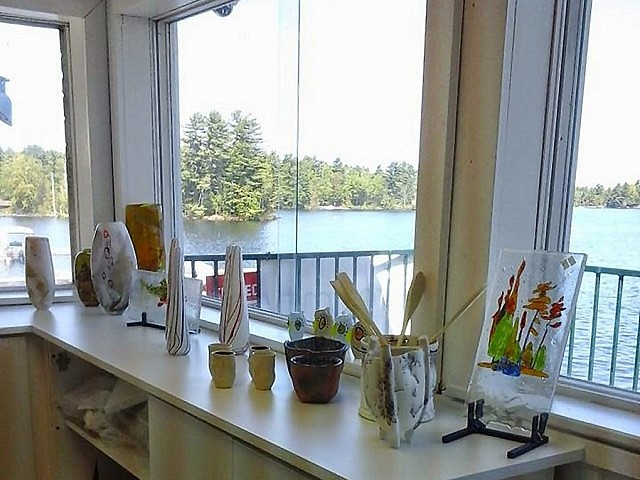 Now that the spring season is with us and summer weather is setting in, many of the regional art galleries have re-opened.
Proximity Fine Art is one of the best places to view outstanding artwork from our region's emerging and established professional artists. Owned and run by artist Christy Haldane, it overlooks Carveth's Marina on the south side of Lower Stony Lake.
In addition to her own impressive works of fused glass, stone, and concrete, Haldane is an able curator and promoter of other artists. To this end, she is also the coordinator of the Electric City Culture Council in Peterborough.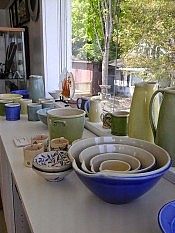 Whether you come by boat or take the drive up Birchview Road from Highway 28 near Young's Point, this spot is a beautiful location to take in some first-rate art.
Proximity Fine Art (426 Carveth's Marina Rd., Lakefield) is now open from 12 to 5 p.m. from Thursday through Sunday, or call 705-931-0855 for an appointment. For more information, visit www.proximityfineart.com.
---
Ben Hodson's up-cycled art at The Food Forest in Peterborough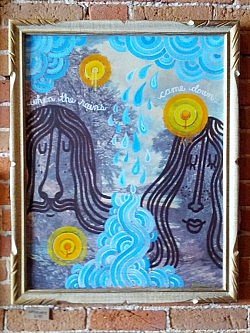 Now that The Food Forest has settled in at their new location on Hunter St. they're continuing in the tradition established there by Maggie's Eatery of showing local community art.
These fun up-cycled paintings combine discarded frames, pieces of found art, and works of Hodson's own creation.
This is "Folk Art" that conjures the psychedelic peace and love culture of the '60s and '70s.
Hodson's works are on display now at The Food Forest's new location (135 Hunter St. W., Peterborough) and are expected to remain on display throughout most of June.
You can find out more about Ben Hodson's art and illustration at www.benhodson.ca.
Peterborough's only gluten-free and 100% plant-based restaurant, The Food Forest is open from 10 a.m. to 7 p.m. from Monday to Thursday, and 10 a.m. to 9 p.m. on Friday and Saturday (closed on Sundays).
For more information, call 705-874-1888 or visit www.foodforestcafe.com.