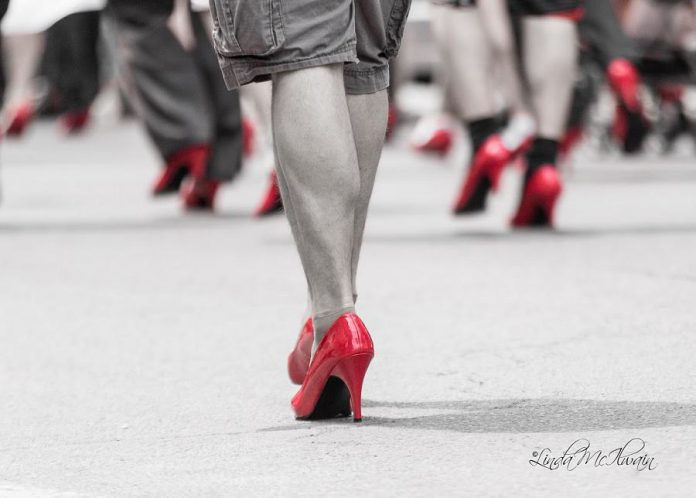 On Friday, May 29th, over 300 men slipped into red high heels and walked a mile through downtown Peterborough to support women and children in our community.
Participants in the YWCA Trent Valley Honda "Walk A Mile In Her Shoes" event raised a total of $109,204 for YCWA Peterborough Haliburton.
Lynn Zimmer, Executive Director of YWCA Peterborough Haliburton, expresses her thanks to all the men who took part in the event.

"Every man who walked and every person who supported him helps save lives, relieve deep suffering and strengthen our whole community," Zimmer says.
Team Robinson Place was the top team fundraiser with $10,470 in pledges and Jim Spence from Bryston was the top individual fundraiser with a total of $3,498. Details on a trophy presentation will follow this summer.
The success of this year's event was made possible in part by generous sponsors including title sponsor Trent Valley Honda, as well as Bryston, Kegi, CIBC, Kawartha Credit Union, Boston Pizza, RJ Brown Insurance, Collins Barrow, The Peterborough Examiner, Sign-A-Rama, Mark's, CHEX TV, Fresh Radio, The Wolf, Aleisha Boyd Photography, and KH Photography.
Fundraising events like "Walk a Mile in Her Shoes" not only help raise awareness of the problem of domestic violence, but they help the YWCA cover costs that aren't supported by government funding.
YWCA will invest funds raised from the event in shelters and counselling programs that have a direct impact on women and children facing domestic violence. The funds will help the YWCA continue to provide 8,000 safe nights each year to women and children, answer almost 4,000 crisis calls, and provide shelter, counselling and youth programs to around 1,100 women and girls.
To find out more or to make a donation, visit www.walkamilepeterborough.com or www.ywcapeterborough.org.
More event photos courtesy of Linda McIlwain