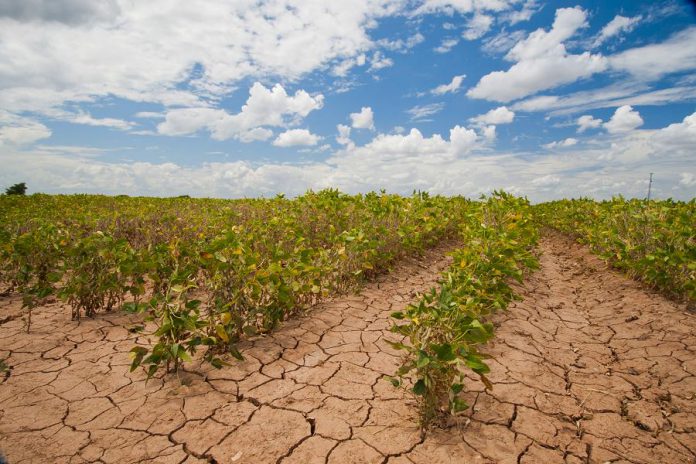 We've all felt the impacts of climate change. Milder winters, more extreme summer storms, and urban flooding are all examples of climate change impacts we've seen and will continue to see locally.
Ontario's acting Environmental Commissioner, Ellen Schwartzel, released her annual report on the topic, offering praise for the provincial government, but also a harsh warning — further action must be taken or the province won't meet its carbon reduction target by the 2020 deadline.
Unless the government takes more aggressive action, particularly in the transportation and building sectors, it will not be able to meet its target to reduce greenhouse gas emissions by 19 megatonnes by 2020, Schwartzel says.
This would be roughly equivalent to the reductions it achieved with the closure of the province's coal-fired electricity plants.
The Commissioner's report, titled Feeling the Heat: Greenhouse Gas Progress Report 2015, outlines several areas where climate change will have increased effects in the coming years, with health of Ontario residents being one of them.
Due to climate change, black-legged ticks (responsible for transmitting Lyme disease) are spreading northward in our province at a rate of 35 to 55 km each year. This rapid march northward is putting more and more Ontarians at risk. The number of Lyme disease cases has jumped from 144 cases in 2009 to 682 in 2013. Warmer winters and hotter, more humid summers may also allow for the spread of mosquitos that carry West Nile virus.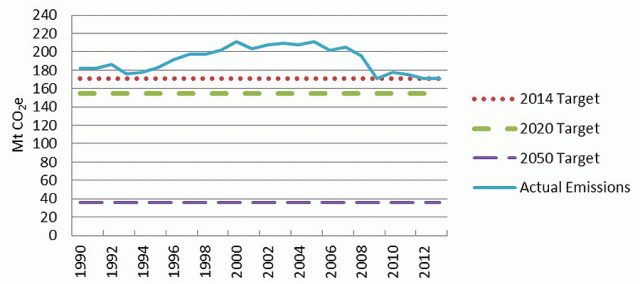 Climate change is also expected to have a big impact on resource-based industries like agriculture.
The upside to a warmer climate is that it may potentially bring a longer growing season to Ontario, but there are some potential big negative consequences. Schwartzel references a 2014 Natural Resources Canada study, which states Ontario agriculture could be at greater risk from drought, pests, disease, and climate variability.
Schwartzel also warns the province will face increased risks related to climate change around public infrastructure, services, and finances and the government will need to invest more heavily in making infrastructure more resistant to increasingly extreme weather.
"Climate change has already begun to cost Ontarians and the costs are only expected to grow," Schwartzel warns.
The report notes that extreme weather associated with climate change has already damaged the province's infrastructure; for example, intense storms and flash floods in recent years have caused costly damage to provincial roadways and commuter rail lines. And future projections for the province point to an even more unpredictable and unstable climate.
Not surprising, the Commissioner's report singles out the transportation sector as the single largest source of greenhouse gas emissions in the province. This is followed closely by the building and construction industry.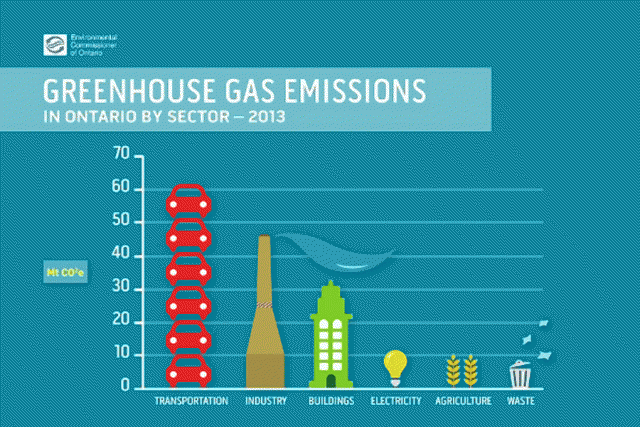 "The government can rightly point to its success in closing the coal-fired plants but we need a more ambitious suite of actions to get us to our 2020 target, focused especially on reducing emissions from cars and trucks," Schwartzel says. "And each time a new high-rise tower goes up, we should be reminded that buildings account for the next biggest increase in megatonnes of CO2."
While taking questions from the media, Schwartzel stressed that building codes focused on energy efficiency must be reviewed regularly and updated, and that retrofit programs for the existing home stock are needed to assist homeowners in making their homes as energy efficient as possible.
Schwartzel acknowledged the government recently announced a number of positive initiatives, especially a cap-and-trade program for greenhouse gas emissions. But she said the cap-and-trade program will likely focus on large industrial emitters, and this will not be enough to fill the near-term gap.
"I am heartened by the government's recent actions as they indicate a commitment to fighting climate change," says Schwartzel. "Our office looks forward to assessing the government's new climate change strategy that it promised for the end of 2015."
Locally, Sustainable Peterborough is developing a Climate Change Action Plan (CCAP) to reduce local contributions to climate change and prepare the community for present and future changes.
The CCAP will contain goals, actions and emission targets that fit with and address the needs of each local municipality and First Nation with an overarching goal to:
Reduce our greenhouse gas emissions;
Reduce the use of fossil fuels;
Lower our energy consumption; and
Adapt to our changing climate.
Your input is needed. Visit sustainablepeterborough.ca to learn more about the CCAP and fill out a short survey where you can provide personal examples of local climate change effects you've seen, share your ideas, and have a say in climate action going forward.