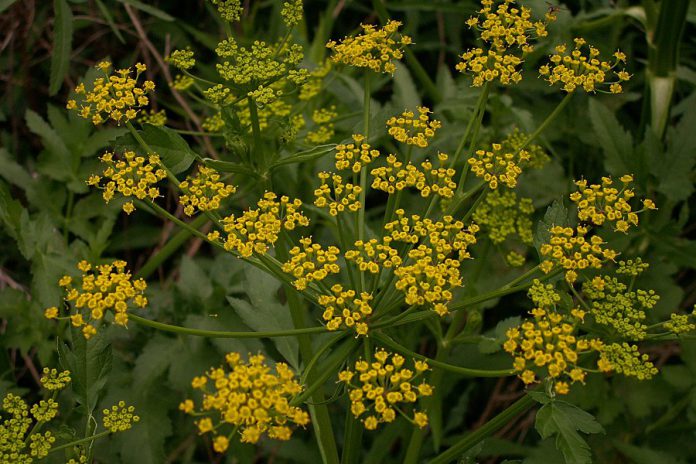 Beware: there's a monster at the roadside. While hardly new, the wild parsnip plant is causing some major trouble in eastern Ontario .
The root of the parsnip (Pastinaca sativa) is what you buy in the produce section of your grocery store. It's plentiful in soluble and insoluble dietary fibre, Vitamin C, and B-complex vitamins such as folic acid.
But the rest of the plant — the part you never see in the grocery store — is poisonous and its sap can cause a type of serious chemical burn.
Exposure to wild parsnip can change lives drastically because its toxins react on your skin to cause an extreme sensitivity to the ultraviolet rays found in sunlight.
That's why an unlucky gardener in Ottawa nicknamed it "Vampire Syndrome". After encountering wild parsnip in her garden in late June, Sherry Steeves developed swollen and blistered skin. She's been told she'll have to avoid direct sunlight for three years.
According to Ontario's Invading Species Awareness Program, the wild parsnip is full of sap that can react with sunlight, causing serious lesions, rashes, and blisters — even blindness.
It's called phytophotodermatitis — and if it happens to you, you'll have to cover up all summer long (or longer) and maybe even carry a sun umbrella.
Local environmentalist and photographer Tim Bellhouse says wild parsnip is "quite common" in the Kawarthas, and he has experienced the burns the sap can produce.
"They are not pleasant," he says.

The plant looks similar to Queen Anne's Lace but with a yellowish flower. It can be found blooming along roadsides in the Kawarthas right now.
"Apart from the fact that it is an invasive species, there are also health concerns," Bellhouse explains. "The liquid in the stem of this plant is photo-toxic — this means that it reacts with sunlight and cause mild to severe burns. The impact is similar to but less severe than giant hogweed." Giant hogweed is another invasive plant found in Ontario.
Others have recently spotted wild parsnip growing along County Road 10 going to Millbrook and the roadsides north of Norwood.
The plant itself, a member of the same family as carrots and parsley, was brought over from Europe and Asia, likely by European settlers who grew it for the edible root. Over decades, the plant, which has an aptitude to spread, has become prolific in meadows and at roadsides. It is found everywhere in Canada, except Nunavut, and it is becoming more prolific in Ontario, including the Kawarthas.
"We have been receiving a lot of reports for wild parsnip this summer," says Ontario Federation of Anglers and Hunters invasive species expert Alison Kirkpatrick.
She says wild parsnip is a "monocarpic perennial," meaning it is a plant that matures, flowers and fruits once, and then dies.
"It is, however, a prolific seed producer. One plant produces, on average, 975 seeds that can create new plants, or are easily spread to new areas."
Kirkpatrick says there have been "a few" reports this summer of wild parsnip in the Kawarthas, but most are originating in the Ottawa and Kingston areas.
She says if you think you see wild parsnip, take a picture, record the location, and contact the Invading Species Species Awareness Program at 1-800-563-7711, or email info@invadingspecies.com. You can see current reports of the plant in the Kawarthas at www.eddmaps.org.
Other tips:
Keep pets and animals clear of wild parsnip, as the sap can be transferred on their fur.
In areas with wild parsnip, wear protective clothing, including waterproof gloves, long-sleeved shirts and pants, and eye protection. Then, when you take off the protective clothing, do so carefully to reduce the risk of skin coming into contact with sap. Experts suggest washing the gloves with soap and water while you are still clothed, then remove other clothing, and rewash the gloves before you take them off.
If your skin comes into contact with the sap, wash thoroughly with soap and water and avoid exposure of the affected skin to sunlight. Seek medical attention if you develop a rash or blisters.
Local naturalist and writer Drew Monkman (www.drewmonkman.com) supplied these photos of wild parsnip on Stony Lake Road (County Road 6) at the corner of County Road 40, that he took on Sunday, July 19th.
"Wild parsnip has really increased in abundance this year," Drew says "I had no idea how much it has increased."