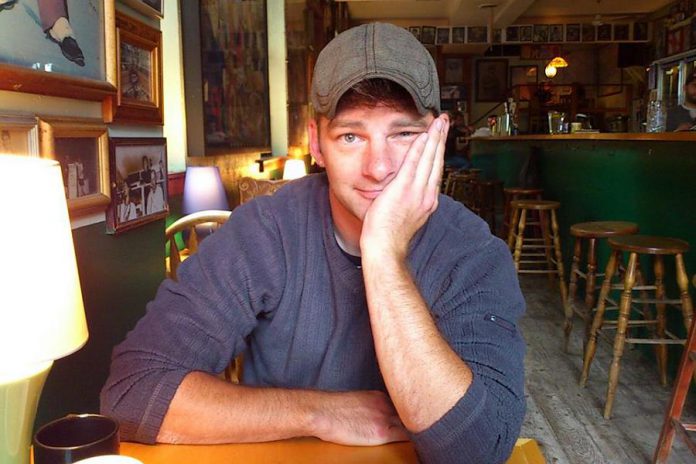 Every month, actor Kenn Gibb presents an original new show at The Theatre on King (TTOK) in downtown Peterborough — but he doesn't tell what it's all about. Welcome to CrackerJack Theatre, where every performance is as much of a mystery as the prize at the bottom of the box.
Both a solid person and performer, Kenn has made his unique mark on Peterborough as the community's most prolific stage fight coordinator, as well as performing each month as a member of The Citiots and playing the role of Brad Bramble in Crime City. However, with CrackerJack Theatre, Kenn challenges both himself — and the audience — in terms of just what can be done on the stage.
"CrackerJack Theatre is held for one night only, once a month and it could be a variety of different things," Kenn explains. "It could be a night of stand-up comedy. It could be a night of improv. It could be a game show. It could be a night of puppetry. I have a lot of things lined up."
However, there is a twist to Kenn's production.
"The kicker is that I don't tell the audience what they are coming to see until they come and see it," Kenn reveals. "That's the way it starts out. I'm doing something, but I'm not telling you what it is — so come on out."
Kenn hopes that, by having the audience come to his show on blind faith, he'll be able to introduce people to something that they may have not thought about going to before.
"One of the ideas behind CrackerJack is that I could bring everything under the sun to TTOK," Kenn says. "There are so many fantastic things out there I want to showcase. But often someone who wants to go to a night of improv might not want to go to stand-up comedy. Someone who would go to a poetry slam wouldn't go to a pantomime show or a puppet show."
"The big question is why?" Kenn continues. "Maybe the idea of going to a puppet show or a dance performance doesn't interest someone naturally, or maybe they just don't know what they are missing out on. Maybe they just don't get it. So CrackerJack Theatre is an opportunity to perhaps change somebody's mind, and get them to experience something new."
Kenn rolled out his first CrackerJack Theatre show this past July with a performance by his improv group The Encore Show, featuring Kenn, Andrew Root, and Kate Ethier. The Encore Show is an alternative style of improv than the type the three perform with The Citiots.

"The Citiots have created a niche market and an audience for a certain style of improv, but there's a vast world of improv out there to do, so we wanted to give it a go." Kenn says. "The Citiots is very much games based, where they stay within a certain set of rules while on stage. With The Encore Show, we do a longer form of open freestyle. It's a different creature, and we haven't had a lot of opportunity to do it in Peterborough."
The first CrackerJack Show was nearly a full house, allowing Kenn to proceed to his next show in August — in which he presented a Dating Game show with real contestants, a real audience, and real prizes.
"I spoke to a friend of mine who was willing to be our main contestant," Kenn says. "She's an awesome person who is always up for anything. Then I went out and found some people who were willing to put themselves up on auction. It was really fun. I actually had them sequestered. I had questions prepared. Some were fun questions, but the round two questions were a little more risqué. I threw in a couple of mock commercials, and Dan Smith was our host."
"It got it sponsored by The Food Forest and the Sapphire Room, so I was actually able to send them out on a date," Kenn adds. "Then the ball was in their court. I bumped into them into the street on their first date, and then they came together to see The Citiots the following Friday. They've been on a few dates following that."
September's CrackerJack Theatre was a night of "Improv Bingo" featuring members of The Citiots and the Guelph-based improv group The Making Box. Audience members were given bingo cards with the names of improv games on them, and the games were chosen via ping pong balls from a bucket.
"We had prizes for first horizontal line, first vertical line, full square and full card," Kenn explains. "Bringing in people we never worked with before kept us on our toes, and we played a lot of games that we've never played for, so that was super fun. The audience had a blast. It was sponsored by Olde Stone Brewing Company and we gave a gift card out to the grand prize winner."
And what does Kenn have planned for the next CrackerJack Theatre? That's anybody's guess. Kenn says that he has a year and a half worth of different ideas for upcoming performances.
But beyond challenging the audience, Kenn is also using CrackerJack Theatre to push himself further in his own craft as a performer.
"If I've never done it before at CrackerJack, then I'm going to give it a go," Kenn says. "When we do a poetry slam, I'm going to write one. One of the CrackerJack shows will be a stand-up comedy night, and I'm going to prepare something."
Kenn also acknowledges that when doing something this experimental, not every night will be a success.
"There's lots of room for failure, and I could bomb," Kenn says. "But I think failure is a healthy thing. If you always know you're going to knock it out of the park, then you don't really have much adrenaline to keep you going. I think that says something about a lot of performers. Why do people get into performing in the first place? Partially because they thrive on laughter and the enjoyment the audience gets off of them. It's a very satisfying feeling."
You never know what's going to happen at CrackerJack Theatre, but you can be assured that it'll be an interesting night featuring talented performances. Dance, theatre, improv, comedy, music — it can be just about anything. It's like playing cultural Russian roulette with the Peterborough arts community.
CrackerJack Theatre performances are not on any set date of the month. The best way to connect with CrackerJack for notifications of upcoming performances is through their Facebook page at www.facebook.com/CrackerJackTheatre.