Prime Minister Justin Trudeau has appointed rookie Peterborough-Kawartha MP Maryam Monsef as Minister of Democratic Institutions in the federal Cabinet. The announcement was made today at Rideau Hall during the swearing-in ceremony for the new Liberal government.
Minister of Democratic Institutions is the new title for Minister for Democratic Reform, previously held by former MP Pierre Poilievre in the Harper government. The position of Minister for Democratic Reform was originally created by former Prime Minister Paul Martin when he succeeded Jean Chrétien in December 2003. The position was intended to address the "democratic deficit", an issue Martin campaigned on when he ran for leader of the Liberal Party of Canada.
Presumably, Minister Monsef will be responsible for following through on the Trudeau government's commitment to reform Canada's "first past the post" electoral system.
Monsef was elected Peterborough-Kawartha MP during the October 19th federal election, with 29,159 votes — 43.8% of the popular vote.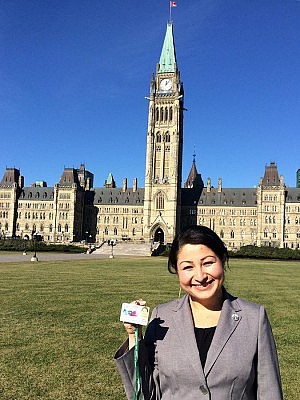 Pundits speculated earlier this week that Monsef was being considered for a Cabinet position, given Justin Trudeau's commitment that his government would feature gender parity and reflect ethnic and regional diversity and generational change.
In addition to being Peterborough's first female MP and, at age 30, the youngest to be elected in both Peterborough and Ontario, Monsef is Canada's first Afghan-born MP.
As a child, Monsef fled with her family from the Taliban in Afghanistan. She was only three years old when her father was killed in a crossfire at the border of Iran and Afghanistan while operating his import-export business. Monsef's 23-year-old mother left Afghanistan with her three daughters, living in Iran, Pakistan, and Jordan before settling in Canada in 1996, when Monsef was 11 years old.
Monsef soon took advantage of educational and employment opportunities not available to women in Afghanistan, including getting a bachelor of science degree in psychology from Trent University.
Along with Jessica Melnik, Monsef co-founded the Red Pashima Campaign, a partnership with Canadian Women for Women in Afghanistan. The campaign has raised over $150,000 for education for women and girls in Afghanistan. Melnik and Monsef received the 2013 YMCA Peace Medal in recognition of their work.
A community organizer and advocate, Monsef has worked with Trent University, Fleming College, Peterborough Economic Development, the Community Foundation of Greater Peterborough, and the New Canadian Centre.
She developed an interest in local politics and ran for mayoral office in Peterborough in 2014. Despite her youth and having no political experience, she came in a very close second to incumbent Darryl Bennett. She subsequently become the Liberal candidate for Peterborough-Kawartha and was elected as MP on October 19th.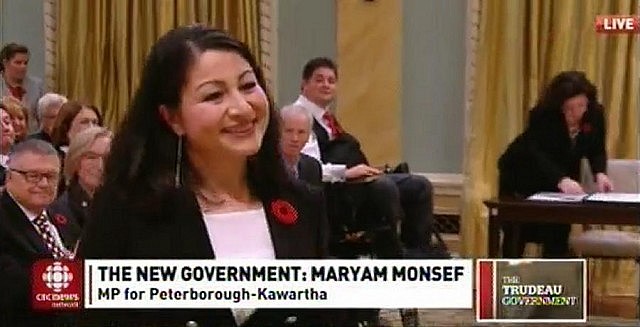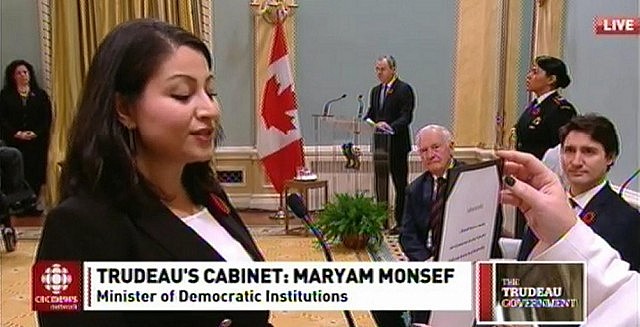 Photos courtesy of Maryam Monsef except where noted.