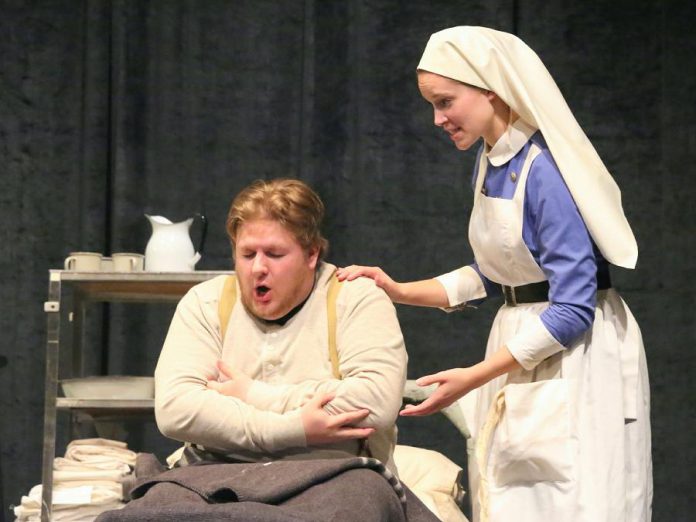 Vimy, director Bea Quarrie's latest production currently running at the Peterborough Theatre Guild, is not the Remembrance Day show you may think it is. It's not bogged down in war and history, blood and guts, or sentimentality and death like many war-based dramas that seem to get staged every November.
Instead, Vimy is a very human exploration of five different individuals who were affected forever by the Battle at Vimy Ridge during the First World War. The result is extraordinary good theatre.
Written by award-winning playwright Vern Thiessen in 2007, Vimy takes place in a war hospital in France during the aftermath of the Battle of Vimy Ridge, where four Canadian soldiers suffering shell shock (now called post-traumatic stress disorder) are being cared for by a nurse.
Despite all being in the same army and the same country, the four men couldn't be more different due to their ethnic, regional, and social backgrounds.
Through a series of flashbacks, the stories of the four men and their nurse unravel, as the audience learns the circumstances that brought these five people from their homes in Canada to the war hospital in France.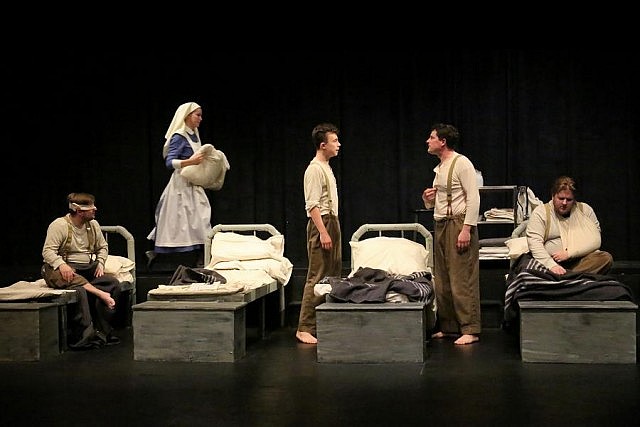 As each generation passes, it's often difficult to find relatable material for war and remembrance, especially for younger generations who've never experienced war. However, playwright Thiessen is able to bridge the gap by basing his characters on real-life individuals and pulling out aspects of these stories that remain timeless.
Beyond war and duty, Thiessen's material explores love, honor, loyalty, friendship, loss, regret, betrayal, and grief. As a result, Vimy is a powerful and moving memoir of five very real characters portrayed by a talented cast of performers.
At the centre of the story is Nurse Clare Gass (Emily McFarland), a Bluebird from Nova Scotia who not only needs to keep her patients alive, but often from battling one another. The story follows Clare's romance from Canada and across the sea with Nova Scotia Highlander Laurie (Justin Boyd), and their attempt to continue to find love despite the horrors of war and their loss of innocence. As the lone female in the cast, McFarland gives a moving performance and is the backbone of the production.
Kevin O'Neill plays Jean-Paul Brillant, a francophone from Montreal who enlists with his friend Claude (played in flashbacks by Max Czmielewski). Within the military, the pair of friends faces prejudice and language barriers based on their heritage.
Czmielewski also plays Mike, a Blood Indian from Alberta whose spirit walk with his brother Bert (played in flashbacks by O'Neill) lead them to enlist in the army. O'Neill and Czmielewski flawlessly go back and forth from being French Canadian to Aboriginal, and make four very different characters come to life.
The fourth story in the drama features David Adams as Sid and Josh Butcher as Will, and is the only story that starts prior to Vimy and continues within the hospital itself. Sid (from Winnipeg) and Will (from Ontario) form a friendship before Vimy, but it becomes strained before they are even in battle. Their personal drama quietly continues within the war hospital, where their injuries aren't just physical and mental but also emotional. Adams gives a bold performance, subtly accompanied by Butcher's.
What makes Vimy so different from most war stories is that it's not actually about the war and the battles. It doesn't make a political statement about war being justified or not, and doesn't get bogged down in history or facts or patriotism. It avoids shock drama and sentimentality.

Instead, it presents a series of character studies of the men and women on the battlefield. Although the war shapes their lives, the battles and dramas start back in Canada. The result is a much more human and relatable production that cuts through the mud and the blood and goes right to the heart. Vimy has a potent script that is brought to life by an incredible company.
Outside of the play itself, there's an opportunity for the audience to learn more about the Battle of Vimy Ridge and World War I. The family of former Peterborough resident Laurence Gould (1896-1982), who survived Vimy Ridge, has loaned Gould's notebooks, postcards, photographs, and clippings from World War I.
The collection is accompanied by war-era artifacts on loan from the Peterborough Museum and Archives and on display for the audience to see in the theatre's lobby. Furthermore, the Peterborough Theatre Guild dedicates each performance to one of the 20 local soldiers who fought at Vimy Ridge.
Vimy is also accompanied by an informative blog with further historical facts behind Vimy, the people on whom the show's characters were based, and more interesting information that makes this show come to life. You can visit the blog at http://vimy2015ptgproduction.blogspot.ca/.
Productions about war are almost a cliché during the month of November, but Vimy is one of the best shows that I've seen in 2015. Powerful, emotional, moving, and very real, it's an experience you will not expect from a Remembrance Day show. Vimy is theatre worth seeing and I applaud Bea Quarrie and her company for bringing this incredible production to life.
Vimy runs until Saturday, November 14th at the Peterborough Theatre Guild (364 Rogers St., Peterborough). Shows start at 9 p.m., with 2 p.m. matinees on November 8th and November 11th (Remembrance Day).
Tickets are $20 for adults, $18 for seniors, and $10 for students, and can be ordered by calling the box office at 705-745-4211 or online at www.theatreguild.org.