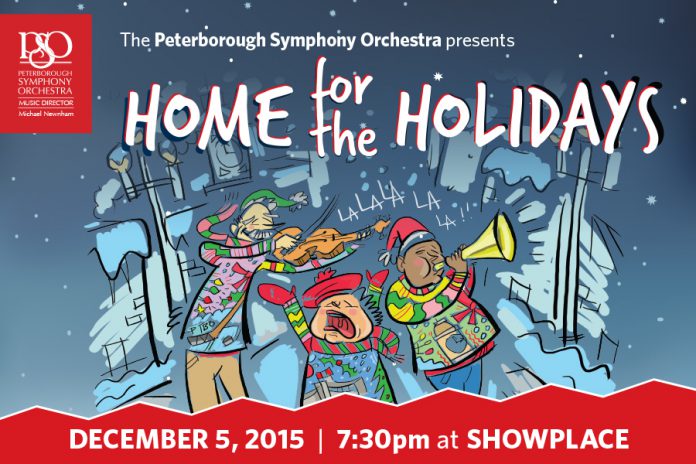 The Peterborough Symphony Orchestra (PSO) kicks off the month of December with its 2015/16 special concert, Home for the Holidays.
Join the PSO and guests, the Peterborough Pop Ensemble and the Kawartha Youth Orchestra, at Showplace (290 George St. N., Peterborough) on Saturday, December 5th at 7:30 p.m. following the Peterborough Kinsmen Santa Claus Parade.
Home for the Holidays will be a light-hearted concert featuring "Children's Corner" by Claude Debussy, "Wine, Women and Song" by Johann Strauss, Jr. and seasonal treasures by Michael Conway Baker, John Rutter and Mel Tormé. There will be a carol sing finale to get everyone into the spirit of the holidays.
The PSO hopes friends and families will enjoy Home for the Holidays as a fun way to top off an evening out together at the beginning of the holiday season.
Concert goers who show their tickets at PSO fine restaurant partners get 10% off of food on the day of a concert, so December 5th is a great opportunity to have a discounted meal out before attending the Santa Claus Parade, then warming up with the PSO's holiday concert.
The PSO's 2015/16 fine restaurant partners are Brio Gusto, Dolce Vita, Elements, Gerti's, Hobart's Steakhouse, Kettle Drums Restaurant and Bar, Nicolini's, and St. Veronus Café and Tap Room.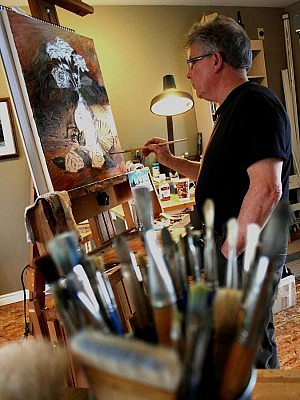 Unlike at PSO main series concerts, there will not be a "Meet the Maestro" pre-concert talk by Conductor Michael Newnham at Home for the Holidays.
Instead, ticket holders are invited to enjoy hot chocolate in the Showplace lobby after the Santa Claus Parade. Showplace offers a coat check by donation as a convenient place for guests to store their outerwear after coming in from the chill.
While warming up with hot chocolate before the concert, ticket holders will have a chance to meet local artist Michel St-Jean.
Michel graduated from the Ontario College of Art and completed a post-graduate study at Harvard Graduate School of Design. His work is exhibited in collections in Canada, England, and the United States. Michel has been painting for over 50 years. His current body of work demonstrates diversity of subject in Classical Realism including portraiture, figurative art, landscape, and still life.
Michel has donated an original oil painting titled "Art and Music" to the PSO's fall raffle draw. The painting, valued at $5,000, will be on display at Home for the Holidays.
The draw will take place after the concert, so supporters of the PSO have only a short while longer to purchase their raffle tickets.
Michel was moved to paint "Art and Music" in 2012 after visiting the Mexican city of San Miguel de Allende, where he met American violinist Elizabeth Pitcairn.

Elizabeth began playing violin at age three, performed her first concerto with orchestra at age 14, and studied violin at the USC Thornton School of Music. She later became a faculty member at the school. She is now President and Artistic Director of the Luzerne Music Center.
When Michel met Elizabeth, she told him about how she came to own Antonio Stradivari's legendary Red Mendelssohn violin, the violin said to have inspired the 1998 film by François Girard. Elizabeth's grandfather purchased the violin in 1990 for $1.7 million at auction and gifted it to her when she turned 16 years old.
The red violin was handed down over almost 300 years before Elizabeth received it. Its history and sound inspired Michel to depict the violin proudly standing on Stradivari's workbench while the craftsman plays another violin in the background. His hair flies about with each stroke of the bow and his face contorts as he listens for every musical nuance. The image came to Michel's mind as he himself listened to the beautiful sounds emitted from the instrument as Elizabeth played it in San Miguel de Allende.
The PSO is proud to offer lovers of both art and music the chance to win this original painting on December 5th. Raffle tickets will be on sale for $10 each or three for $25 at Home for the Holidays, but may also be purchased now from the PSO office (159 King St. – Suite 200, Peterborough, 705-742-1992).
Concert tickets for Home for the Holidays are available from Showplace (290 George St. N., Peterborough, 705-742-7469, www.showplace.org) at a cost of $30 for adults and $15 for youth.
All images courtesy of the Peterborough Symphony Orchestra.