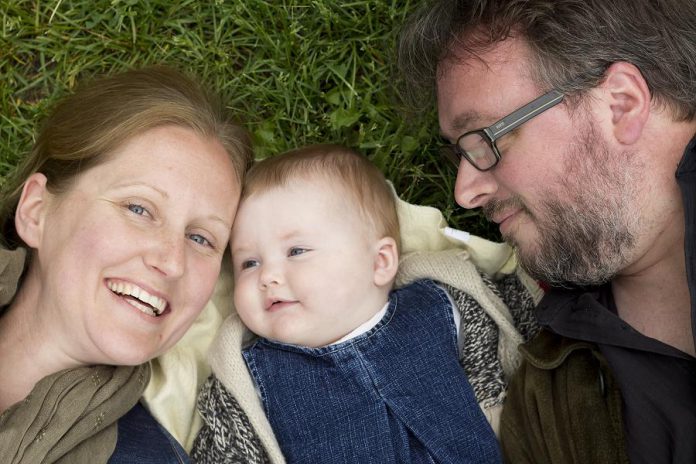 Clara Campbell Fraser is well on her way to a life following in her parents' musical footsteps. She's already learned how to strum a guitar, and play with one finger — not a fist — on the old upright piano in the living room. And when Krista and Donald's bundle of joy arrived December 12, 2014 at Peterborough Regional Health Centre (PRHC), she was, just as they had imagined, the most beautiful baby they'd ever seen.
It's the way a birth should be: hard work, followed by the thrill and relief of a healthy baby to hold and love.
But, as is far too often the case, little Clara was about to reveal a surprise that her parents dreaded — having already given birth to one stillborn child and suffered through one miscarriage.
"The doctor came into my room," Krista recalls. "Donald had already gone home to get some sleep. The doctor said that they were worried about some of Clara's readings — her respiration and temperature, for example. I had tested positive for Group B Strep — not uncommon — and that can be dangerous for a baby. With her readings being inconsistent and my test, the doctor said they were moving Clara to the Neonatal Intensive Care Unit."
"At that point excitement and exhaustion turned to worry and concern," she adds. "I had to struggle to keep from imagining worst-case scenarios."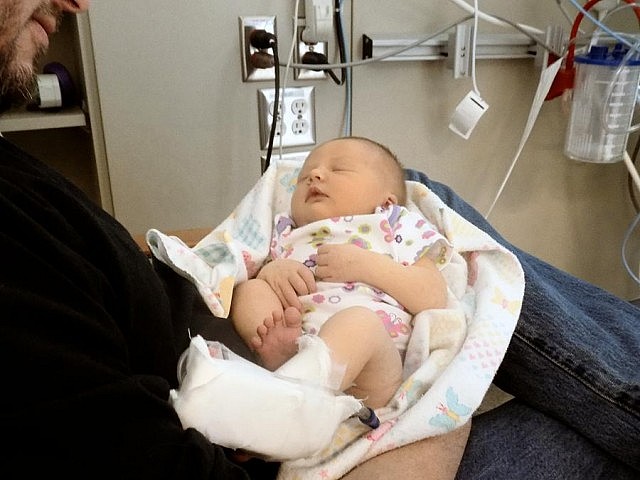 Clara was one of more than 1,600 babies born at Peterborough Regional Health Centre last year. She was also one of the seven to nine babies who, at any one time, need to spend time in the Neonatal Intensive Care Unit (NICU) before going home.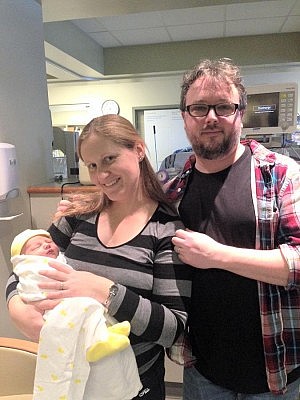 Medical experts at the hospital remind us that most pregnancies are uncomplicated. Occasionally — but more often than we realize — a baby shows signs of distress in the hours following birth. A baby may not have low birth weight or any other risk factors for complications after birth, yet may still need the careful attention and equipment available in the NICU.
In Clara's case, she was moved from her mother's bedside to an incubator that could better stabilize her temperature. Clara was hooked up to monitors that would give more rapid and repeated measurements of indicators such as respiration rate and temperature.
She had blood drawn to help determine what was causing her fever. She was also tested for Group B Strep and, since her white cell count was high, doctors started Clara on intravenous antibiotics as a precaution.
During the time Clara was in the NICU, Krista and Donald sat at her bedside or slept in a nearby parent room. Neonatal nurses encouraged Krista to be with her baby as much as possible and, when she needed some rest, taught her how to use a breast pump so she could leave her own milk for her baby.
They also supported her through the infamous "baby blues" — the mood swings, anxiety, and tearfulness that affect many women in the days just following birth because of sudden hormonal changes.
Even more importantly, according to the Campbell Frasers, their baby was receiving exactly what she needed to give her the best shot at coming home healthy one day.
Krista and Donald both speak about the value of having nurses trained specifically for newborn care, as well as immediate access to baby-friendly equipment; that eased their minds, they say. But there's another surprise the Campbell Frasers left with, when it was finally time to take Clara home.
Donald calls it the holistic approach to care. Krista calls it extra support. It was the individualized attention nurses and doctors gave not just to Clara in the NICU, but also to Krista as a new mom and Donald as a new dad.
---
Community donations to the PRHC Foundation fund needed equipment at the hospital's Neonatal Intensive Care Unit, including bottle warmers for formula or breast milk, vein viewers to make injections easier and faster, and triple pumps to administer medication and supplementary nutrition.
---
"It's busy in the NICU," Donald says. "There are people from all over. The equipment gets high use — it's the only neonatal support of its kind in the entire area. But when the medical professionals are with you or your baby, there's nothing else. They are truly with you, and concerned not just with your baby, but with you and your partner — the whole family."
Clara spent five days in the NICU before the Strep culture came back negative, her temperature and respiration had stabilized, and she was feeding well. Clara has thrived ever since and now relishes playing peekaboo as much as her dad loves improvising songs for his girl — whether it be for bathtime, bedtime, or playtime, they've lost count of the number of songs he's made up!
It's been almost a year since Clara's stay in the hospital, and her parents remain grateful the NICU was there when Clara needed it — as well as other newborns.
"Our experience in the NICU was probably less harrowing than many," Donald says now, pointing out that there were tiny premature babies in the neighbouring incubators, and other families who had children in the NICU for far longer than five days.
For the Campbell Frasers, it was a matter of staying ahead of what might happen, given the clues little Clara was providing to doctors.
"It's scary that you need the NICU, but it's reassuring that it's there," Donald says.
And a word from Krista to any new mom and dad who experience something similar:
"Take all the support they offer, and trust the staff. Stop and listen to them. And, please don't hesitate to be in there with your child. It can feel a little strange in the midst of the busy NICU, but the staff really wants you to be there with your baby."
This holiday season, consider making a donation to the PRHC Foundation and help fund the $1.4 million in new equipment needed to care for our community's smallest and most vulnerable patients. Your donation may be the most important gift babies and their families ever receive. For more details, please visit the PRHC Foundation website at www.prhcfoundation.ca or call 705-876-5000 today.
All photos courtesy of the Campbell Fraser family, except where noted.