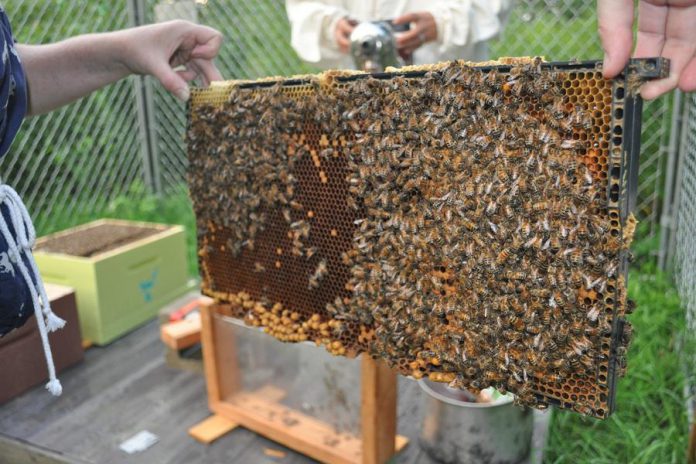 The holiday season is in full swing. No matter what you and your loved ones are celebrating this year, it will probably involve a holiday feast. Before you pass the cranberries, consider this … what would your holiday dinner look like without pollinators?
Insects are the silent workers behind much of our food. Around one third of the food we eat comes from insect pollination, including about 400 species of native Ontario bees as well as introduced honeybees. Without these ancient insects, our feast would not include apples, carrots, parsnips, cranberries, or brussels sprouts! Current challenges facing the bees include climate change, pesticide use and habitat loss, which threaten many bee species towards the point of extinction.
GreenUP has recently initiated the Community Beekeeping Program. Currently this project is planning, for spring of 2016, to deliver hands-on beekeeping and pollinator habitat experience to community members. GreenUP Ecology Park is currently home to two hives and the program hopes to grow that number throughout the city next summer.
A steering committee will be reviewing potential partnerships within Peterborough to determine ideal locations for the GreenUP beehives that best protect and provide healthy forage habitat for the bees, as well as educational and safe engagement for the public. GreenUP will uphold the provincial beekeeping regulations through the Ontario Ministry of Agriculture, Food and Rural Affairs' Bees Act, as well as advocate for safe and accessible urban beekeeping practices in Peterborough — which other cities such as Vancouver, Calgary, Portland, New York City and Chicago have successfully adopted.
The GreenUP Community Beekeeping initiative has three simple core priorities:
Sustainability – The number of hives to care for will depend on community involvement and commitment throughout the season.
Accessibility – The location of beehives and program activities will be accessible to people in the community who don't own beekeeping equipment, land or a vehicle.
Community – The program will focus on hands on learning and the celebration of native and honeybees bees in our immediate environment, within a supportive group setting vs. individualized beekeeping support for personal use.
Along with the critical ecological process of pollination, people benefit from the value added products that come with the care of honeybees, including honey and beeswax. The hives at GreenUP Ecology Park produced over 25 kilograms of organic wildflower honey this fall. The program is currently in discussion about how the honey produced from the urban hives will be distributed, with the intention that it will contribute to local food security. The program intends to have a large focus on native bee species within the area.
Although honeybees are less discriminatory towards their food source, many native species specialize in pollinating one plant and have specific nesting requirements. This relationship is important to both the plant and bee survival. Members of the program will be constructing native bee "hotels" to be placed in various locations throughout the community.
---
Urban Beekeeping in New York City
---
Urban beekeeping is becoming a more acceptable practice, popping up in cities all over North America, often in conjunction with innovative urban agricultural projects and businesses.
Hives can be tucked into public parks, or even placed on the roofs of buildings such as the CBC building and the Fairmont Royal York Hotel in Toronto. Living in a city can remove individuals, especially children, from an understanding of ecological processes and agricultural production, which can lead to unsustainable habits being developed.
Urban beekeeping re-imagines the way that we utilize our space in the city and can provide a lens through which citizens can witness integral processes, such as pollination, within our food system. The practice of stewarding these amazing insects is a wonderful community building and educational tool. Additionally, community beekeeping holds great potential to increase both native and honeybee population status, through the diversity of forage and the cosmetic pesticide bans that exist in urban centres.
The GreenUP Community Beekeeping Program met for their first roundtable discussion in November and is planning a future meeting in February next year. For more information about the program, contact Marcy Adzich at workshops@greenup.on.ca, visit www.greenup.on.ca, or give us a call at 705-745-3238 ext 212.