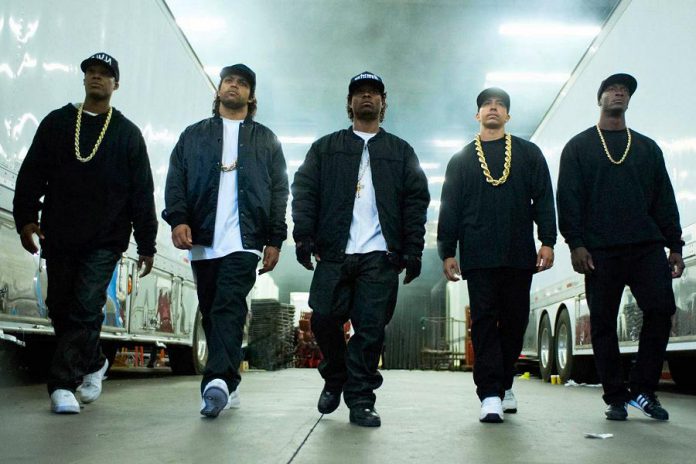 Another year, another menagerie of fractured characters and narratives. Yet here, they explore the trappings of identity and the fledgeling notion of individual permanence. From terminal illness to social injustice and intangible boogeymen, 2015 was a rich year for intricate examinations of the thin grasp we often have over our lives and how we really relate to each other.
The fantasies are dark but cathartic and eviscerate cliche whilst swathing through the fat like a samurai's blade. In a society rife with calamity and strife, the tide is starting to change: bad things happen, yet there is hope. And, as always, cinema acts as a mirror to these factors. The visage is dark but its heart is bright. You may even laugh along the way.
---
10. Straight Outta Compton
Walk the Line and Ray cemented the musical biopic as a go-to genre for low-rent budgets with a guaranteed fanbase. When the announcement came that an N.W.A. feature was in the works, our collective shoulders shrugged at what would likely be another paint-by-numbers movie-of-the-week treatment.
The sleeper hit of the year proved us all wrong.
Featuring enthusiastic involvement from the group itself, Straight Outta Compton turned out to be a prescient and engaging watch not only for fans, but for those who didn't understand the music and the message the first time around. Gangsta Rap and the Rodney King trial defined the early nineties in Los Angeles.
That this above-average music film received wide distribution in Canada but not in the United States — for fear of provoking more race-related violence — makes the story it tells more relevant than ever. Have things gotten any better? No, we've just gotten better at pretending the problems have been fixed.
---
9. Ma Ma
Director Julio Medem clearly shares sensibilities with another supreme Spanish sensualist, Pedro Almodovar. And the two men now share a muse in the divine Penelope Cruz. Both use serpentine narratives that celebrate the restored voice of democratic expression in Spain.
Medem had hits on the arthouse circuit with Sex and Lucia and Chaotic Ana — both dreamy, almost metaphysical ruminations on life and sex in their specific culture. Ma Ma is an uncharacteristically grounded endeavour. Though, the exquisite melodrama remains.
Cruz has long been viewed as little more than Tom Cruise's "Spanish Enchantress" ex-wife and admittedly appears in a lot of crummy North American films. In Spain, she is revered for what she truly is: a great actor.
Ma Ma begins with Cruz's breast cancer diagnosis. Shattered, she goes to watch her young son's football game where she meets a scout from Real Madrid whose entire family dies in a car accident during the match. Thrust together through calamity, the two begin a passionate affair resulting in Cruz's pregnancy announced nearly the same day that she is told she has eight months to live. Breast cancer is rarely portrayed on film, and here Medem's background in medicine is finally made crystal clear.
A vital film that will fly under the radar on all fronts. Terrific viewing.
---
8. The Assassin
Despite not winning the coveted Palm D'or, Chinese auteur Hsiao-Hsien Hou's sumptuous The Assassin was generally heralded as the best film at Cannes in 2015.
Set in feudal 7th century China, Hou's deceptively simple narrative follows a deadly young assassin (Qi Shu, mesmerizing) as she is sent on a mission to kill a political leader who was once her childhood love. A definite slow burn that weaves sound and image into a hypnotic mantra-like effect.
Rural China has arguably never looked so beautiful in cinematographer Ping Bin Lee's masterful compositions. The use of music is atypical of the genre: traditional Chinese action set to Scottish bagpipes is a jarring and unexpected delight.
If you enjoyed Crouching Tiger Hidden Dragon, give this a spin.
---
7. Goodnight Mommy
First-time filmmakers Severin Fiala and Veronika Franz display a masterful grasp of suspense in their feature debut, Goodnight Mommy (original German title Ich seh, Ich seh). The Austrian duo imbue their austere setting with lyrical details that render it less horror, and more Bergman-esque fairy tale.
Twin nine-year-old boys living in a posh new country house face an existential crisis when their celebrity mother returns to the homestead after having intense cosmetic surgery performed. The boys are convinced that the woman beneath the ghoulish bandages is not actually their mother, but a cruel, clever impostor. The tension simmers until it finally erupts into a explosive and refreshingly downbeat ending.
A 21st century Hansel and Gretel that is not for the squeamish.
---
6. Love
Ultra-controversial Argentinian filmmaker Gaspar Noe has created some of the most mentally and physically arresting cinema of all time. 2001's Irreversible (featuring uncredited sound by Daft Punk designed to induce nausea) remains the only transgressive film I couldn't sit through twice.
His latest venture, Love, continues this tradition. Featuring pervasive, unsimulated sex shot in 3D, Love is a sexual odyssey in the vain of Bertolucci's Last Tango in Paris and Liliana Cavini's The Night Porter. On the surface, it possesses the self-indulgent drudgery of Shortbus, but Noe's unparalelled technical prowess elevates mere penetration into a long, hard portrait of alienating young love.
And the seriously sexy soundtrack cannot be beat.
---
5. High Rise
J.G. Ballard's singular texts, both erotic and futuristic, have long been deemed impossible to translate to the screen.
David Cronenberg's aggressively uncompromising adaptation of Crash defiantly challenged that notion by portraying the most daring filmed sexual escapades since the pagan pornography of Oshima. English auteur Ben Wheatley (Kill List, A Field in England) was an inspired fit to realize Ballard's capitalist phantasmagoria High Rise.
Tom Hiddleston leads an excellent international ensemble cast as a handsome young doctor who has recently moved into a nearly self-sustaining high rise apartment complex, where the floor you live on denotes your social and political standing. Ruled over by a seething and posh Jeremy Irons (who else?), the complex inevitably descends into utter anarchy in the U.K.
Scathing, exotic, and immaculately designed, frenzied science fiction commentary doesn't get more fun than this.
---
4. Grace and Frankie
The line between film and television continues to blur, with the latter becoming the new battleground for quality. In 2015, we saw Netflix wisely continue to muscle in on HBO's territory. The omnipotent streaming service's original series Grace and Frankie delivered poignant observations about age and desire swathed in rapid-fire laughs.
Industry veterans Jane Fonda and Lily Tomlin effortlessly captivate as two contentious friends in their seventies whose husbands have left them to begin a new life together. The fiery performances and peak Simpsons-era writing quality aside, the series is a honeymoon showcase for Fonda.
Like American Horror Story brilliantly putting Jessica Lange front and centre, Grace and Frankie introduces a new generation to one of film's finest living actors and beckons them to explore an exhaustive catalogue of medium-defining roles (Fonda's Oscar-winning role in Klute remains my favourite performance by an actor ever).
Here's hoping that they can rope in Dolly Parton for season 2, as comedy is arguably the hardest genre to successfully execute …
---
3. It Follows
… except for horror. In a age where found footage is dominant and a genre is recently defined by films that essentially parody it, relative newcomer David Robert Mitchell's It Follows is an absolute revelation.
Many critics have pegged the best coming-of-age film since Stand By Me as a adolescent warning. A debatably valid assessment, but It Follows is more accurately a lament to the loss of innocence.
A likeable batch of unknowns are plagued by an unstoppable, persona-shifting entity passed on by intercourse that relentlessly follows the afflicted. It is slow but not stupid. This simple conceit is stunningly impactful. The creature, endlessly changing its skin, is almost always onscreen slowly advancing on its prey.
That a bunch of teenagers scrambling to deal with the claustrophobic trappings consistently panic and make the wrong decisions is only one of the many dark delights this film offers. A throbbing John Carpenter-esque electronic score and the suburban decay of Detroit make this a menacing experience for the ages. Repeat viewings will reveal its many subtle surprises.
---
2. Mulholland Drive
David Lynch's almost frustratingly unclassifiable masterpiece has been bewildering and perplexing audiences and critics alike since its thundering debut at Cannes in 2001.
Now, re-released by the hallowed Criterion Collection in a 4K digital restoration, this enigmatic thriller will continue to reign for another decade of fear and desire. Naomi Watts (in a staggering, star-making turn) plays a naive Ontario expat attempting to navigate Hollywood's venomous star machine. She becomes involved with a beguiling amnesiac (Lara Elena Harring) who holds the key to a mind-altering industry-wide conspiracy.
Truly a Hollywood horror. Though, on Mulholland Drive, horror is not a killer stalking corridors, but unrequited love and personal failure. Turn off rational thought and take the plunge.
---
1. Mad Max: Fury Road
Sometimes when you watch a film when it premieres, you get a sensation of celluloid beer-goggles that can nullify the faults of a picture. Well, it's been seven months and I can't stop thinking about the fire and brimstone of George Miller's visionary return to the multi-plexes.
Mad Max: Fury Road makes serious claims to being the best action film of all time. Grimy, gross, and relentless, Miller's long-belated labour of love is both timely and timeless: evoking the ultimate in heady illustrative science fiction of the last 30 years while grinding that imagery through a aggressively feminist processor. It is a marvel of ideas and execution.
In a year where women were allowed to kick an enormous amount of ass, Charlize Theron's grizzled, nearly bionic Imperator Furiosa burned to the top of the pile. Katniss Everdeen and The Force Awakens' Rey were impressive, too, but Theron conveyed an entire race and gender's struggles through little more than frustrated and disappointed expression. An Oscar nomination is in order.