Acid folk? Alt-country? Psychedelic blues? The music that Tom Wilson writes and performs as Lee Harvey Osmond is hard to categorize, but its visceral honesty once brought award-winning writer Miram Toews to tears.
And now Wilson is bringing that music to the Gordon Best Theatre in Peterborough on Friday, February 12th. Wilson's son Thompson Wilson and Peterborough favourites Mayhemingways open the show.
Wilson's latest record as Lee Harvey Osmond is the 2015 release Beautiful Scars, whose title track was inspired by Miram Toew's novel All My Puny Sorrows — based on events leading to the suicide of her sister. Wilson debuted the song on CBC's q last May, with Toews in the studio, and her emotional reaction is something to see.
Produced by Michael Timmins of the Cowboy Junkies in his intimate Toronto Roncesvalles studio, Beautiful Scars is Wilson's third record as Lee Harvey Osmond, following 2010's A Quiet Evil and 2013's The Folk Sinner. Each album was long-listed for the Polaris Prize and the latter was also nominated for a Juno Award.
The new record's title is a metaphor for celebrating the things that happen in your life, even when unpleasant, that make you who you are.
"At this time in my life, I look back at 56 years of living and realize I've created a work of art, my own work of art, something that I couldn't go back and make the same way again," Wilson explains in an interview with The Calgary Herald. "I think all of us in our mid-50s have created a work of art that we can call our lives. And there's an honesty in there, and looking back at it, we're more honest about it."
---
Tom Wilson debuts "Beautiful Scars" on CBC's q — and Miram Toews reacts
---
On Beautiful Scars, Wilson's deep baritone voice sounds at times like the sonic offspring of a union between Howlin' Wolf and Tom Waits or even Leonard Cohen. Some tunes feature atmospheric instrumentation creating the groove behind Wilson's vocals ("Blue Moon Drive", "Oh The Gods"), while others are stripped down to simple acoustic guitar accompaniment ("Come and Go" and "Bottom of Our Love"), bringing his voice front and centre.
"They were live recordings of just an acoustic guitar, my son Thompson Wilson and I singing," Wilson says in his Calgary Herald interview. "They're two of my favourite songs on the record because of the honesty."
Wilson's son Thompson (formerly of Harlan Pepper) will be joining Lee Harvey Osmond for the Peterborough show, along with drummer Ray Farrugia (Wilson's friend and former Junkhouse member) and Aaron Goldstein (pedal steel guitar, guitar) and/or Jesse O'Brien (keyboards).
Thompson will also be performing an opening set, as will Peterborough's own Mayhemingways (Benj Rowland and Josh Fewings).
---
"Blue Moon Drive" – Lee Harvey Osmond
---
Wilson, who turns 57 in June, wrote his first song when he was 12 years old. The Hamilton native formed his first band, The Florida Razors, in 1981 but he reached musical celebrity status with the alt-rock band Junkhouse, which produced a series of hits in the 1990s including "Shine", "Out of My Head", "Praying for the Rain", and "Jesus Sings the Blues".
In 1996, inspired by the songwriting talents of Willie P. Bennett, Wilson joined Colin Linden and Stephen Fearing to create the Juno award-winning roots supergroup Blackie and The Rodeo Kings, which has released seven records.
When he's not writing and performing music, Wilson is also an accomplished artist who began painting when he stopped drinking in 1997. His one-of-a-kind paintings are also stylistically original, as he scratches lyrics from his songs or from his note books onto the canvas.
"I needed an outlet besides writing music and there's a great meditative bond I found between me and the canvas," he says.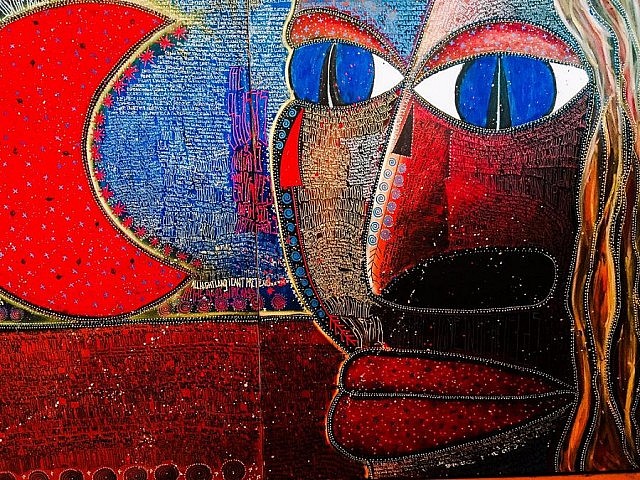 Wilson is also working on a memoir, written with the assistance of author and musician Dave Bidini (formerly of the Rheostatics), to be published by Penguin Random House Canada in the fall of 2017.
In his memoir, Wilson will tell the story of the revelation a few years ago that made him question everything he has always known about his past: the accidental discovery that he is adopted and that someone he thought was his cousin — a woman of Mohawk heritage — is actually his birth mother.
Tickets for Lee Harvey Osmond are $30, available in advance at Bluestreak Records (444 George St. N., Peterborough, 705-742-6078) and online at ticketscene.ca. Doors open at 7 p.m. with the show beginning at 8 p.m.
---
"Loser Without Your Love" – Lee Harvey Osmond
"Come and Go" – Lee Harvey Osmond featuring Thompson Wilson
"Hunter Street Blues" – Mayhemingways