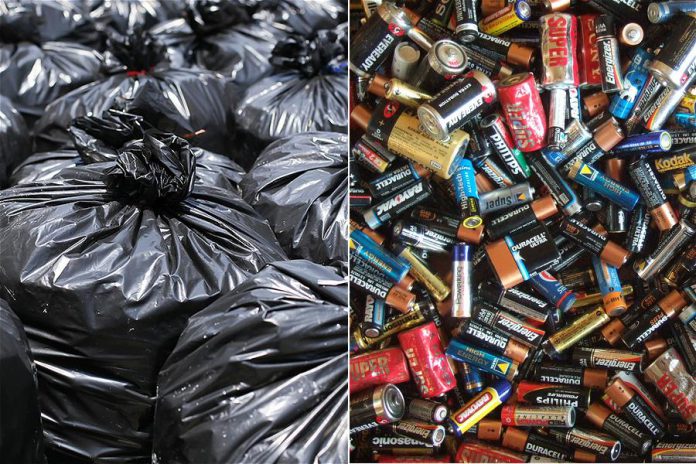 The City of Kawartha Lakes has announced two changes to its waste management practices for 2016: a transition to clear plastic bags and a curbside household battery collection pilot program. Both changes are expected to be implemented by September 2016.
"Our City landfills are filling up," says Mayor Andy Letham. "We all need to work to reduce garbage entering our waste streams and increase the amount of recycling we do."
The new requirement for clear garbage bags is intended to help ensure recyclable materials do not end up in the landfill. The city expects that using clear garbage bags will divert 600 tonnes of waste annually that would otherwise end up in a landfill. About 40 other municipalities across Ontario already require clear garbage bags.
"In every municipality that has implemented clear garbage bags, there's been a positive decrease in waste and an increase in recycling," explains Heather Dzurko, the city's Waste Management Operations Supervisor. "In addition, this program will reduce the amount of hazardous materials going to the landfill and improve safety for waste collectors."
As well as helping to prevent recyclable materials from ending up in the landfill, clear bags will also improve worker safety by protecting collectors from sharp objects such as broken glass or needles.
Collectors can conduct a quick assessment of the contents within the clear bags to ensure that no recyclable or hazardous items such as oil paint, pharmaceuticals products, or corrosive wastes are in the bag.
A "soft launch" of the program is expected to begin in the spring, when the city will encourage residents to start using clear plastic bags (but without penalty if they don't). The city will require residents to use clear gabarge bags beginning in September 2016.
"We recognize there will be a change for people and we want to give them as much time as possible to begin the change over," says David Keer, Manager of Environmental Services. "Residents can begin using clear bags anytime they like, but we are aiming for full implementation between September and December of this year."
Under the new program, residents will be allowed to place one small opaque bag in the clear garbage bag to dispose of items they wish to shield from view, such as sanitary products, financial information, or other personal items.
Starting in September, residents will also be required to bring any bagged waste to the landfill in clear garbage bags.
City staff will begin a year-long education campaign to make sure residents, both full-time and seasonal, are aware of the program. The city has also provided answers to frequently asked questions on its website.

The city has also announced a curbside household battery collection pilot program to begin in September.
Later this spring and summer, residents across the municipality will receive a clear, specially marked bag for their old batteries. They will be able to place this bag with their curbside paper recycling for pickup during a special collection day in September.
City officials estimate the initial curbside pick-up could result in as much as 8,000 lbs of batteries being collected.
"Batteries contain heavy metals like mercury and cadmium," says Kerr. "Anything we can do to help keep these metals out of our landfills and from being dispersed into the environment is a good thing."
The batteries that will be accepted include:
Standard A, AA, AAA, C, D batteries (both alkaline and "heavy duty")
6-volt (often used in lantern batteries)
9-volt batteries (often used in smoke alarms)
Button cells (typically used in watches, toys, electronics, greeting cards, calculators)
Rechargeable battery packs, including NiCad, NiMH, or Lithium Ion (typically used in laptop computers, cellular phones, power tools, etc.)
There's no limit on the number of batteries residents can dispose of, and the city is encouraging residents to save any used household batteries they have until the first collection day in September.
Fifty municipalities across Ontario collect household batteries at the curb. If the pilot project proves successful, the city will consider expanding the program to two curbside collection dates, one in the spring and one in the fall, in future years.
The city plans to provide more details about the program once the September collection date is confirmed.