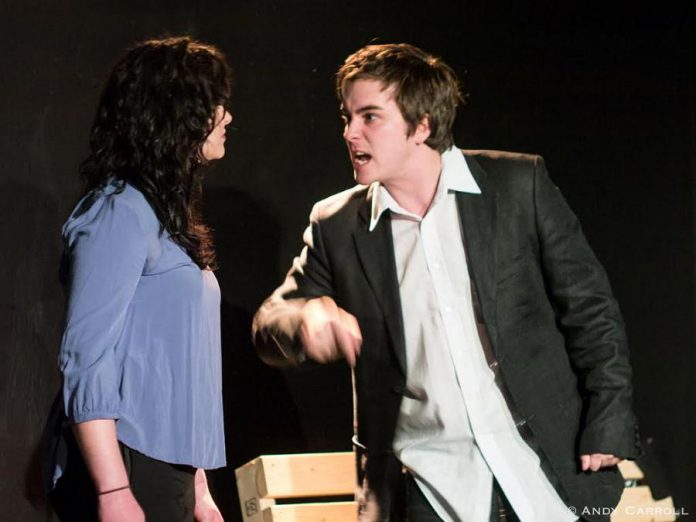 While discussing his play Heaven in a 2010 interview with the Toronto Star, Canadian playwright George F. Walker said in retrospect he felt the show was "way, way too angry" and that, while listening to the show in previews, he began to wonder "What's wrong with me?"
These comments from the writer of Heaven are the greatest testament to what you can expect from this gritty and intense production being boldly being staged this weekend by the Anne Shirley Theatre Company. Making their directorial debut, Gil Ruston and Ben Harrison bring together a new crop of amateur players in a show without heroes — and with nothing heavenly in it.
First staged in 2010, Heaven's cast of characters includes a slur-sprouting civic-rights lawyer having a mid-life crisis, his suffering wife who has rediscovered her Jewish faith, a sadistic cop on the edge of reality, a homeless drifter living in fear, a rabbi suffering with both moral and spiritual dilemmas, and a heroin addict who likes to juggle. One of the characters is also a killer and when the lives of the characters collide, those left standing will be wondering if they can find redemption in heaven.
Ben Harrison plays Jimmy, a sleazy civil rights lawyer who's a self-proclaimed racist. Tired of political correctness, Jimmy finds comfort in a bottle and hangs out in a park filled with junkies and homeless people. When Jimmy finds out his wife Judy (Charlotte Hannah) is planning on having an abortion, he falls into a pit of despair where he challenges Hannah about her Jewish faith and antagonizes her rabbi (Keegan Morton). But it's Jimmy's connection with an old childhood friend Karl (Isaac Dicker) and a chance meeting with two homeless junkies Derrik (Chancellor McGuigan) and Sissy (Jenny Fisher) that truly spin his life out of control.
There's no better way to say it than Walker says himself: Heaven is a very angry production. It's a show filled with conflict, where the players seem to be battling one another from the moment the lights go up. The language is blunt and the constant barrage of racial slurs shocking and unapologetic. Many of the strongest characters are irredeemable and unlikable, resulting in an angst-filled production gripped by a constant sense of anxiety.

Harrison takes on a tough role by playing a character so hateful and disgusting that he's impossible to sympathize with. Jimmy is angry, arrogant, petty, abusive, and condescending to everyone he comes in contact with. One of the vilest characters I may have ever seen on stage, Jimmy makes Donald Trump look like Nelson Mandela.
Possibly the worst thing about Jimmy is that his racial hatred is not spurred on by ignorance, but a bigotry that comes from deep within him. He truly hates all cultures and people, despite having a successful career defending them in court. It's just as difficult listening to a bigot on stage as in real life, especially one so definite in what he's saying.
So how do you make a character like Jimmy work? By introducing another one who's even more unlikable.
This is where Isaac Dicker comes in as Karl. As much as an out-of-control monster that Jimmy is, Karl is even crazier, crueler, and more dangerous. Unfortunately, although there are some tense moments through great stage fighting techniques and some truly creepy moments in his scenes with female members of the cast, Dicker's portrayal of Karl is uneven. Often Karl seems to be trying to convince the audience he's dangerous, instead of actually allowing us to know it through his performance. The character comes across more like a kid with a gun than a Gary Oldman.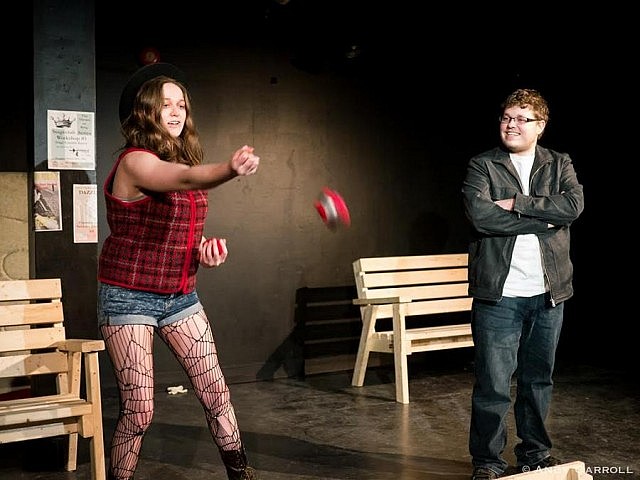 There are some decent character bits by the rest of the cast, especially by Chancellor McGuigan and Jenny Fisher as Derrik and Sissy, possibly the most sympathetic characters in the play. But Heaven falters at times, when certain scenes just don't work.
In these cases, it seems that the actors lack the assurance in their own abilities to take the performance as far as they can. There are some times in the show when the actors themselves seem to be very uncomfortable, which takes the audience out of the moment. With a bit more confidence, these key scenes to the show would be a little more dynamic and a little less clumsy.
That said, Heaven is a difficult show, where even the most experienced actors would struggle to bring meaning and sympathy to a group of characters lacking empathy or morals. But the actors in The Anne Shirley Theatre company give it their best shot.
I think my biggest question would be just way Gil Ruston and Ben Harrison chose this particular production. On one hand, I can understand the appeal: it caters to an audience who would like films like Taxi Driver or Se7en, or some of the darker aspects of a Quentin Tarantino film. But Heaven is such a dark and angry show — filled with angst, grit, and nearly no redeemable characters — that it's difficult to make it work.
Audiences should be warned about strong language, mature subject matter, and racist commentary. This production is not intended for young audiences.
Heaven runs from January 28th to 30th at The Theatre on King (159 King St., Suite 120. Peterborough). Tickets are $10 and the show starts at 8 p.m., with an additional Saturday matinee at 2 p.m. Note that the Friday performance is sold out.