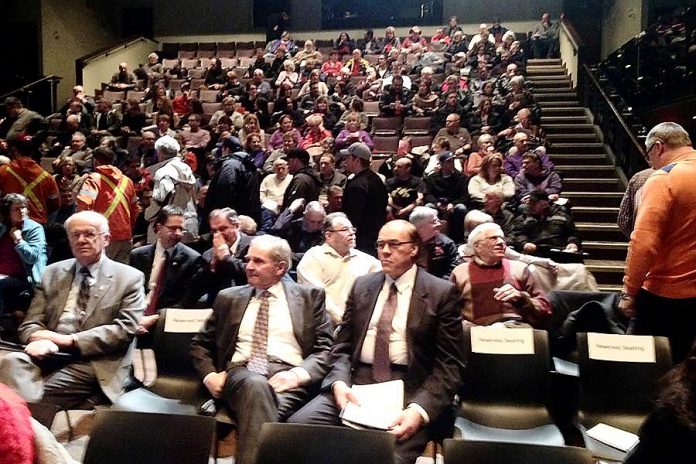 An public information meeting held last night on the potential sale of Peterborough Distribution Inc. (PDI) to Hydro One was convened, quite appropriately, in a charged atmosphere.
Peterborough Utilities Group is in negotiations with Ontario Hydro to sell PDI — the portion of its operation that distributes electricity to residents of Peterborough, Lakefield, and Norwood. In February, Peterborough City Council voted to begin a public consultation on the potential sale, which led to the public meeting on Tuesday night.
Before a packed audience at Peterborough's Market Hall, a seven-member panel — moderated by City CAO Allan Seabrooke and comprised of officials from Peterborough Utilities and Hydro One — took numerous questions after laying out the history of utility ownership in the province as well as the particulars of the potential sale and its perceived benefits.
Among those listening on were Mayor Daryl Bennett and councillors Dan McWilliams, Henry Clarke, Don Vassiliadis, Diane Therrien, Keith Riel, Gary Baldwin, Andrew Beamer, and Dave Haacke. While not on the panel, Mayor Bennett was called to task for an earlier media-reported observation that there is "no downside" to the sale.
"What I've said, I stand by," Mayor Bennett said when taking the floor. "This is something we need to consider as a community benefit long-term. Once all the information is brought forward, council will make the appropriate decision."
Afterwards, Mayor Bennett reiterated his position.
"The status quo is not an acceptable alternative, that's the reality of it," he said. "At some point in time, we are going to be forced into doing something with our delivery service. We are looking at getting the best value, not just in dollars and cents, but the best value for that commodity for the overall community long-term."
The potential sale doesn't sit well with some members of the community, including activist Roy Brady representing the local branch of the Council For Canadians.
"There was no recognition from the people at the table of what Peterborough is," Brady said. "We are a spot on the map. Hydro One will just simply deliver services to another spot on the map. There's nothing to do here with how good PDI is or what Peterborough people expect."
Brady termed the Ontario government "the elephant in the room," pointing specifically to MPP Jeff Leal's absence from the meeting.
"He can't stand here and answer for them because he's part of it," Brady said. "The Ontario government is pushing this. They are the worst spenders and cost containers in Ontario, yet they want us — who have done a good job — to save more money."
Also speaking to the panel was former city councillor Ann Farquharson, who served on the utility's board during her term. She coaxed from John Stephenson, Peterborough Utilities Group president and CEO, the information that Hydro One first broached the idea of purchasing PDI in January 2014 and that talks were re-ignited last July.
"That was about eight, nine months ago and the citizens of Peterborough are just finding out about it now?" asked Farquharson.
"There's no cake that's been fully baked here," Stephenson replied. "We have progressed our discussions with (Hydro One) so that we can have a meaningful dialogue about the key pieces of what might be a potential transaction."
That did little to placate Farquharson.
"There was nothing presented here tonight that couldn't have been presented to the citizens of Peterborough last July," she said. "There's been no specifics of a potential deal, there's been no talk of money, the political landscape hasn't changed. It would have been nice to have consulted the citizens of Peterborough last July in determining whether the citizens of Peterborough were even interested in having talks."
"Here we are, nine months later," she continued. "From what I've read in the media, it's starting to look like a fait accompli. There isn't an emergency about this. We have a couple of years to think about this. The price could go up. Our utility is something to proud of. I don't think it's fair to us that we weren't consulted at the very beginning."
Candace Rennick, secretary-treasurer of CUPE Ontario — which opposes the sale took a turn at the microphone. She noted the potential sale flies in the face of the public's desire to retain control over PDI.
In a written statement, Rennick noted "there is no mandate" for the sale.
"It's alarming to think our community is going to hand over this gift, completely unnecessarily, to Hydro One while no other options have been explored," she wrote, noting, last fall, both the City and County voted to oppose the sale of 60 per cent of Hydro One "in part because of concerns about rising electricity rates and loss of public control."
Earlier in the meeting, Mark Rodgers, a senior partner with Borden Ladner Gervais LLP representing the local utility, had provided an overview of the past and current state of hydro generation, transmission and distribution in the province.
He stressed the potential sale to Hydro One concerns the distribution side of the local utility's business only — that it will be business as usual in terms of the utility's power generation and water services businesses as well as its ownership and control of other holdings such as Riverview Park and Zoo.
"Until the late 1990s, Ontario had more than 300 of Peterborough Distribution equivalents. In those days, they were called municipal electric utilities," explained Rodgers. "They basically operated on a non-for-profit cost-recovery basis, just like other municipal services. This was the structure for many, many decades in Ontario."
In 2000, the Energy Competition Act, he noted, "really changed the whole structure of the sector." The result was local distribution was transformed into a stand-alone corporation which saw municipalities become shareholders.
"The Province said you, the municipality, can deal with your business as you see fit," Rodgers said. "You can keep it and have the opportunity to run it like a business, you can merge it with other utilities, or you can sell it. The bottom line is we went from more than 300 of these local utilities in the late 1990s, to around 70 or so today."
Rodgers also explained that the Drummond Report — the 2012 report commissioned by the Ontario government containing recommendations from economist Don Drummond on how to reduce the Ontario deficit — questioned the need for several distribution entities in the province, pointing to a cost savings of $1 billion if that number were further reduced further.
The subsequent Distribution Sector Review Panel, noted Rodgers, "delivered a series of rather blunt messages," including a reduction of the number of local utilities to about eight to 12, with a minimum size of about 400,000 customers. Peterborough has roughly 36,000 customers — less than one-tenth of what the panel recommended. The panel also echoed the Drummond Report's $1 billion savings benefit.
Subsequently, the Province endorsed the consolidation recommendation, but said it would leave the matter up to municipalities to decide to do so or keep the status quo.
"But then the minister went on to say municipalities have got to bend the cost curve and one way to do significantly do that is through consolidation," Rodgers aid.
Last March, noted Rodgers, Ontario's energy minister "really set up a road map for this discussion we're having tonight," questioning whether municipalities really need to be in the distribution business and noting the status quo "just doesn't make sense."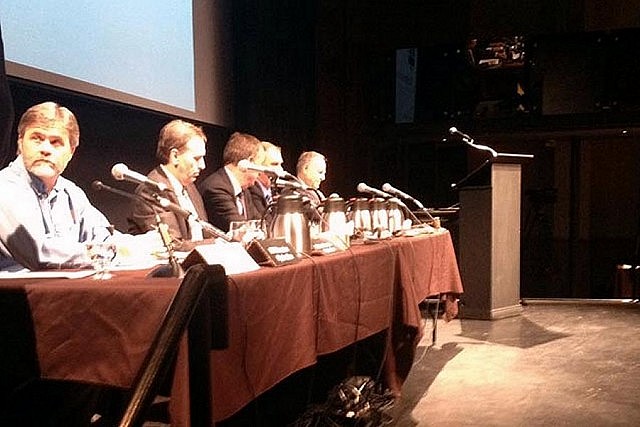 In his comments, Mr. Stephenson warned that PDI won't be able to maintain its historic performance moving forward. He warned jobs, low rates, and economic returns will decrease with time. The options presented won't be as plentiful, he added, noting there's basically a three-year window in place to get this deal done for return of one-and-a-half times the value of the company. After that, the return won't be as lucrative.
Although no specific sale price was mentioned, it's estimated PDI generates some $1 million annually for the City. That, predicted Stephenson, will be reduced as operating costs mount.
Hydro One was represented at the meeting by Richard Bertolo, director of value growth. He summarized the benefits realized, by both Hydro One and the communities affected, of past sales of local utilities. He also noted Ontario Hydro has about 70 employees in Peterborough now, indicating that the sale would lead to increased investments in the region by Hydro One.
The comments from the public meeting will be summarized in an information report that will go to council for its consideration. The public can ask questions or comment on the potential sale of PDI by completing an online comment card at www.peterborough.ca or by dropping off written submittions to the clerk's office at Peterborough City Hall (500 George St. N., Peterboroug).
Meanwhile, those who still want to voice their concerns over the sale can attend a gathering jointly organized by Hydro One Not For Sale and Keep Hydro Public. The meeting takes place at 6:30 p.m. on Wednesday, March 16, 2016 at Smithhaven Brewing Company (687 Rye St., Unit 6, Peterborough).