This week, the Peterborough Theatre Guild is hosting the Eastern Ontario Drama League's annual Full Length Spring Festival. This is a rare opportunity to see a showcase of some of the best theatrical productions from communities across Ontario over five consecutive evenings.
Each night at 8 p.m., a different show from a different city will take the stage at the Peterborough Theatre Guild (364 Rogers St. Peterborough) for a one-night only performance.
Each performance will be followed by a public adjudication by Annette Procunier, who will discuss all aspects of the show.
The festival wraps up on Sunday, April 10th at 11 a.m. with an awards ceremony and brunch at The Venue in downtown Peterborough.
The festival begins on Tuesday, April 5th at 7 p.m. when Jerry Allen (chair of the Peterborough Theatre Guild board) welcomes Nancy Martin (chair of the Peterborough Foundation board) to cut the ribbon on a new porch and wheelchair ramp at the back entrance of the Peterborough Theatre Guild.
The Foundation provided the Guild with a $7,000 grant towards this first step in making its backstage area as accessible as possible.
The ribbon cutting will be followed by a reception in the lobby, featuring a cash bar. Just before the curtain rises at 8 p.m. on the first show in the festival (Peterborough Theatre Guild's Of the Fields, Lately), Mayor Darryl Bennett will deliver greetings and best wishes from the City of Peterborough
---
Of the Fields, Lately – Peterborough Theatre Guild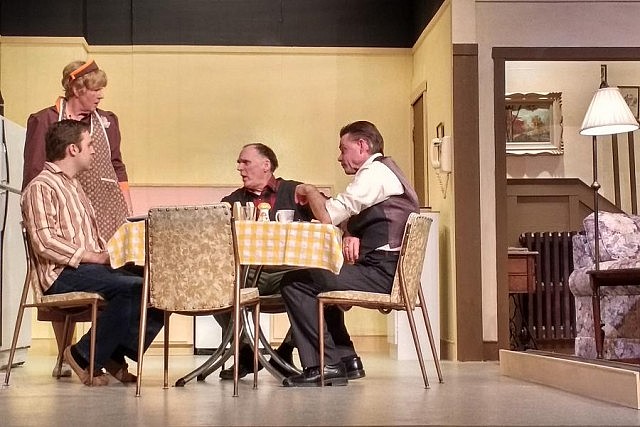 The first performance in the festival is on Tuesday, April 5th with a restaging of the Peterborough Theatre Guild's entry, Of the Fields, Lately by David French.
Directed by John and Nora Martyn, Of The Fields, Lately was first presented at the Guild in February (see my review), but suffered a rocky production schedule due to an illness in the cast for opening night.
David French's second play about the Mercer family, Of the Fields, Lately is the story of estranged son Ben returning to Toronto for his aunt's funeral to find his parents, Mary and Jacob, suffering the effects of old age. Ben must decide if he is going to stay in Toronto out of duty to his parents, or if he will leave again once the funeral is finished to forge his own life. The play stars Myles Chisholm, Rob Steinman, Linda Driscoll, and Steve Foote.
For those who may have missed the show, this is another chance to see this heartfelt and often-emotional drama.
---
Boeing Boeing – Northumberland Players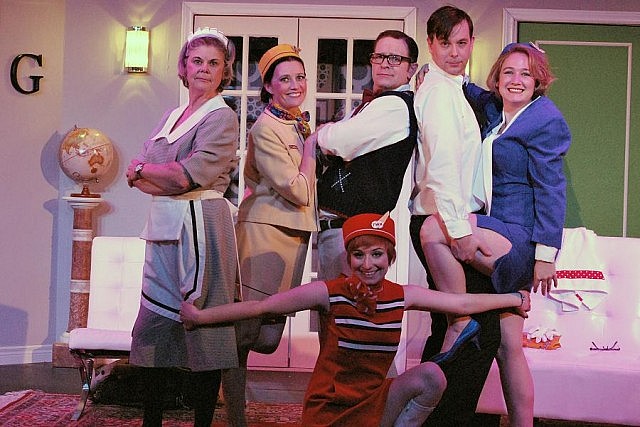 On Wednesday, April 6th, Cobourg's Northumberland Players presents Marc Camoletti's classic 1962 comedy Boeing Boeing.
Directed by Jim Finan, Boeing Boeing is the story of jet setting bachelor Bernard, who is romancing three different airline hostesses. When his old friend Robert shows up to visit him in Paris, disaster strikes the Casanova when all three women show up at the same time.
A classic farce from Parisian theatre, Boeing Boeing is notable for its entry in The Guinness Book of World Records as the most-performed French play around the world.
---
Later Life – Belleville Theatre Guild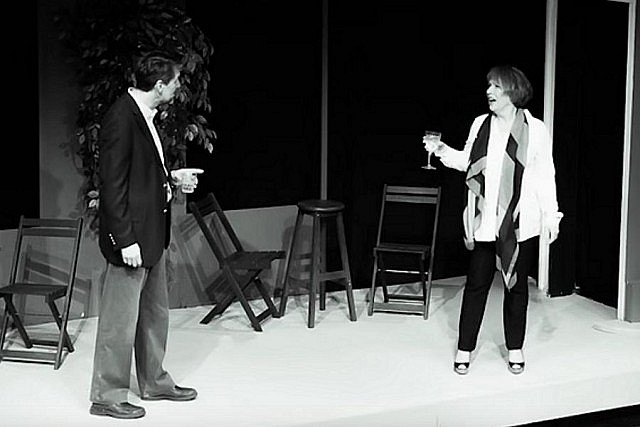 On Thursday, April 7th, the Belleville Theatre Guild takes to the stage with their production of Later Life by A.R. Gurney.
Directed by Steve Forrester, Later Life features the reunion of two people, Austin and Ruth, who have six divorces between them. When the couple met 30 years earlier, they passed on their chance for love. Now, with partygoers backing their every move, the pair has a second chance, but will they take it?
Described as a bitter-sweet comedy, Later Life is a story about what could have been.
---
Time Stand Stills – Prince Edward Community Theatre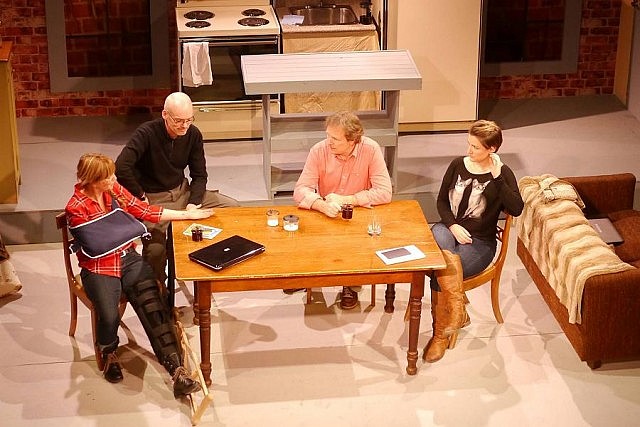 Friday, April 8th sees the Prince Edward Community Theatre from Picton stage Donald Marqulies' 2009 play Time Stand Stills.
Directed by Bill McMahon, Time Stands Still is the story of Sarah, a photo journalist, and James, a foreign correspondent. While covering the Iraq war, Sarah is injured by a roadside bomb, and upon returning to their home in Brooklyn, James deals with the guilt he feels from leaving Sarah alone in Iraq due to his own emotional issues. As Sarah and James discuss living a more conventional life, they receive a visit from Sarah's old flame Richard and his much younger girlfriend Mandy.
Described as an emotional drama, Time Stands Still is filled with subtle humor.
---
One Night Stand – Domino Theatre (Kingston)
On Saturday, April 9th, Kingston's Domino Theatre stages the final show of the festival: Carol Bolt's 1977 thriller One Night Stand.
Directed by Geoff Johnson, One Night Stand tells the story of Daisy, who is jilted by her boyfriend and roommate on her birthday and picks up Rafe, a country music singer, at a local bar and brings him back to her apartment. While the conversation is light and playful at the beginning, a darkness falls over the story as the performance continues as Rafe proves to be far less innocent as he first seems.
Described as a claustrophobic thriller, One Night Stand is said to be filled with lust, terror, and black comedy.
---
The festival will be adjudicated by Annette Procunier, who has been involved in amateur and professional theatre for over 40 years as a director, adjudicator, and teacher.
Annette has adjudicated more than 120 theatre festivals in the past 27 years, including American and international festivals. In 2010, she published Do You See What I See, the only textbook on adjudication. One of the founders of the Lighthouse Festival in Port Dover, Annette is currently Artistic Director of New Actors' Colony Theatre in Bala, Ontario where professional theatre in Canada started in 1939.
Each performance during the week takes place at 8 p.m. and admission is $15, or you can see all five productions for $60 (members of the Peterborough Theatre Guild can see all five shows for $40). The brunch and awards ceremony, which takes place at 11 a.m. on Sunday, April 10th at The Venue (286 George St. N., Peterborough), is $30.
For more information and to order tickets, visit the Peterborough Theatre Guild website at www.theatreguild.org/EODL2016.php.
We are lucky in Peterborough to have such a strong theatre community, and we are very good at supporting local theatre. This week is a great opportunity to be able to see some new faces and directors from different communities, and see what the rest of Ontario is offering.