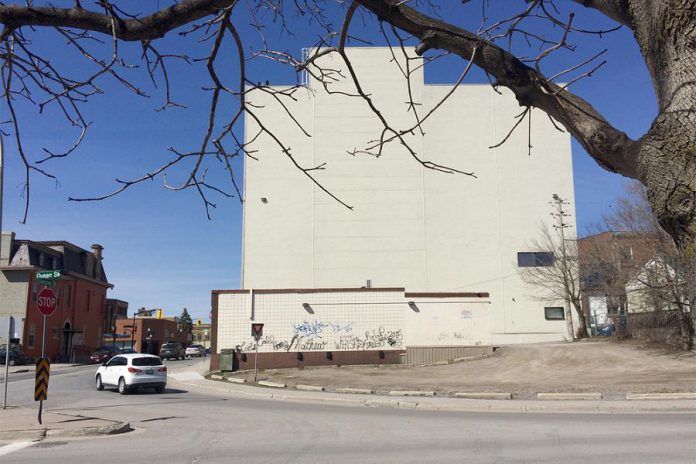 On the heels of a call for proposals for a new Hunter Street Bridge mural, the City of Peterborough is also inviting artists to submit proposals for an outdoor mural in the downtown area.
The new mural will be located on the east-facing wall of a building located near the southeast corner of Simcoe and Queen Streets in downtown Peterborough.
Located near the Provincial Court House, the Trans Canada Trail, and Millennium Park, the building's 763-square-foot wall is highly visible to pedestrians, cyclists, and vehicles.
The mural is the inaugural project of a five-year initiative, developed by the City of Peterborough's Public Art Program in partnership with the Downtown Business Improvement Area (DBIA), to commission public art murals on private sites in the city's core.
The projects are intended to generate and continue interest and awareness of public art in the downtown.
Unlike the call for proposals for the Hunter Street Bridge mural that's open to artists across Ontario, only professional artists in central and eastern Ontario (from the counties of Peterborough, Northumberland, Durham, Kawartha Lakes, Haliburton, Hastings, Lennox & Addington, Frontenac and Prince Edward) are eligible to submit proposals for the downtown mural — particularly artists who have experience with outdoor murals and a history of public art projects.
The deadline for submissions is by 5 p.m. on Monday, May 16, 2016.
A five-member jury — comprising interest or expertise in contemporary art, architecture, design, engineering, history, or cultural tourism — will review all artist submissions during May and select a shortlist of proposals from three artists for further consideration.
By the end of June the jury will select the successful artist, who would then complete the mural during August with a public launch in September.

The artist can create the mural directly on the site wall or on panels affixed to it. It will remain there for up to five years, with the property owner having the option to extend the term for additional five-year increments.
The total project budget is $25,000, which will cover artist fees, materials, equipment, fabrication, installation, travel, and accommodation costs.
For the complete call for proposals and submission guidelines, visit www.downtownptbo.ca/news/call-for-proposals.
For more information, contact Wendy Trusler, Public Art Coordinator with the City of Peterborough, at wendy@wendytrusler.ca.