May is here! Apple blossoms are starting to emerge, tulips are about to pop open, and many trees are showing their first sign of leaves. It's not only the signs of spring that excite me at this time of year; it is the enjoyment of planning my garden.
I grew up planting a food garden with family, each May long weekend; it was the official start to spring at my childhood home. With a keen interest in the natural world and a love of getting my hands in the soil, I always enjoyed sowing the seeds, watching the garden grow, and eating the backyard harvest — my favourite being the juicy berries from the raspberry patch.
However, since the days of my childhood garden, I haven't always had a backyard or the time to create and maintain a large plot. I have learned to take advantage of the time and space I've had to continue enjoying the benefits of growing small harvests for delicious summer meals.
My first garden was planted in the window of an inner city apartment building. I was living on my own for the first time and was trying to make my new place more like home.
Instead of springing for typical houseplants, I grabbed some discarded pots from a neighbour's recycling bin, purchased a bag of potting soil, and planted some seeds in my sunny windowsills.
That spring, I grew various edible flowers including nasturtium, pansies, and chamomile. The flowers brought colour and beauty to my living room and I was also able to enjoy them as lovely garnishes for salads and desserts while adding fresh flavors to my sandwiches.
If you're considering your first experiment with gardening, The GreenUP Store & Resource Centre makes it easy with starter kits for growing edibles that include a mini greenhouse, compost starter discs, and seeds — great for a windowsill garden or to get seeds started for transplanting later.
I have come a long way since my first window garden but I still opt to grow my tomatoes and peppers in pots. This is not because of space constraints, but because I am often away from my garden for short stints during the summer months and I enjoy an option that requires minimal commitment.
For this reason, container gardening is also a great option at the cottage where there may not always be someone around to tend to plants. Container gardening is extremely versatile. You can grow food on your balcony, patio, rooftop, fire escape, or boat deck.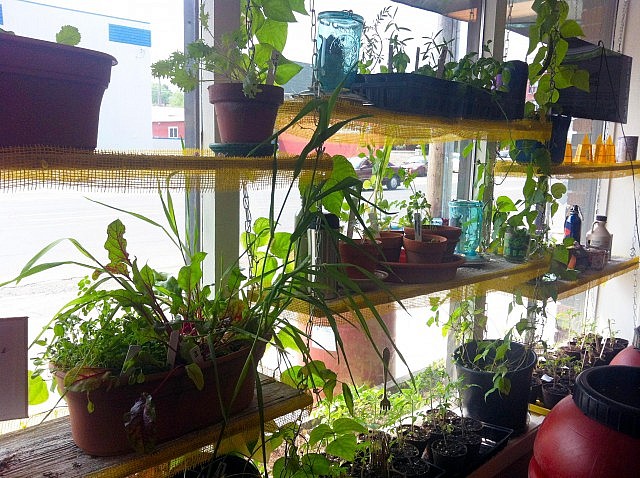 Growing in containers requires less weeding and, when done right, less watering. If you're away from your pots for any length of time, you can easily create a makeshift irrigation system. Fill an empty pop or wine bottle with water and overturn it into the soil of your container. It will slowly release water into the soil while you're away.
You don't need heavy gardening tools to grow in pots. A small shovel or trowel is all that is needed.
You can also have great fun when choosing containers. Bring some whimsy to your patio or porch by planting in a pair of old rain boots, a repurposed toolbox, or a rustic pail. Garage sales are great places to scrounge for unusual and unique items to plant in.
Container gardening also allows you to grow a wide range of plants that require different growing conditions. You can place pots where they'll grow best and amend soil as necessary for each plant.
Some of my most successful potted favourites include leafy greens, tomatoes, and peppers. Great harvests can also grow from potted beans, green onions, and many herb varieties.
Visit the GreenUP Ecology Park Annual Plant Sale fundraiser on May 22nd and you'll be able to stock up on a variety of heirloom, organic, and locally grown vegetables, herbs, and flowers.
If you have a small amount of yard space and are looking for a low commitment garden along with the maximum harvest potential, consider the square-foot gardening approach. This method is known for efficiently utilizing space and resources.
Join GreenUP Ecology Park on June 4th for the Square Ft. Gardening Workshop where you will build a mini 4ft x 4ft raised garden bed to take home with you!
Container gardening is for everyone. It is flexible, accessible, and portable. Start planning now for your harvest and enjoy fresh food grown right outside your kitchen door.
For more information about the GreenUP Store & Resource Centre products, the GreenUP Ecology Park Plant Sale, and to register for workshops, please visit greenup.on.ca.