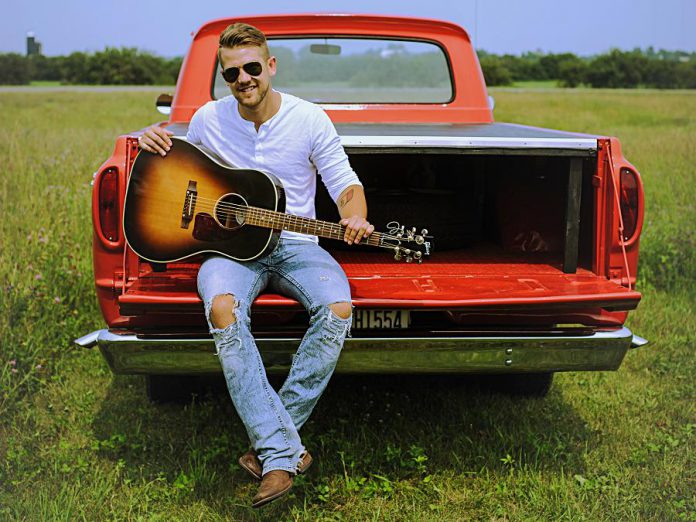 Peterborough's own Jesse Slack is one of the 25 regional winners in CBC Music's annual Searchlight competition.
Based on his song "Where This is Going" (see video below), Jesse was selected by the Searchlight judges as the winner for Central Ontario out of 10 other regional finalists (nine of those 10 finalists were chosen by CBC Music producers, and one by popular vote).
Jesse grew up in Peterborough listening to his mother sing country songs around the house. He learned to play guitar with the hope of becoming a rock star and first got involved in music with his twin brother Jake Slack in a duo group called "The Slack Brothers."
After exploring different paths, Jesse studied music in the Music Industry Arts program at Fanshawe College in London. Although his passion is country music, he also writes blues, rock, and folk songs.
"I write about things that I have experienced in my life and I try to put a lot of feelings into my writing," Jesse says. "I want people to feel those feelings or understand what I am trying to say because sometimes we all need to assure ourselves that we're not the only one who experiences funny things, or feels certain ways."
Jesse's single "Where This Is Going" — which was entered in the CBC Searchlight competition — was co-written by Dakota and Will and produced by Dan Brodbeck.
---
"Where This is Going" – Jesse Slack
---
Although Jesse spends time in Nashville writing for his next album and performing, you can often catch him at the Bourbon Barrel Saloon in downtown Peterborough (140 King St., Peterborough, 705-874-5600).
The next step of the competition involves the Searchlight celebrity judges — Maestro Fresh Wes, Sarah Blackwood, and Dallas Smith — deciding the three finalists who will move forward. A fourth finalist will be determined by popular vote. The four that make it to the end will compete on CBC-TV Searchlight to become the 2016 winner.
The winner of Searchlight 2016 will get a prize pack valued at $50,000. It includes $20,000 worth of equipment from Yamaha Canada, a performance slot at the 2016 CBCMusic.ca Festival in Toronto, and a Career Booster package from Canadian Musician magazine, including a studio session, mentorship, album production/distribution and more (valued at $25,000). Winners will also be featured on CBC Radio's q.
You can help Jesse make it to the top four by voting for him at the CBC Searchlight website. Voting closes on Monday, May 9th at 2:59 p.m.
For more information on Jesse, visit his website at www.jesseslack.com.