As the school year winds down, high school drama groups all over North America are ramping up their annual year-end productions. But while the high school musical is the expected fare of the season, the students at Lakefield College School are taking on a much intense production.
Under the direction of Geoff and Rachel Bemrose, with assistance from Dayna Taylor and Zoe Edwards, the students are going back to Laramie in Wyoming to explore the 1998 murder of Matthew Shepard in their production of The Laramie Project.
Last year the drama club at Lakefield College School did a fun production of Little Shop of Horrors, which was fairly off-beat fare itself. But The Laramie Project has sent the students into a whole different direction.
"We wanted something that would challenge the students," says Geoff. "Rachel and I love doing musicals, but with our work with Art for Awareness we like putting stuff on that has a social justice message and has a little weight to it."
The Laramie Project was written by Moisés Kaufman and members of the Tectonic Theatre Project, who travelled to Laramie to conduct interviews with the people affected first hand by the aftermath of Matthew Shepard's brutal murder at the hands of Aaron McKinney and Russell Henderson. The murder made international headlines, making it one of the most horrific hate crimes in American history.
Kaufman's group spoke to hundreds of people less than a year after the murder, including associates of Matthew and of his attackers, as well as religious leaders, law enforcement, neighbours, eye witnesses, and relations.
Compiling these interviews together, the result was a massive stage show featuring 70 characters that reflect the social, political and religious climate of Laramie, Wyoming while recreating the story of Matthew Shepard's murder — and how it helped shape and define the community that was overcome by a senseless and brutal murder.
The Laramie Project is a unique production in that it's presented as an oral history more than a linear story that's acted out on stage. Told in a series of monologues transcribed from the real-life interviews, the play is a character study of an entire community as much as it is a story about a specific tragedy in modern American history.
"The play is almost 20 years old, but the same message rings true today, and that education piece is still key for kids to experience," says Geoff.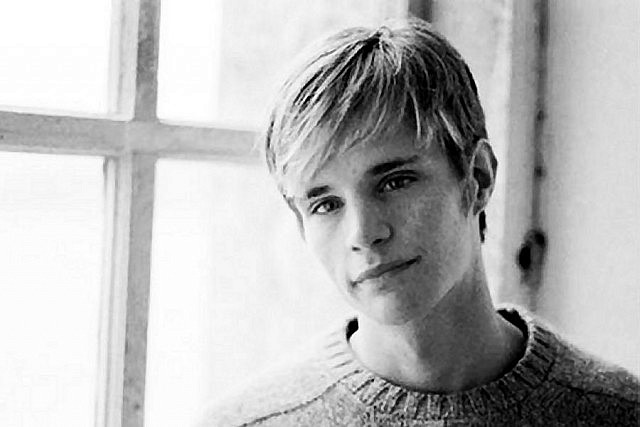 For their production, Geoff and Rachel recruited 14 students to take on almost 70 different roles. Each character is represented by a slight costume change, as well as through changes in voice and body language.
"We have to find different voices for all the characters," says student actor Meg Hicks, who plays a number of different characters in the show. "We sometimes have to switch out of one voice into another voice. We have to play one character in one scene, and then switch to another for the next. We have to drop our costume and run back on, in a second turn-around time."
Far beyond the lessons of acting and quick changes, the students are learning about tolerance and about looking at controversial topics from a wide range of viewpoints.
As the students in the production acknowledge, while society has come a long way since Matthew Shepard's death, there's still a long way to go.
"There are still a lot of people with very homophobic views," Meg says. "There are people who identify themselves as LGBT who still experience a lot of hate and violence. While this play is almost 20 years old, this is still happening today. People at this school recognize that, and we can see how we can help change the way we see other people and how to empathize."
Meg's costar Eden Snelgrove Ribovski, who also takes on multiple roles in the show, agrees.
"The Laramie Project also reflects what we don't want to think about ourselves," she says. "It seems in the United States that they are very open about what they think, but in Canada we have similar views but pretend that they don't. We say 'we're better than that', but a lot of the times we're not."

According to Geoff, the students' insights arise from the material of the play.
"It's a step up in a level of maturity," he says. "There is a more depth to this. They are saying lines that are from real people."
"This play is very different from Little Shop of Horrors," Eden explains. "Not just on stage, but because we have to take a completely different attitude. In Little Shop, we sat backstage and listened to all the different songs and laughed at all the jokes, but here it's more serious and more slow paced."
By exploring so many sides of the Matthew Shepard story, the students have also learned to understand the positions people take on issues are not always black or white.
"A lot of people try to vilify Matthew because he had HIV and they look at it negatively," Eden says. "But on the flip side, other people don't see Matthew Shepard — they see a figure, a symbol of their struggles. I don't think either is right. Fighting for LGBT rights is important, but thinking that Matthew Shepard represents everyone who is LGBT is ridiculous."
"At one point in the play, there's a monologue where a woman says that Matthew Shepard wasn't a saint," Meg adds. "He wasn't a stellar human being: he often did bad things. But as much as I don't think anyone should hold up a person as one true idealistic figure, if they are being held up as a martyr you also shouldn't try to tear them down over small things, especially with something like this."
The Laramie Project is a powerful and moving piece of theatre about hatred in the heart of America, but ultimately with a message of tolerance. I applaud Lakefield College School for bypassing the annual musical and taking this story on. It will prove to be a production both the students and the audience won't quickly forget.
The Laramie Project runs at the Bryan Jones Theatre at Lakefield College School on May 26th and 27th at 7:30 p.m. and on May 28th at 4 p.m.
Admission is free, but donations are welcome in support of the Genders Journey program of the Canadian Mental Health Association – Haliburton, Kawartha, Pine Ridge (CMHA) program. Gender Journeys is a program that directly supports LGBTQ people in our community, especially those who are exploring gender identity.