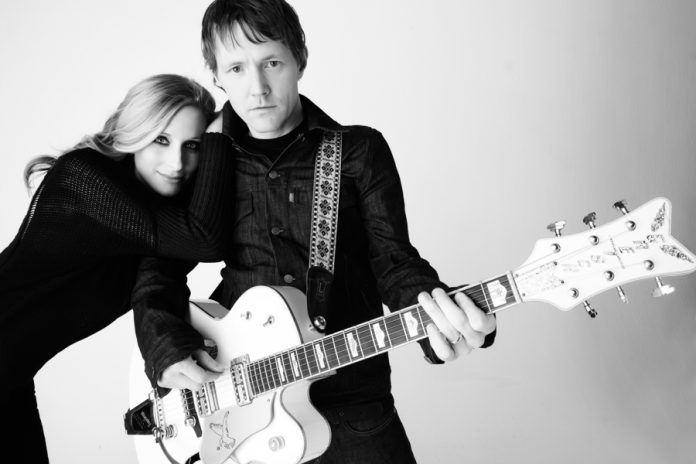 Anyone who's married knows full well the magic that transpires when husband and wife are on the same page. After all, it's that same magic led to their union in the first place.
But take that commitment to each other to a whole other level where it's on full display for thousands to witness and experience, and the magic that results is impossible to ignore.
On June 24, 2006, Luke Doucet and Melissa McClelland married, each bringing successful solo musical careers to the union. In fact, Doucet had produced Chicago-born and Burlington-raised McClelland's 2004 album Stranded In Suburbia. Working together professionally was not something new. It was a no-brainer that the couple would eventually bring their talents to bear as a duo act.
On July 27th at Del Crary Park in downtown Peterborough, Whitehorse, the Juno Award-winning result of that roots/folk rock musical coupling, will headline Peterborough Musicfest at 8 p.m.
It was in 2010 that Doucet and McClelland committed fully to recording and performing together as Whitehorse, releasing their self-titled debut album the following year.
"The fact that we play music together is what enables us to be together," reasoned Halifax-born Doucet in a 2015 www.montrealrampage.com interview with Jean-Frederic Vachon.
"We're both musicians and if we weren't playing together, we'd be apart all the time. I know a lot of musicians and it's challenging to be on the road all the time when your better half is at home."
And so it was that being apart as solo artists do their own thing wasn't an option, much to the benefit of fans of the immense talent each brings to the table as equal partners in Whitehorse.
"The obvious advantage, musically, is that we spend so much time together, we understand each other on an intrinsic kind of level where sometimes things don't have to be said," added Doucet.
"In a lot of artistic partnerships, there's a certain amount of translation that has to be done, where you have to describe where you're hoping this is going to go or where it came from. I think that in the case of Melissa and myself, we have a pretty innate understanding of what that is."
Whitehorse's second album, 2012's The Fate Of The World Depends On This Kiss, truly bore the fruit of the couple's musical journey as one. Shortlisted for the 2013 Polaris Music Prize, the album's release also saw Whitehorse headline its first show at Toronto's Massey Hall, resulting in the release of The Road To Massey Hall, an EP of cover songs that pays homage to artists who have performed at the historic venue.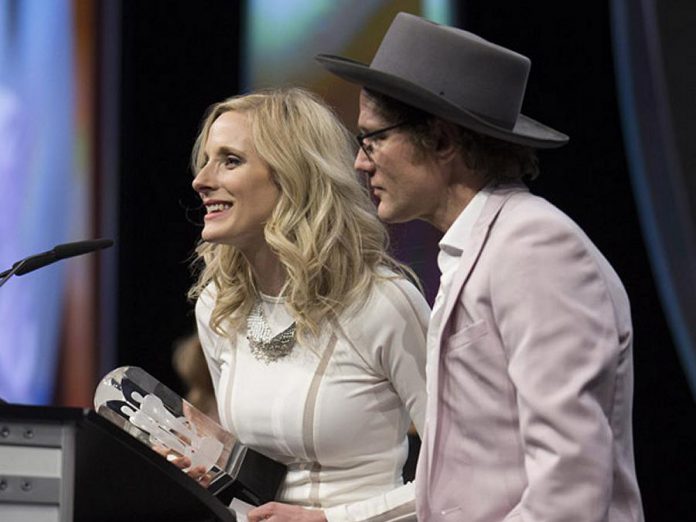 But as much as Whitehorse's second album turned heads and perked up ears, it was 2015's Leave No Bridge Unburned that truly vindicated their decision to strike out together. A long-listed nominee for the 2015 Polaris Music Prize, the 11-track album reaped a 2016 Juno Award for Adult Alternative Album of the Year.
"We started writing bright, happy, major key songs when we started this record," recalled Doucet.
"And then Gus Van Go, who was our producer, heard the songs and he said, 'No, I like Whitehorse the way it is. It's dark and I want to keep it dark.'"
But, as will be experienced in Peterborough, it is Whitehorse's live show as a two-member "band" that truly sets it apart.
"There's a great potential for train wrecks in our live show; it's very common for us to go off the rails," admitted Doucet.
"There's just two of us in the band and yet we play a lot of instruments. We play drums, bass, keys, percussion and guitars. And we use loops but in a way that might be unorthodox: Melissa is the engineer and operates the looping machine, and I'll play drums. We'll record drum passages and she'll play bass. I'll switch to guitar and she'll switch to keyboards."
"A lot of people who use technology in pop music, whether it's using loops or playing to sequencers, there's not much risk involved because there's a safety valve. If something goes wrong, you can have a spare loop in back-up on your machine and push a button and it plays a perfect loop. We have no safety technology."
"If we try and it's really terrible, we'll stop it. We'll stop the song in the middle and say, 'Sorry, we gotta try this again, that's just too horrible.' But when it goes well, it's really spectacular. And when it doesn't work, the train wreck is equally spectacular."
---
"Sweet Disaster" – Whitehorse
"Devil's Got a Gun" – Whitehorse
"I'm On Fire" – by Bruce Springsteen, performed by Whitehorse
---
Peterborough Musicfest is presenting 19 free-admission concerts during its milestone 30th anniversary season, each staged Wednesday and Saturday nights.
Overseen by general manager Tracey Randall and staff, a board of directors, and numerous volunteers, Peterborough Musicfest's stated mission is to "provide diverse, affordable live music to enrich cultural and economic prosperity in our community."
For more information on this concert and/or the 2016 season, visit www.ptbomusicfest.ca or phone the Peterborough Musicfest office at 705-755-1111.
---