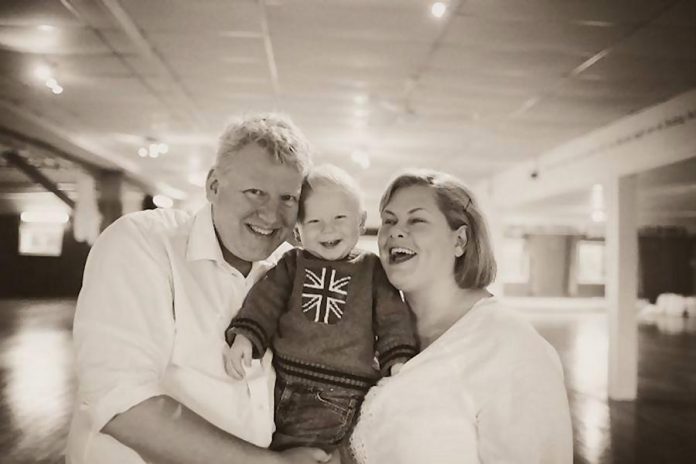 For the past number of years, a huge part of my summer highlights have included visiting the Lakeview Arts Barn in Bobcaygeon to see productions put on by Globus Theatre. Located at 2300 Pigeon Lake Rd, just a short but scenic half hour drive from Peterborough, Globus Theatre delivers one of the best theatrical experiences in the area.
One of only a handful of professional theatre companies in The Kawarthas, Globus Theatre can lay claim to producing the most professional theatrical productions per season, with five shows throughout July and August. Housed in a massive old barn that has been beautifully renovated into a theatre and event space with restaurant and bar, Globus Theatre has gained the respect and loyalty of not only myself, but hundreds of yearly subscribers and theatrical professionals who return every summer.
Fronted by artistic director Sarah Quick and her husband artistic producer James Barrett, Globus Theatre and the Lakeview Arts Barn has become a labour of love for the couple. Lakeview Arts Barn provides a stable base of operations of Sarah and James, who met each other on the theatre circuit.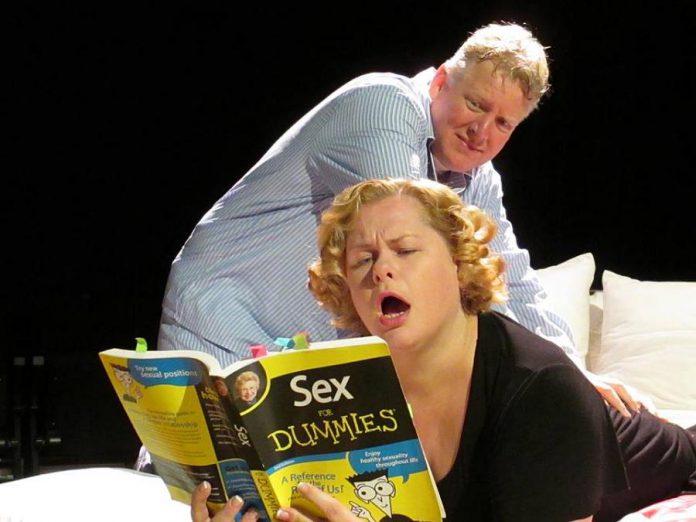 "We met working in touring companies," says Sarah, who originally comes from England. "I toured in Canada, and James was in different companies in Winnipeg. I'd continue to tour, and come back to James once in a while. So when we wanted to settle down in life, we thought that we would set up a theatre on a permanent basis. Initially we rented a theatre for two years. But when this place came up we decided to invest in the future of our theatre company's future and we bought it."
Originally a working cattle barn, the building's original owner Fabien O'Neil renovated the space into a dance hall in 1967. After Sarah and James bought the property, they opened it as a theatre space in 2006.
"Fabian built this amazing location for big dances, weddings, and celebrations," says Sarah. "When we bought this space, it was a dance hall people would regularly come to — pretty much every weekend there was a function here. When we built the black box theatre, we wanted to make it comfortable from day one."
"What I love is that this was a social hub farmers came to, which takes away the whole pretentious feeling of going to the theatre," Sarah continues. "You're just going to the theatre at the barn. Everybody feels that they can come and see what we put on because it's a comfortable space."
One of the Lakefield Art Barn's most popular features is the dinner option that accompanies every evening performance. Although you don't need to come for the dinner to see the show, you can have a decadent meal before the show in the restaurant area with the purchase of a dinner theatre ticket.
"The dinners have really enticed people in to see the theatre," Sarah observes. "That's an attractive part of what we do. You can have dinner beforehand and not have to worry if you're going to have to rush to the theatre. It's made it a very social evening for people. They can bring their friends or their family or have a date night. It's added to the experience."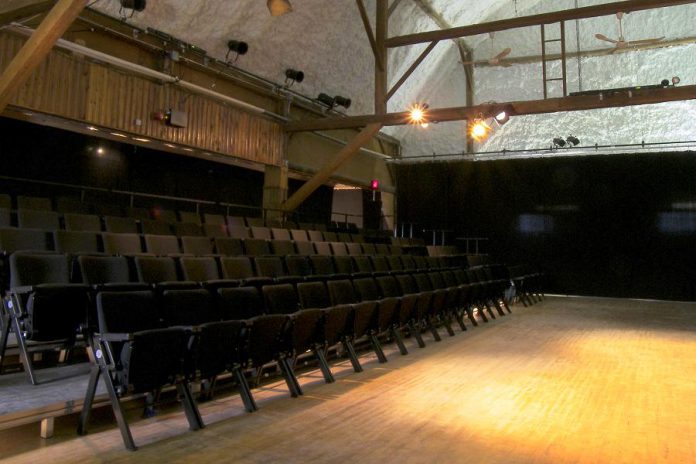 One of the other attractive features of Globus Theatre is the variety of shows the company puts on every summer. Carefully selected by Sarah and James, each show offers something different for the audience but is always of the highest caliber.
"Artistically, we want to have a nice mix for the subscriber," Sarah says. "Generally speaking, we want a Canadian comedy, a comedy maybe from a different country, a drama, something that's got a musical bent, a historical play, and a modern play. We want a variety, so that you're not doing the same thing over and over again."
This year, Globus has already produced Buying the Moose by Canadian playwright Michael Wilmont and brought back musician Leisa Way for Sweet Dreams: A Tribute to Patsy Cline.
For their next show, James and Sarah have a huge undertaking in mind. From July 27th to August 6th, Globus will be relaunching one of Sarah's most successful original plays, Knickers: A Brief Comedy.
Recently published by a New York publishing company, Knickers has been produced in theatres all over Canada and the U.S. and has even seen a production in New Zealand.
"It's a feel-good story about one of those towns that has hit rock bottom, with characters who decide they are going to work together and get it sorted out," Sarah says of the play. "The themes are relevant. And it's a great female story. More and more people are looking to do plays about female characters because there aren't enough of them. This is still a male-dominated industry, so this is four strong women on stage getting the job done."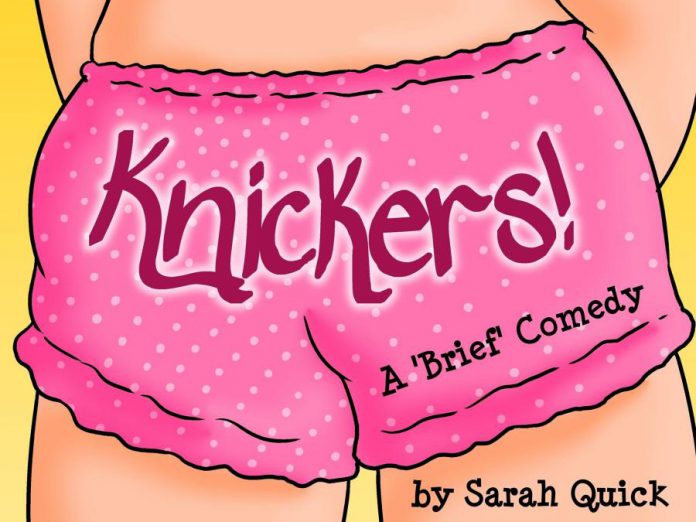 To promote the show, Globus is doing something extremely groundbreaking. On Tuesday, July 26th, Globus is aiming to enter the Guinness Book of World Records by unveiling the biggest pair of underwear in the world.
A publicity stunt unlike anything to ever hit the area, the idea came to James last fall.
"I woke up in the middle of the night thinking of a way to celebrate us doing the show again," James says. "The play mentions a roadside attraction of the largest pair of knickers in the world. So I thought we should do it."
With material donated by Doug Ruggles from Triden Distributing and sewn together by the staff of Lakeside Sewing — which creates boat covers for Buckeye Marine — the underwear is able to hold approximately 150 adults and has a crotch length of 16 feet.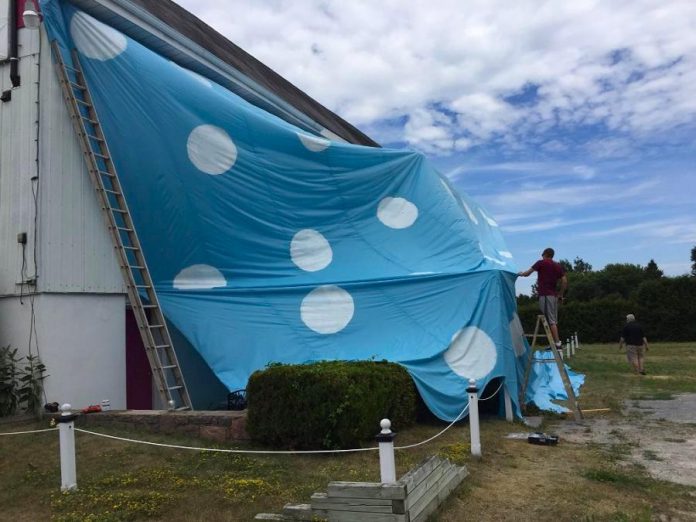 "I had no idea what the dimensions would be, but then I went and found out the dimensions that we had to beat," James says. "The current largest pair of underwear is 20 metres wide by 12 metres tall. That's about 65 feet wide by 30 feet tall. So we've created a pair that is 70 feet wide by 40 feet tall."
A colossal pair of underwear is difficult to top, but Globus will be bringing things up a notch with Stones in His Pocket from August 10th to August 20th. Directed by James last November in Toronto for the Irish Stage Company, the production was highly endorsed by theatrical legend Colm Wilkinson who brought it to the attention of the original playwright Marie Jones.
While visiting Toronto earlier this year, Marie Jones met with James and actors Mark Whelan and Stephen Farrell to discuss the show. Mark and Stephen will be coming to Bobcaygeon to reprise their roles in this funny but emotional drama.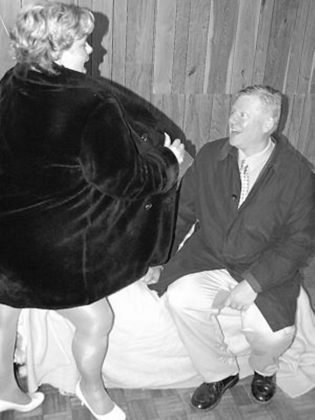 "It's theatrically very different," Sarah says. "It's funny, but it has its sad moments as well. It's a real insight into human behaviour. It's about a Hollywood film being filmed in a little village in rural Ireland. So there are all these characters that have never left their little town and then these two Hollywood producers come in."
"They basically take over the whole town," James adds. "Some people love it for the money aspect of it, and some people feel that they are stealing their culture. It's a great script and we've got some great actors."
For their final show of the summer season, Globus is producing Funny Farmers by Kevin Riordan from August 24th to September 3rd.
"Funny Farmer talks to our audience," says James, who plays one of the two farmers. "There is an old farmer and a young farmer who has never farmed before."
"The younger farmer wants to go off the grid and go all organic and he doesn't use a tractor," Sarah adds. "It's current, relative and Canadian. Even if they're not a farmer, everybody in our audience knows a farmer or is related to a farmer. While using comedy, it talks about the difficulties that farmer's face and how important their job is. I love it when a comedy has a message and a heart.
"That's what we want," James echoes. "We want a show that has heart. Shows can be light, but we like when people can take something away."
Although the Globus season runs from July to August, James and Sarah keep busy with the barn all year long. The space is still used throughout the year for weddings, celebrations, and dances, and Sarah and James host other events such as their Murder Mystery Dinners (November 24th to 26th), an annual New Year's Eve dance, and their hugely popular Christmas Pantomime Show. This year's pantomime will be Little Red Riding Hood, which runs December 8th to 18th.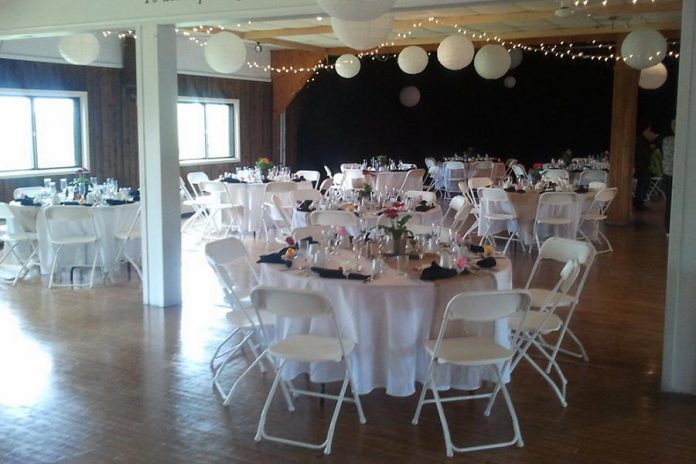 "It's huge," says James of the pantomime. "Sarah's been doing them since she was very young and she said she wanted to continue do them. For any kid that wants to be a part of it, Sarah will write them a part."
"In the last few years the schools have started coming, so last year we had over 1,000 children come to see the show," Sarah adds. "It's such a great introduction to theatre, because it's so energetic and captivating and loud and zany and interactive. Most of the kids never have been to the theatre before."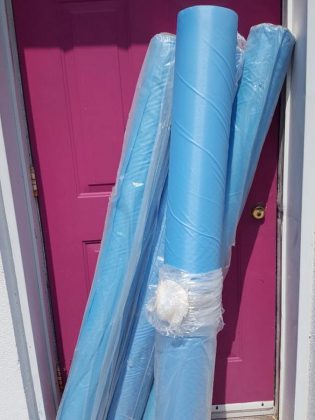 A true labour of love, Globus Theatre at Lakeview Arts Barn is a comfortable and classy space that offers some of the best theatre in the area. But, as Sarah explains, professional theatre in a town like Bobcaygeon offers an even bigger message to people who want to be involved in the arts.
"Having a professional theatre in an area like this validates the idea you can have a career in the arts," Sarah says. "It's not just a hobby — you can actually have a career as well. In professional theatre, people are getting paid either on the stage or back stage designing lights or sets."
"It's a nice industry to work in. It's not an industry that makes a lot of people rich, but it's a wonderful lifestyle."
"We love what we do, but it's a lot of hard work rehearsing and operating the restaurant," James adds. "We both find it very exhausting; some days it's very overwhelming."
"But with that said, we love what we do and each year we are increasing our audience. We feel that it makes the world a better place to be exposed to great theatre. We certainly strive towards that."
I see a lot of good theatre in the Kawarthas, but believe me when I say that Globus Theatre is among the best. It has friendly people, approachable actors, professional productions, and a wonderful staff in a beautiful performance space.
If you've been meaning to take the trip to Bobcaygeon to visit the Lakeview Arts Barn, take the time this summer to take the drive out and see a great show. You won't be disappointed, because James and Sarah always deliver something special.
For more information about Globus Theatre and the Lakeview Arts Barn, visit their website at www.lakeviewartsbarn.com. For tickets, contact their box office at 705-738-2037.
All photos courtesy of James Barrett and Sarah Quick / Globus Theatre.