Globus Theatre is bringing a little bit of Ireland to Bobcaygeon this month with their production of Marie Jones' drama Stones In His Pockets. Presented last fall at at Alumnae Theatre in Toronto by The Irish Stage Company, director James Barrett reunites actors Steven Farrell and Mark Whelan for an encore run of this brilliantly performed drama.
Originally produced in 1996 at the West Belfast Festival, Stones In His Pockets is a complex two-hander featuring two actors who bring 15 unique characters to life. After touring Ireland and bouncing from theatre to theatre in London, the show found a permanent residence at London's The Duke of York's Theatre where it ran for three years before moving to New York in 2001. The play won the Irish Times/ESB Irish Theatre Award for Best Production in 1999, two Olivier Awards in 2001 for Best New Comedy and Best Actor and was also nominated for three Tony Awards.

Stones in His Pockets is the story of the people who live in County Kerry, Ireland — a close-knit community where everybody grew up with everybody, and most of the people are related in one way or another. Excitement comes to the area when a Hollywood crew invades the town to film a historical drama called "Quiet Valley."
The story focuses on the friendship formed between two men who meet when playing extras in the film: Charlie Conlin (Mark Whelan), a down-and-out stranger in town with aspirations to become a playwright, and Jake Quinn (Stephen Farrell), a local boy who has just returned from America after failing as an actor.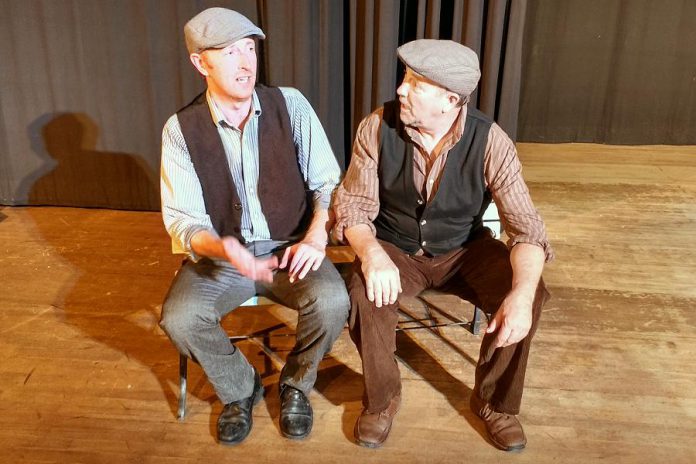 As the culture shock between rural Ireland and big city Hollywood creates havoc and hilarity in town, tragedy takes one of County Kerry's own, affecting the whole community and in particular Jake — to the point where it threatens the completion of the film. Grief-stricken Jake looks for answers to what happened, only to discover that his involvement in the film could have been connected to the tragic occurrence.
Boldly funny and extremely thoughtful, Stones in His Pockets is an intelligent drama about culture shock and shattered dreams. Although it has a well-crafted script, the real magic of the show is watching Mark Whelan and Stephen Farrell create 15 unique characters before our eyes.
Playing both men and women, Irish and American, and young and old, Whelan and Farrell perform up to five characters in the same scene. The pair never change costumes and never leave the set, but depend completely on body language, facial expressions, and voice work to bring the characters to life. The character changes are so quick, yet so extreme, that the men can actually have conversations with themselves while simultaneously playing two different characters — yet it seems completely normal.
Even more amazing is the fact that the characters are so clearly defined and carefully crafted by Whelan and Farrell that you never get confused about who is who. The chemistry and trust between the actors is intense as they switch from character to character, never missing a beat or an emotion.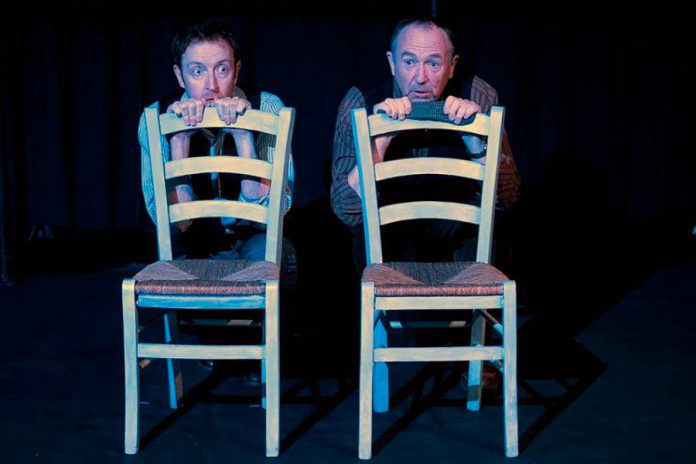 Farrell becomes the central character of the piece with his moody portrayal of Jake Quinn. A little bit lost, despite being surrounded by lifelong friends and family, Jake takes the town's tragedy particularly hard to the point of blaming himself as he searches for reasons for what has happened.
Farrell also plays Mickey (an elderly villager whose claim to fame is being the last surviving extra in "The Quiet Man"), Aisling (a third assistant director trying to make her way to the top of the Hollywood ladder), and Jake's cousin Sean (a troubled youth who has dreams of someday making it in the pictures).
Whelan is the ultimate supporting actor, playing a plethora of important roles to bring Jake's story to life. Most notably is his role as Charlie, who is looking for meaning after his long-time video rental shop closes due to a larger competitor destroying his business. A character for Justin to talk with, Charlie is an outsider to the community, but is quickly accepted by the locals as one of their own.
Whelan also does double duty by bringing to life another pivotal character: the film's lead actress Carolina Giovanni. Watching Whelan perform the role of Carolina — voluptuous, vain, and completely ignorant of her surroundings — seems a bit ridiculous at first, but at some point you begin to believe Whelan is a sexy movie star. Whelan also plays harried first director Simon, Carolina's thuggish body guard Jock, and the dismissive film producer Clem.
Making Stones in His Pockets just that more authentic and enjoyable is the fact that Whelan and Farrell are both actually from Ireland. It is so refreshing to hear real Irish men play Irish characters, instead of Canadian actors trying to imitate Irish accents. It just makes this show that little bit richer.
As theatre goes in The Kawarthas this summer, Stones in His Pockets is one of the finest productions I have seen. A special type of show that surely should not be missed, it is filled with emotion, drama, laughs, colourful characters, and even a clever metaphysical ending.
Stones In His Pockets is a tremendous theatrical achievement by two talented actors and a thoughtful director. The team of Whelan, Farrell, and Barrett is a brilliant one. It is a rare treat to have such a highly successful Toronto production find its way to The Kawarthas. You will not be disappointed in making the trip to Bobcaygeon to see this one.
Stones in His Pockets runs until August 20th at the Lakeview Arts Barn. Show starts at 8 pm with dinner available before evening performances. For more information and tickets, call the Globus box office at 705-738-2037 or visit www.lakeviewartsbarn.com.