While video may have killed the radio star, as the late 1970s hit song declared, the medium proved to be the salvation of a number of bands during the decade that followed.
Platinum Blonde frontman Mark Holmes certainly lived that experience.
Formed in 1979 by Holmes as a tribute act to The Police, Platinum Blonde entered the 1980s as a moderately successful bar band. Holmes, wanting to turn things up a notch, ditched his band members and brought guitarist Sergio Galli and drummer Chris Steffler into the fold.
That led to 1983's debut album Standing In The Dark, and the release of videos for two of the album's four singles, "Doesn't Really Matter" and the title track. When the 1984 Juno Awards debuted its new Best Video category, both Platinum Blonde videos were among the five nominations.
But Platinum Blonde's energetic live performances also played a part in the trio's meteoric rise. Now, 30-plus years on, Peterborough Musicfest welcomes the 2010-reunited band to Del Crary Park for the first time on Saturday, August 20th at 8 p.m.
"When we walk on stage, at first glance, people get what they expect," noted Holmes in a 2012 www.c-townweb.ca interview with Scott Ulvstal.
"People pay to see the Platinum Blonde they remember and that is what they will get, glam make-up and all," Holmes said. "We will mostly play our older music that people are familiar with but we will include three or four songs from our new album."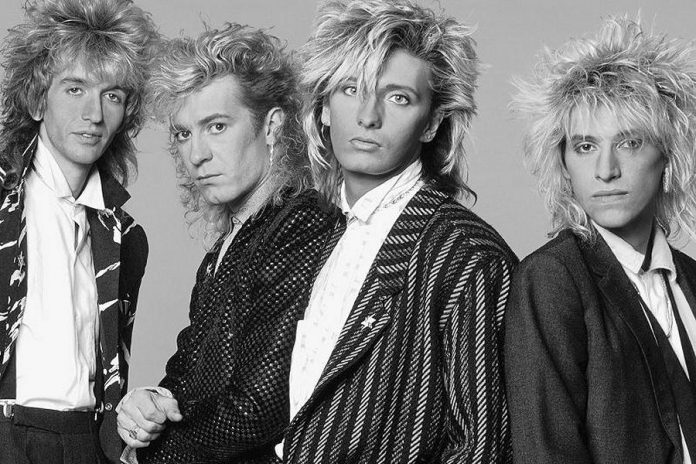 That album, Now & Never, isn't so new anymore having been released in 2012 along with the single "Beautiful". Platinum Blonde's first album of original material since 1987's Contact, the album heralded the second coming of the band, introducing its driving sound to a new generation of followers while exciting loyal fans who flocked to the cause during Platinum Blonde's glory years.
"The worst thing a musician can do is grow up by changing the great sound that brought him to where he is," said Holmes.
"All the great musicians I know today are still the same 'kids-at-heart' they were during their glory days. It brings emotion and warmth to the music you'd lose otherwise."
---
"Doesn't Really Matter" – Platinum Blonde
---
In the 1980s, Holmes et al were kids in reality, following up on the success of Standing In The Dark with 1985's Alien Shores. The album sold more than 500,000 copies in Canada alone, spawning four hit singles in "Crying Over You", "Situation Critical", "Somebody Somewhere"m and "Hungry Eyes". The album also marked the debut of bassist/keyboardist Kenny MacLean, and featured the talents of Rush guitarist Alex Lifeson on two tracks.
While 1987's Contact garnered double-platinum status, it was a commercial disappointment. Come the new decade, Platinum Blonde disbanded. There things sat until 2010 when a reunion performance was staged at Toronto's Mod Club Theatre. Two years later, original members Holmes and Galli, now joined by drummer Dan Todd and bassist Rob Laidlaw — MacLean died suddenly in 2008 — headed back to the studio to record Now & Never, the band's first recording of new material in 25 years.
"We made a point of not touring until we had new songs … great songs," noted Holmes.
"We didn't want to be a bunch of old farts singing old songs. We revere the past and honour it, but it's not alive anymore. Our new stuff will be alive when people hear it for the first time."
As for Platinum Blonde's enduring popularity, Holmes has an answer for that.
"The world is missing real damn rock stars. I'm sick of beards and plaid shirts … enough of boring bands. The lot of them sound like wild howling children. It's distasteful. Whatever happened to parents being scared of their children listening to devil music?"
---
"Crying Over You" – Platinum Blonde
"Situation Critical" – Platinum Blonde
---
Peterborough Musicfest is presenting 19 free-admission concerts during its milestone 30th anniversary season, each staged Wednesday and Saturday nights.
Overseen by general manager Tracey Randall and staff, a board of directors, and numerous volunteers, Peterborough Musicfest's stated mission is to "provide diverse, affordable live music to enrich cultural and economic prosperity in our community."
For more information on this concert and/or the 2016 season, visit www.ptbomusicfest.ca or phone the Peterborough Musicfest office at 705-755-1111.
---