An interview with Alex Bierk on his new mural in downtown Peterborough
The next new mural, to be launched in Peterborough later this month, is by an artist who grew up here: Alex Bierk.
Alex has taken a different path in terms of his concept for a mural and has gone with a photographic image. Monochromatic and spacious, it is a light and airy cloud that you will find situated at the corner of Simcoe and Queen Streets in downtown Peterborough as of Friday, September 23rd.
The finished mural will be unveiled during a reception at 12 noon, on location at 114 Simcoe St. on September 23rd. This will happen in conjunction with the downtown gallery crawl and Artsweek kick-off.
Perhaps you are wondering how this photographic image is going to be adhered to a wall, or are curious about the interesting choice of subject matter. Alex fills us in on some of these details in the short interview below.
What inspired you to choose a cloud as the subject of your piece?
The subject matter in the mural speaks to both the vulnerability and beauty that I see in Peterborough. There has always been a connection for me between the sky, life, spirituality and hope. It seemed like the perfect fit for the location, and something positive to put downtown. It is a good backdrop.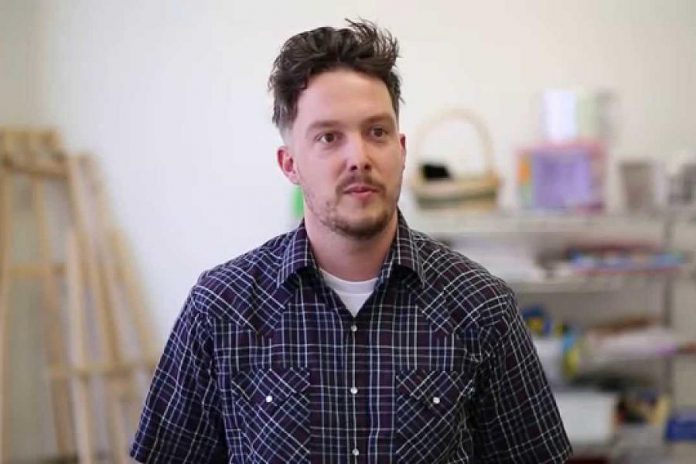 Where did you find this cloud?
I have hundreds of photos of clouds from my day-to-day work, but this one was taken specifically for the mural site. The wall is very long and low, not the scale I am used to working in. I spent a couple of weeks obsessively watching for clouds out my studio window and racing around in my car for high ground to try and find the perfect spot to photograph them.
What sort of impact do you imagine this image will have? How do you envision people reacting to it as they pass by?
I see it as a background to whatever is going on. I think the mural's scale will invite you to experience it. The way the wall is facing uphill it matches the natural horizon line.
Are you excited to be doing a public art installation in your hometown?
Yeah, I am so excited and grateful to be able to do this here. I work full time painting in my studio downtown, but I'm very isolated in what I do. The work leaves my studio and gets shown outside of Peterborough, in Toronto, New York, et cetera. With the mural, and also my solo exhibition — "Forerunners" at Artspace this October — it's a great opportunity to share what I do, where I live.
What materials are being used to print on and affix your piece to the building?
Whatley Technical in town has sourced (and is printing on) a vinyl meant for something of this scale and to be outdoors. The vinyl is being mounted to aluminum panels, which will be installed in a grid to the wall of the mural site.
When is it going to be installed?
We're working on it as we speak and hope to begin installation starting on the 19th of September. The mural will be unveiled in conjunction with the beginning of Artsweek. There's going to be a reception at 12 p.m. on Friday September 23rd at the mural site — HELP Paralegal at 114 Simcoe Street, the corner of Simcoe and Queen.
Jill Stanton's "Bloodroot" mural under the Hunter Street Bridge unveiled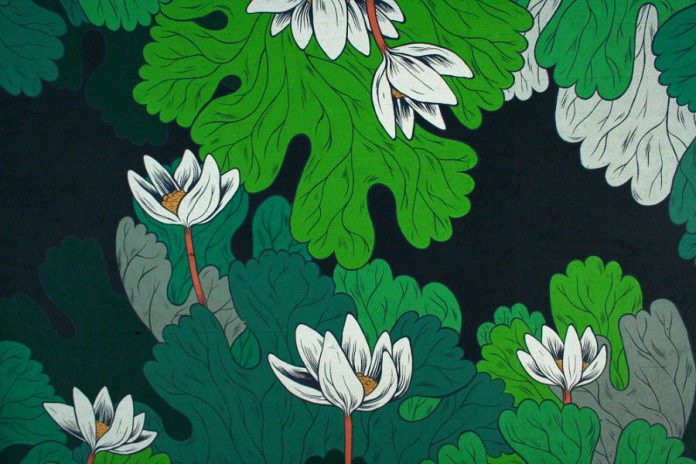 Peterborough is indeed "painting the town". If you haven't heard about Edmontona artist Jill Stanton's recent mural "Bloodroot" painted under the Hunter Street Bridge —done from start to finish in a shockingly short three weeks — then you must have had your head in the sand!
The bright and colourful mural, which is both fun and uplifting, has been talked about all over town — even on the radio. kawarthaNOW featured some photos recently of the mural's unveiling.
It is however best experienced in person, so by all means, go for a stroll and check it out.
Installation and performance art at the Art Gallery of Peterborough and Artspace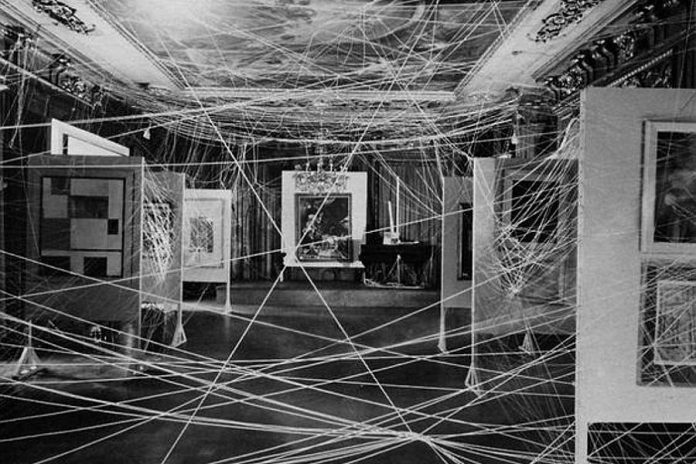 In the case of installation work, a space is transformed by objects of many different kinds into an experiential often conceptual, work of art, frequently featuring sound and three dimensional objects. Installations are meant to be experienced rather than merely looked at as the work found in traditional galleries is.
The exhibits opening this month at the Art Gallery of Peterborough, as well as at Artspace, will feature both installation and performance art.
Performance art is also both an experiential and conceptual in nature, both for the performer and the audience. Historically it has signified a rejection of art as an object to be bought and sold, as well as a rejection of or critique of the status quo.
The performance may be recorded or perhaps it will generate something that will become the art. The remains of a performance, or work generated during a performance often become the art that remains on display. This is the case with the show that will be at Artspace beginning September 16th. Because of the performative time-based nature of the work, there is no picture to show, since the art will not exist until the performance takes place.
Exhibits by Bonnie Devine, Ann and Carl Beam, and selections from The Kawartha Autumn Studio Tour at the Art Gallery of Peterborough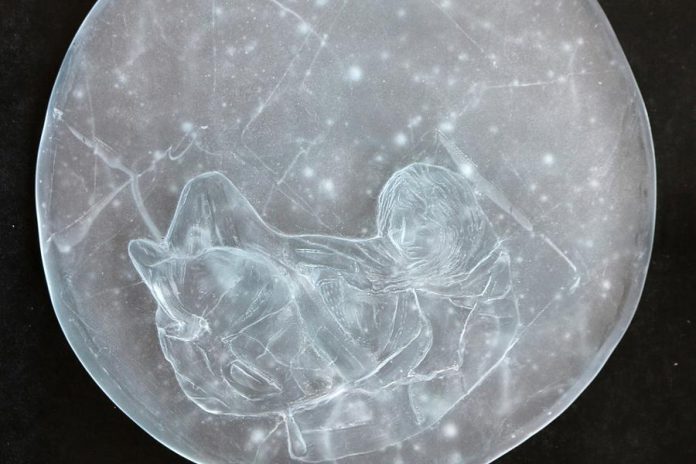 At the Art Gallery of Peterborough (250 Crescent St., Peterborough, 705-743-9179), join the arts community on Saturday September 17th at 2 p.m. for the opening reception for three new exhibits and take in the corresponding performance piece that will happen at 3 p.m.
Bonnie Devine: La Rábida, Soul of Conquest: an Anishinaabe encounter
Bonnie Devine is an Ojibway installation artist, performance artist, sculptor, curator, and writer from Toronto. During the development of this exhibition, Devine visited sites significant to the voyages of Columbus in Italy and Spain. Through sculpture, drawing, painting, and video, the artist explores the religious justification for the conquest of the New World. The show includes an original choral work for four voices by Anishinaabe composer David Ronald DeLeary.
An artist talk with Devine takes place from 2 to 4 p.m. on Saturday, November 5th. The exhibition continues until January 8, 2017.
Germination: Ann and Carl Beam
"Germination" is a selection of works by Ann and Carl Beam, who both lived and worked in Peterborough, from the gallery's most recent acquisition to its prmanent collection. Their works integrate personal memory with issues related to the environment, brutality, and a rethinking of the ways histories are told. Through juxtaposition, collage, and gesture, they upset colonial structures by sparking level dialogues between systems of knowledge.
The exhibition continues until January 8, 2017.
The Kawartha Autumn Studio Tour: Selections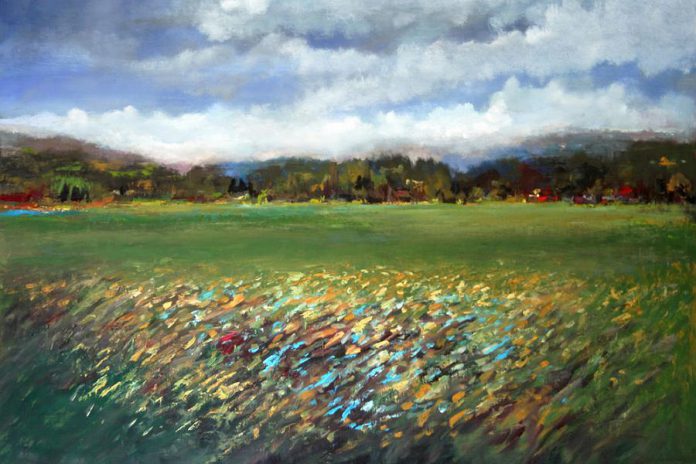 On September 24th and 25th, the 32nd annual Kawartha Autumn Studio Tour offers the public a chance to view art in the working spaces of talented artists in the Peterborough-Kawartha region. This supporting exhibition samples the outstanding quality, spirit, and diversity of artists on the tour. Tour brochures are also available at the gallery.
A concurrent exhibition is on display at the Peterborough Kawarthas Tourism Visitor Centre (1400 Crawford Dr., Peterborough, 705-742-2201) until October 30th.
"Constellation/Conversation" at Artspace in Peterborough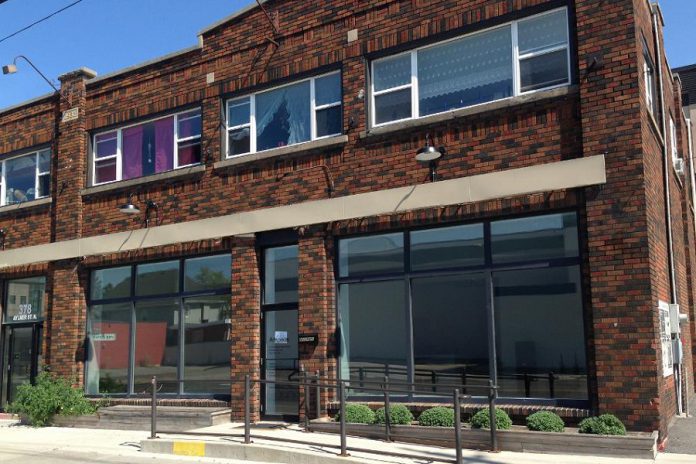 On Friday September 16th at 8 p.m. at Artspace (378 Aylmer St., Peterborough, 705-748-3883), Tanya Lukin-Linklater and Leanne Simpson, along with Layli Long Solider, Cheyanne Turions, and Cris Derksen will present Constellation/conversation, a new collaborative performance and installation work.
Simpson and Derksen will be performing and the performance will then initiate responses from artist, Tanya Lukin-Linklater, poet, Layli Long Solider and curator, Cheyanne Turions. Each response may assume different forms, including text, performance, and spoken word.
A conversation between the five Indigenous women will then take place in the gallery space. The conversation may consider Indigenous peoples' relationships with objects, museums, repatriation and storytelling.
Materials from the performance (tables, chairs and their configurations, microphones, papers, etc.) will be left in the space until the conclusion of the exhibition on September 30th.
Downtown Gallery Crawl and Artsweek on September 23rd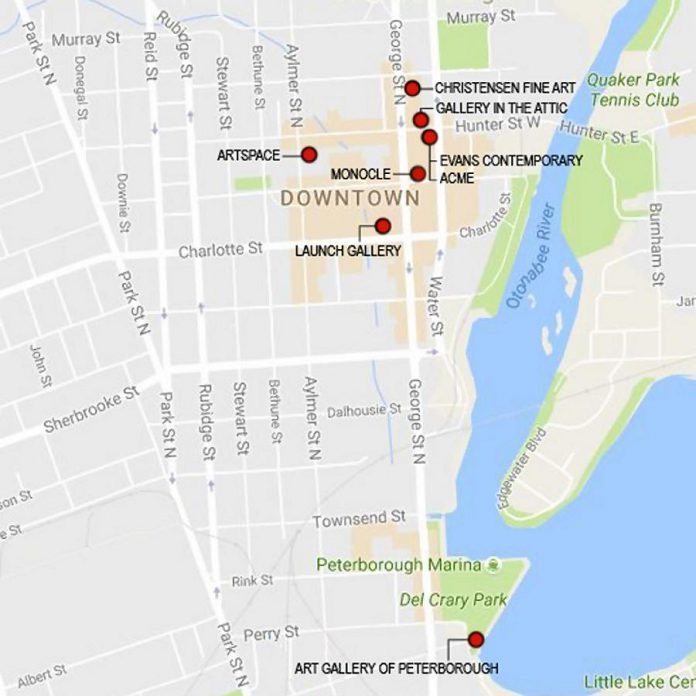 It should be a fun experience to partake of the local downtown Peterborough gallery crawl on Friday, September 23rd, where a number of downtown galleries and arts-affiliated spaces will be working together, holding concurrent openings for their new exhibits or just opening their doors to the public.
It will be a great night to get out of the house and soak it all up, an excellent opportunity to meet interesting people, have some wine and appetizers, and explore the galleries of downtown Peterborough.
The Art School of Peterborough (174A Charlotte St, Peterborough, 705-742-3221) will also be open to the public on this evening .
This event will be closely followed by the Kawartha Autumn Studio Tour on September 24th and 25th, where the studios of a number of artists in Peterborough and the surrounding area will be open to the public.
The annual Artsweek is also happening in Peterborough, running from September 23rd until October 2nd. It features performances, installations and storefront displays by various artists. Visit artsweekptbo.com/artsweek-2016/ to see the schedule of events and performances featured this year.
Christensen Fine Art celebrates 30 years in business featuring the work of Peer Christensen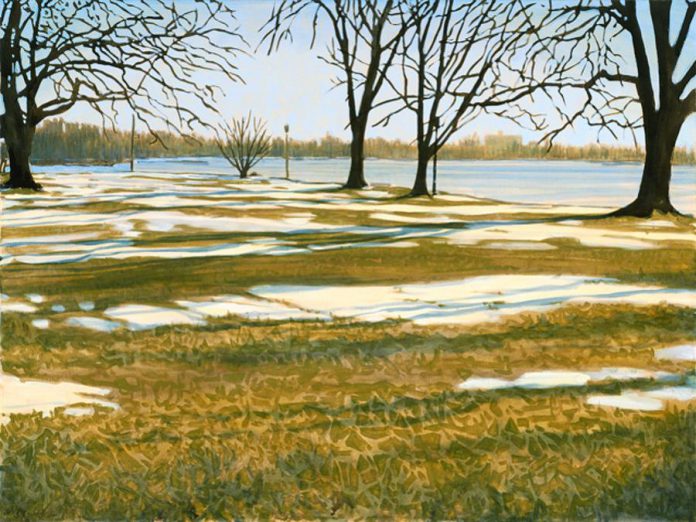 Peer and Lori Christensen are celebrating 30 years of business in Peterborough this year. The journey has taken their art gallery and picture framing operation from The Williamson House Gallery (1986-1990) to Hunter West Gallery (1990-2006) to its current location at Christensen Fine Art (432 George St. N., Peterborough).
Peer will be participating in the annual Kawartha Autumn Studio Tour on September 24th and 25th. An opening reception and preview will be held on Friday September 23rd from 6 to 9 p.m. Peer's work will be on display in the main floor gallery, as well as his second floor studio, during Artsweek Peterborough. The show will continue until October 5th.
rs are Monday to Friday from 10 a.m. to 5:30 p.m. and Saturday from 10 a.m. to 4 p.m. For more information, call 705-876-9623.
Anne Jaeger at Evans Contemporary in Peterborough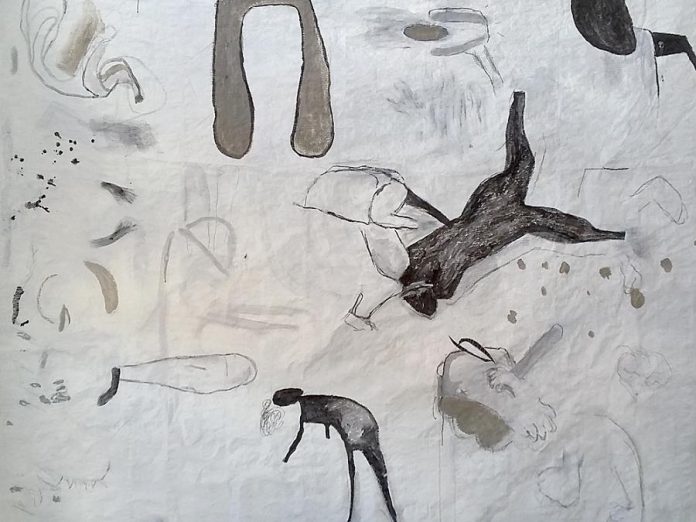 "Sluggo", an exhibition of work by Anne Jaeger, will be display at Evans Contemporary (129-1/2 Hunter St. W., Peterborough) from September 9th to October 8th. An opening reception takes place from 6 to 11 p.m. on Friday, September 23rd.
Jaeger's series of large black and white acrylic paintings on tarp use elements of collage and hand stitching.
Evans Contemporary is open to the public on Saturdays from noon to 6 p.m. Viewings can also be made by appointment by contacting the gallery at evanscontemporary@gmail.com.
Grand opening of Acme Art and Sailboat Company Gallery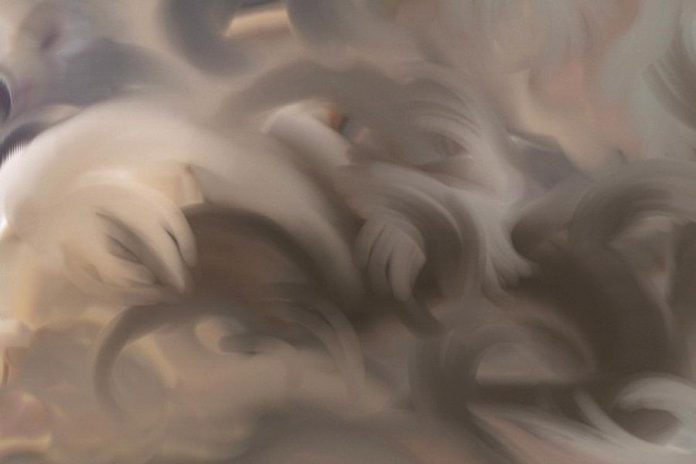 In the same building as Evans Contemporary, you will find Joe Stable's new gallery, the Acme Art and Sailboat Company Gallery, opening on Friday, September 23rd as part of the downtown gallery crawl.
This is a great opportunity to see Joe's new body of work and new gallery setup! Come and celebrate with Joe as he opens this new gallery in the museum that is 40 years of Acme. You won't want to miss this.
Artist David Goyette, writer McCabe-Bennett, and an evening of jazz at The Monocle Centre for the Arts in Peterborough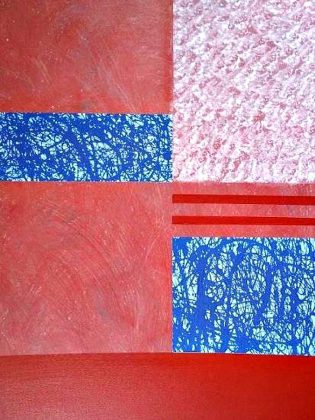 The Monocle Centre for the Arts (140 Simcoe St., Peterborough, 705-875-5442) is featuring the work of artist David Goyette during September. An opening reception takes place from 5 to 8 p.m. on Thursday, September 15th, and the work will be on display until September 30th.
This is not all that will be happening at The Monocle this September.
On Monday, September 19th, there will be a workshop reading of SMASHES: Queer love in the 1880s and 1990s, written by and starring Franny McCabe-Bennett and directed by Christopher Legacy.
This new one-woman-show examines feminist literary icon Charlotte Perkins Gilman as a queer pioneer and Franny's own queer identity and coming-out story. "Growing up queer is messy, whether you're a feminist writer in Victorian-era Connecticut or an overalls-wearing, Alanis Morissette superfan in the 'burbs'.
The reading will be at 8 p.m. with an artist's talk to follow. This event will be $10 at the door.
On Friday, September 23rd, as part of the downtown gallery crawl, there will be a live jazz performance at The Monocle featuring musicians Craig Paterson, Pete Woolidge, and John Climenhage. The show will run from 7:30t to 9:30 p.m., with drinks and snacks provided.