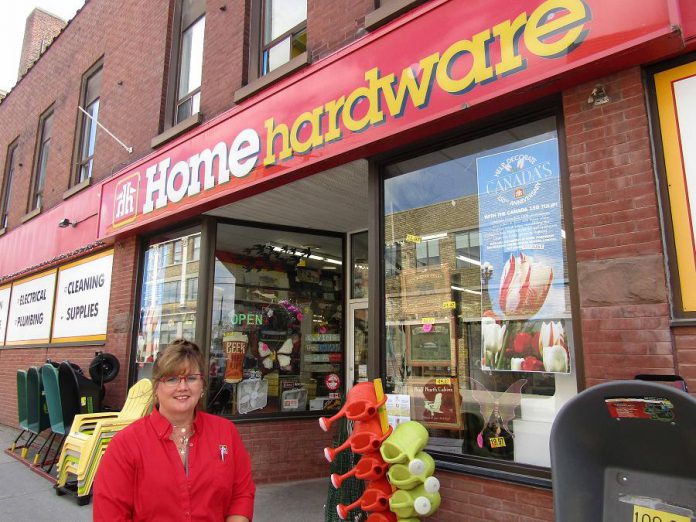 Situated in the core of downtown Peterborough, Kingan Home Hardware is a leader in energy efficiency.
Home Hardware is one of the latest local businesses to benefit from the Save On Energy Incentive Programs for business. The program offers financial incentives through Peterborough Distribution Inc. (PDI).
The Simcoe Street hardware store has received funding for three energy efficiency upgrade projects over the last four years. Valerie Hubbeard, manager of Kingan Home Hardware, received rebates for upgrades from both the Retrofit Program and the Small Business Lighting Program.
These provincial Save on Energy programs are offered through PDI, and the Green Business Program can help your business to access them. The Green Business Peterborough Program is a partnership between GreenUP, the Greater Peterborough Area Chamber of Commerce, and PDI that seeks to support small businesses as they identify areas of opportunity for conservation, access incentives, and share their success stories with others in across the region – success stories just like this one.
Kingan Home Hardware invested $23,000 to pay for the three projects and received $6,000 in rebates through the Save on Energy programs. All of the upgrades implemented in Home Hardware have resulted in huge financial savings for the business. And, in another two years, the upgrades will have paid for themselves.

"These projects have helped us to save 70,000 kilowatt hours to date. That's over $9,000 in savings for these three projects combined," says Hubbeard. To put this into perspective, these savings equal roughly the same amount of energy consumed by six Canadian homes in a year.
In May 2013, Valerie received $1,500 for lighting upgrades from the Small Business Lighting Program. She applied to upgrade the store's outdoor sign, which contained older and less efficient florescent lights. With the incentive, she was able to replace these outdated lights with more energy efficient, high performance lights.
Upgrading the outdoor sign with longer lasting, more efficient lights has also meant less maintenance costs to service the sign and a more visible storefront.
Similarly, in November of 2014, Valerie accessed the Retrofit Program to replace the interior lighting. The cost of the project totaled $14,000 and Valerie was granted an incentive of $3,500.
This year, Valerie wanted to install a new energy-efficient rooftop air conditioner. Once again, she applied to the Retrofit Program and received funding for the project.
The total cost of the project was $9,000, and an incentive of $905 helped Valerie make the switch to a new air conditioning unit.
When asked about the motivations behind these most recent upgrades, Valerie explains that, in addition to decreasing the operating costs of the building, "it has been really important, especially this summer, to have a well air conditioned store. It has created a more comfortable space for our customers and employees."

Kingan Home Hardware was motivated by more than just financial savings: "Some other benefits for upgrading electronic equipment are better sales, more visible product and signage, fewer maintenance costs, and as a corporate citizen it shows we care about the environment," says Valerie.
Businesses of all sizes can participate in these Save On Energy incentive programs. The Small Business Program offers a free assessment of lighting and electrical equipment to identify upgrades that qualify for rebates. And, past participants of the Small Business Lighting Program are now permitted to reapply for incentives to upgrade their lighting.
Depending on the project, a business can receive back up to 50% of their project costs. Importantly, there is no limit to how many times a business can participate, meaning that all electrical upgrade projects can qualify for rebates.
While participation in the program requires some technical knowledge, GreenUP can help your business to navigate this process.
This fall, the Green Business Peterborough program will be sending out a monthly newsletter with information about the program, as well as featured case studies of local businesses that have completed the application process.
Green Business Peterborough aims to meet each business operator where they are, understand their needs, and help them identify and prioritize actions which will move them towards achieving full economic, environmental, and social sustainability.
To subscribe to the Green Business monthly newsletter or to have your business case study shared with the Green Business network, please sign up on the Green Business Peterborough website at www.greenbusinesspeterborough.ca or email Amy Bowen, Networking Lead, at amy.bowen@greenup.on.ca.