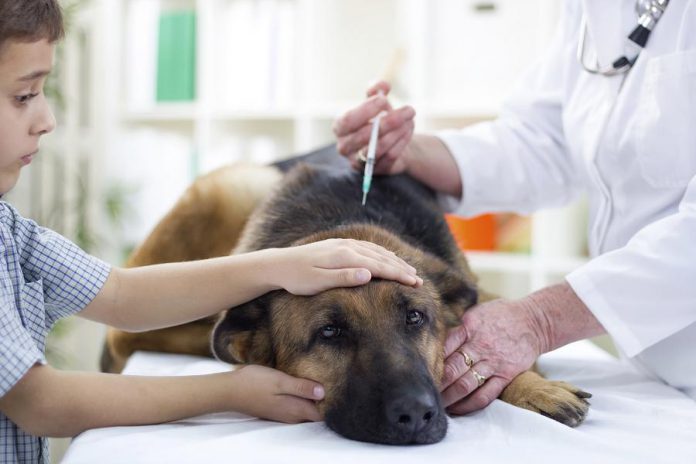 The Haliburton, Kawartha, Pine Ridge District Health Unit is encouraging pet owners to protect their four-footed friends by ensuring their cats and dogs are vaccinated against rabies.
Six low-cost rabies vaccination clinics are being held in the City of Kawartha Lakes on Saturday, October 15, 2016.
"Many of us consider a dog or cat to be part of our family, so the clinics provide an opportunity to give these pets the protection they deserve," says Bruce Barthorpe, a public health inspector with the health unit. "Rabies is fatal, so getting pets vaccinated is an important part of caring for animals and being a responsible pet owner."
The annual clinics are organized by local veterinarians in partnership with the health unit. The cost for a vaccination is $25 per animal (cash only). No examination of the animal will take place at the clinic, and participating veterinarians ask that dogs be on leashes and cats in carriers.
Rabies is a serious virus that attacks the nerves and brain of an animal. People and pets may get rabies when an animal infected with rabies licks an open wound, or bites and scratches them. If left untreated, rabies is fatal.
In the City of Kawartha Lakes as well as in Peterborough County, it is mandatory for pet owners to get their cats and dogs vaccinated for rabies. Failure to comply with mandatory rabies vaccination for pets can lead to a fine.
An added incentive to get your pets vaccinated is the current outbreak of rabies being found in wildlife in Ontario, especially concentrated in the Hamilton-Brantford area.
Here are the locations of the rabies vaccination clinics on the morning of Saturday, October 15th:
Bobcaygeon
Three Island Veterinary Services (115 East St. N.) from 9 a.m. to noon
Fenelon Falls
Fenelon Animal Clinic (474 County Road 121) from 9 a.m. to 1 p.m.
Lindsay
Kawartha Animal Hospital (130 Angeline St. S.) from 9 a.m. to noon
Lindsay Animal Clinic (62 Lindsay St. S.) from 9 a.m. to noon
Victoria Veterinary Services (86 Russell St. W.) from 9 a.m. to noon
Omemee
Omemee Veterinary Hospital (128 King St. W.) from 9 a.m. to noon
In Northumberland County (including Cobourg and Port Hope) and Hastings County (including Bancroft, Campbellford, Maynooth, and Trenton), low-cost rabies clinics were held on Saturday, October 1st.
In the Peterborough area, low-cost rabies clinics are held in the spring. The next series of clinics will take place in 2017.