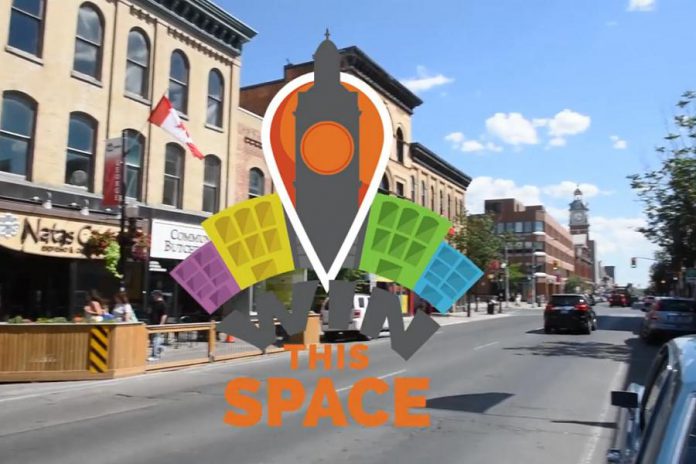 One local entrepreneur is going to have the chance of a lifetime with a free one-year lease of a downtown Peterborough storefront.
Four business organizations — Peterborough Downtown Business Improvement Area (DBIA), Peterborough Economic Development, Community Futures Peterborough, and StartUp Peterborough — officially launched the "Win This Space" competition on Monday (October 17) as a unique way to support local entrepreneurs and spur economic development in Peterborough.
Interested entrepreneurs have until January 13, 2017, to put together a plan and submit it to the competition. The top 10 finalists will take several workshops before a winner is chosen on February 16th by a panel of entrepreneurs. The winner will then have their choice of a free one-year lease starting April 1st at one of the available participating downtown locations.
For more information about the rules and regulations of Win This Space and how to apply, visit www.winthisspace.com.
The Win This Space launch took place at Cherney Realty's building at 261 George Street North, in honour of the late Erica Cherney. 261 George Street is one of the locations that can be won.
"As everyone knows, one of my mother's great passions was Peterborough's downtown," says Michael Cherney. "She considered it to be the nicest downtown area of all the mid-sized cities in Ontario. One of the reasons for our success is that we have a great BIA who are always on the hunt for ways to constantly improve the downtown area. The Win This Space contest is a perfect example of this."
As well as the free lease, the winning entrepreneur will receive products and services from a number of participating local businesses. The full prize package is valued at more than $35,000.
"It's amazing to bring together so many partners to support this program," says Peterborough DBIA Executive Director Terry Guiel. "We're bringing the business community together to support an up-and-coming entrepreneur and to animate the downtown."
The $35,000 prize package is being funded with the help of sponsors, some covering the cost of a month's lease and others donating funds to support the program or to provide additional prizes for the winner. kawarthaNOW is pleased to participate as one of the Gold Sponsors for the competition.
Monthly adopters
Peterborough Downtown Business Improvement Area
Peterborough Economic Development
Community Futures Peterborough
Venture North
Bank of Montreal
Inclusive Advisory
Monkman Gracie & Johnston Insurance Brokers
Trent University
Peterborough Distribution Inc.
The owner of the property selected by the winner
Gold Sponsors
kawarthaNOW
Greater Peterborough Chamber of Commerce
Red X Technologies
Brant Basics
Shaw Computer Systems
Acorn30
Marketing Refuel
Silver Sponsors
Ribbet
Max Communications
Studio-N
Commercial Press
Kawartha Family Business Group
Media Sponsors
Peterborough Examiner
Peterborough This Week
Snapd Peterborough
kawarthaNOW
Oldies 96.7
90.5 EXTRA talkSPORTS
Ptbo Canada
---
Win This Space Peterborough