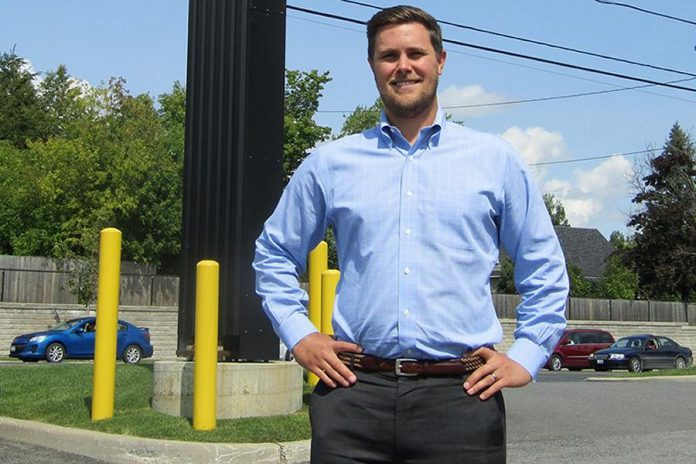 With over 60 years of experience, Leon's is one of the largest furniture retailers in Peterborough. In addition to prioritizing excellent customer service, Leon's is also taking steps to become a more sustainable corporate citizen.
This year, Tom Reburn Jr., owner and operator of Leon's Furniture, participated in the Save on Energy Retrofit Program from Peterborough Distribution Inc. (PDI) and received financial incentives to make the building more energy efficient.
To access these financial incentives, businesses need an application representative. Tom explains that incentives became easily accessible with the help of Lancer Electric, a local electrical contracting company that helped him access these programs.
"Nathan from Lancer Electric had recommended changing the lights for some time," he says. "The electrician did all of the paperwork to get the Retrofit Program rebate. It was very easy to participate."
Once the energy efficiency project was pre-approved by PDI, Leon's received an incentive amount of $4,120 off of the original project cost of $18,830 — or 22% of the total cost.
With this money, Tom was able to install new energy-efficient lighting. This switch will yield 50,888 kWh in savings per year, which in turn will save Leon's an estimated $430 a month and over $5,000 annually.
And this new efficient lighting will have paid for itself in just under three years — far shorter than the lifetime of the lights, which last an estimated 35,000 to 50,000 hours.
In addition to saving money, upgrading to longer-lasting LEDs will cut maintenance costs and display retail products in a better light. For a furniture store, having lighting that enhances product display is important for effectively showcasing merchandise to customers.
A better lit shopping space also creates a more comfortable working environment for staff. Combined, these positive outcomes of the energy efficient project ultimately encourage better sales.
To become part of the Retrofit Program, businesses must get pre-approval of their application. The application includes the project cost quote and the equipment specifications to ensure energy savings and the quality of the replacement product.
Pre-approval allows business customers to embark on their upgrade project knowing the approved incentive amount and the return on investment timeline. Once a business has been pre-approved by PDI, the project can be completed and the rebate is issued to the customer.
Depending on the amount of energy consumption saved from the project, the business could receive up to 50% of their projects costs back.
Leon's is one of many local businesses who are taking advantage of these incentive programs; they are part of a global movement to make businesses more energy efficient.
Businesses interested in being more sustainable can do so at a local level, in the Peterborough area. This month saw the PBX event at Camp Kawartha. The event hosted green businesses in our local region, and was a great opportunity for the business
community, employers, consumers, and community agencies to make valuable connections.
Over 70 people participated in the event on October 4th. Host Jacob Rodenburg set up team building outdoor activities including high ropes, axe and knife throwing, and teamwork challenges for the business community to participate in.
This event showcased the Green Business Peterborough program, providing information on previous businesses that have accessed incentive programs, such as Peterborough Square and Home Depot. Other vendors included PDI, TRACKS, Sustainable Peterborough, Random Acts of Green, By the Bushel, Kawartha Land Trust, Flanaghan & Sun, Torbram Electric, ORCA, and the Chamber, all of which support green business initiatives.
These business-to-business connections are important to establish, as they encourage support between local businesses invested in similar causes. Sharing sustainability stories facilitates communication about how corporate citizens can be environmentally mindful, while increasingly productivity.
Sustainability is a community effort. Connecting business owners to each other and recognizing green businesses in our community encourages future sustainability projects and fosters an understanding of both the environmental and financial benefits of retrofitting buildings.
The Green Business Peterborough program is a partnership between GreenUP, the Greater Peterborough Chamber of Commerce, and PDI. If you're considering facility upgrades, GreenUP can act as the application representative on your retrofitting application.
To learn more about the Green Business Peterborough program, please visit www.greenbusinesspeterborough.ca.