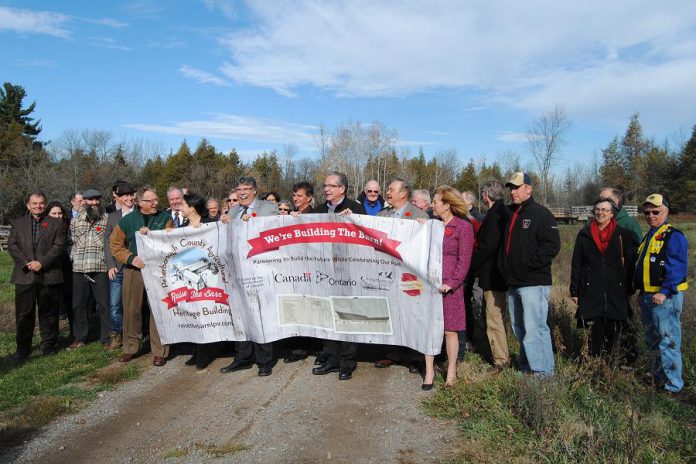 The federal government is providing $970,000 to the County of Peterborough towards the construction of the new Peterborough County Agricultural Heritage Building at Lang Pioneer Village Museum in Keene.
Maryam Monsef, Minister of Democratic Institutions and MP for Peterborough-Kawartha, made the announcement today (November 10) on behalf of Mélanie Joly, Minister of Canadian Heritage. The funding is being provided through the Canada Cultural Spaces Fund.
In June 2015, the County of Peterborough announced plans to build the Peterborough County Agricultural Heritage Building at Lang Pioneer Village. Since that time, the county has been raising funds through its "Raise the Barn" campaign at www.raisethebarnptbo.com.
The new building will display accurate depictions of the history of agriculture in the region. It will be built to resemble a circa 1910 barn in a manner that honours traditions and practices as established 200 years ago, maintaining historical authenticity and consistency with the other buildings at Lang Pioneer Village.
The projected cost of the building is $2 million. With today's announcement — along with contributions made by government, local organizations, and individuals — the county is three-quarters of the way towards its fundraising goal.
The idea for the new building came on the heels of the 2006 International Plowing Match and Rural Expo in Keene. The event, hosted by the Ontario Plowmen's Association, was attended by an estimated 100,000 people and brought around $25 million in economic benefits to the region.
Following the success of the plowing match, a legacy fund was endowed to the County of Peterborough to continue local education on the impact and importance of the area's agriculture heritage.
Plans for the new building include:
the Peter Hamilton Agricultural Collection
agricultural implements and equipment for display and operation demonstrations
a large restoration workshop housing a steam engine, thrasher, tractors, and more
a conservation lab with viewing window
a multi-purpose space with full technical capabilities to host workshops, theatre, live music, and education activities
a commercial kitchen with multi-purpose use
an outdoor courtyard.
At today's announcement, Larry Jinkerson (President of the Peterborough County Cattlemen) and Mike Telford (a Peterborough Cattlemen Director and Chair of the BBQ Fundraising committee) also presented a cheque for $3,760 to Warden J. Murray Jones as their contribution to the Peterborough County Agricultural Heritage Building.
The county expects that the Peterborough County Agricultural Heritage Building will open its doors in 2017, increasing tourism to the area and helping to educate city and urban dwellers on the important of agriculture to the local economy.