With his huge talent, if he just sang and played guitar, that would be more than enough. But Séan McCann has something more to offer: raw honesty, inspiration, hope, and all stops in between.
The folk-rock musician, who for 20 years made his creative mark with Great Big Sea, is coming to the Market Hall Performing Arts Centre (140 Charlotte Street, Peterborough, 705-749-1146), presented by the downtown venue in partnership with the Canadian Mental Health Association, Halliburton, Kawartha, Pine Ridge (CMHA-HKPR).
McCann's Peterborough show is the final stop on his fall Road To Recovery Tour. Billed as "an evening of song and story," the concert on Saturday, November 26th will see the Newfoundland native share, through his music and his words, his lengthy struggle with alcoholism.
McCann quit drinking on November 9, 2011, and came to the realization that sharing his journey would be of benefit to those struggling with their own demons.
His first post-Great Big Sea album, 2014's Help Your Self, marked the beginning of McCann's own healing process; a journey aided by his being able to break his silence about the sexual abuse he suffered as a child at the hands of a priest.
"When I put out the record, it resonated with thousands of people, and the lesson that I took from it was that I was not alone," says McCann in an October 2016 interview with Yasmine Shemesh of www.dailyhive.com.
"People kept coming back to me saying, 'I know this song, that song's my mother.' 'I know that song, that's my brother.' 'I know that song, that's my lover.' 'I know that song, that song is me.' I took comfort in that because I realized mental health and addictions affect everybody."
"You may not suffer directly but you know someone who does. You know, we're all in this together. It's not like we're not connected. Not dealing with it as a society is just not facing the problems. I'm very open about it and I know that it helps people when they realize they can. It helped me when I heard someone talk about it. It really did."
VIDEO: Séan McCann performs "Mari Mac" at The Kent in Chatham

CMHA-HKPR Manager of Development Kerri Davies says McCann's willingness to talk about his journey made partnering with Market Hall on the concert — a notion put forth by Market Hall's general manager Chad Hogan last June — about as close to a no-brainer as you can get.
"We're reaching a different audience than if we just hung a banner and said, 'Come on in tonight for a one-hour talk on mental health,'" says Davies.
"People move beyond the fact that he's a celebrity. Rather, he's just a human being, able to share the pain and difficulties he has had over what happened to him and how. Once he was able to unpack that and talk about what happened, he was able to move on to getting some help. For someone who doesn't think they're ever going to be okay, this might be that little extra push to say 'Maybe I do need to tell somebody about this.'"
Still, as thrilled as she is that McCann is coming to Peterborough to share his story, Davies quickly reminds us that "we have local heroes" who have done, and are doing, likewise to equally great effect.
"When it's a celebrity, it's like, 'Wow, if they can do this, if they can talk about this big secret, then maybe I can too.' But when you have someone local you can identify with, that's when it really brings it home. As exciting as it is to be able to have people like Séan McCann come and tell their story, what really resonates are the stories we tell locally."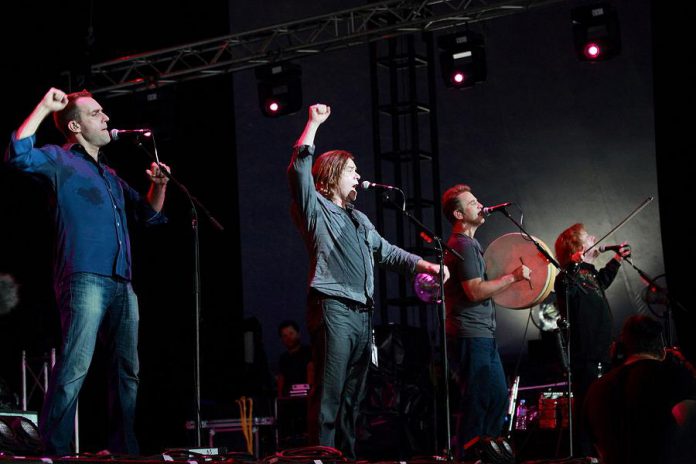 Along with Alan Doyle, Darrell Power and Bob Hallett, McCann founded Great Big Sea in 1993. The band's over-the-top energetic interpretations of traditional Newfoundland folk songs resonated with Canadians coast-to-coast and beyond. Before the band's break-up in 2013, it had recorded nine studio albums, released 28 singles — "Ordinary Day" and "End of the World" come to mind quickly — and dominated the East Coast Music Awards from 1996 into 2000.
"It wasn't enough," McCann says of his last few years with Great Big Sea. "It didn't sustain me and that's important. My only regret is we probably could have said a lot more than we did. But we kept it simple. We kept it simple because simple is easier to sell."
What's clear now is McCann's openness about the abuse he suffered and his resulting alcoholism does indeed sustain him.
"I'm not a religious person — I never will be again, I don't think — but if I could steal one good thing from the church, it was that once a week, the community would come together face-to-face, shake hands, and sing a song together. That's a huge, very intimate thing to do."
VIDEO: Road to Recovery Tour 2016

Davies, meanwhile, notes the CMHA-HKPR will have a presence at the concert in a bid to "create a safe space."
"I don't know what's going to come out of Séan McCann's mouth," she explains. "He may say something that triggers someone in the audience, so we want to make sure that people know if there is something that's troubling or resonates with them, there's somebody there they can talk to that night."
November, she adds, is Men's Health Month, giving the concert's timing even more relevance.
"It started out being mostly about prostate cancer, but it has morphed into encouraging men to talk about all aspects of their health, including their mental health."
"Men are the least likely to want to talk about this. They tend to want to tough it out. Hopefully, having a guy like Séan McCann speak about his difficulty helps to take away that false belief that you're weak if you open up about it."
VIDEO: "You Know I Love You" – Séan McCann