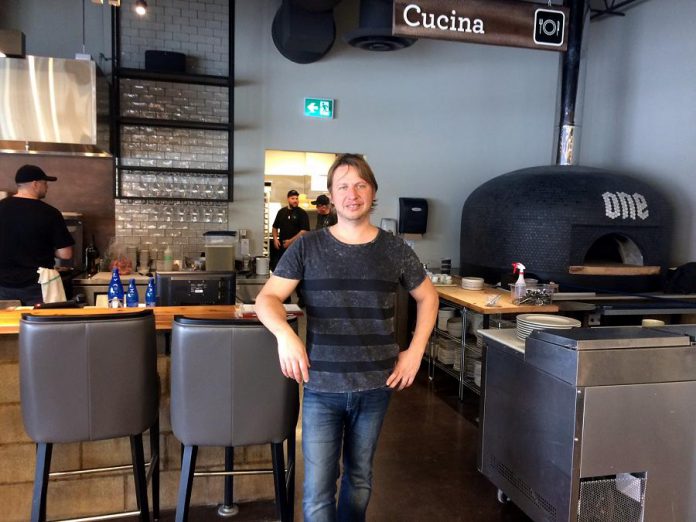 This month, Eva Fisher gets a taste of an Italian marketplace with One Fine Food, tries delicious Mediterranean food at OMG (Oasis Mediterranean Grill), checks into the cafe at Euphoria Wellness Spa, and learns why a tractor trailer load of turkeys will be showing up at Franz's Butchershop and Catering this month.
---
One Fine Food brings the experience of an Italian marketplace to Erskine Avenue
One Fine Food (800 Erskine Avenue, Peterborough, 705-742-6200), an Italian-inspired market and restaurant, will be open for business on Wednesday, December 14th (with their official grand opening on Thursday at 2 p.m.).
The space contains a restaurant with a wood-fired pizza oven, a gelateria, and a cafe. There's also a market area with a butcher's counter, a cheese counter, fresh produce, and other fine foods.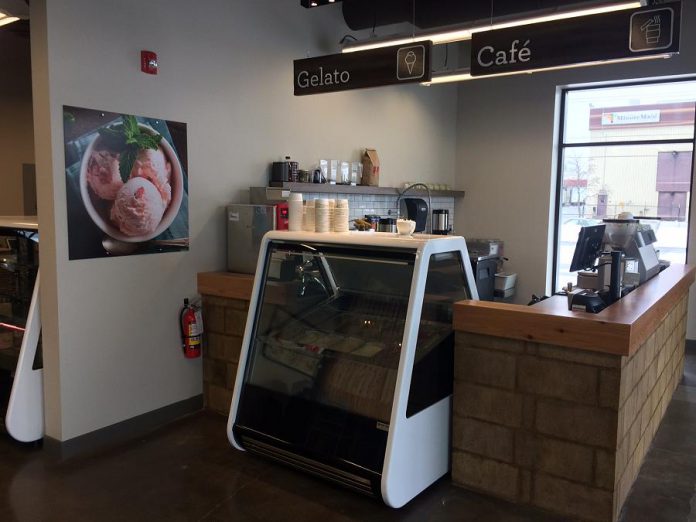 General Manager Matt Choma co-owns the new business with Glenn Stonehouse. Glenn is the owner of Wildfire Golf Club, and the pair met when Matt became the Clubhouse General Manager and a partner in the restaurant at Wildfire.
Matt has been working in restaurants, bakeries and butchershops since he graduated from Stratford Chefs School in 2001. He brings all of that experience to One Fine Food, which will feature an incredible variety of house made items. "Everything's made here. From the pasta to the romano cheese to the charcuterie and pancetta in the restaurant." That includes the gelato.
Matt's love of Italian food began on a trip to Italy when he was 18 years old. He describes an unforgettable meal he had in San Pellegrino Terme.
"There was one restaurant in town, it was a rainy spring day, and we asked if we could get something to eat. We sat down and out came this ravioli in a sage butter sauce with goat's milk from the village and that was it. That's what you got for lunch that day. That's when I fell in love with Italian food."
The memory stuck with him. "I can actually remember the flavour of that, and that's going back 20 years."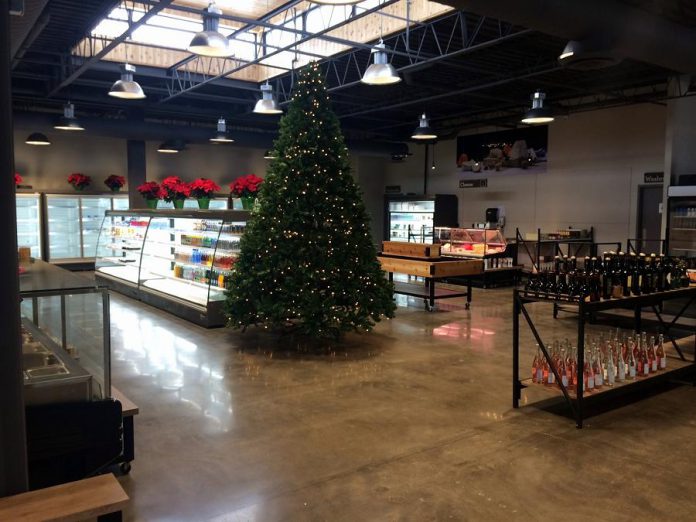 He hopes to capture a European experience, not just in the food he serves, but in the atmosphere he and his team creates at One Fine Food. They are looking to provide an indoor space where families can come together and celebrate food.
"I want you to come in here and have fun. It's not a job, you want to come in and relax. That's what happens in Europe — it's almost like a family outing to the markets."
Syrian refugee family serves Mediterranean favourites in Peterborough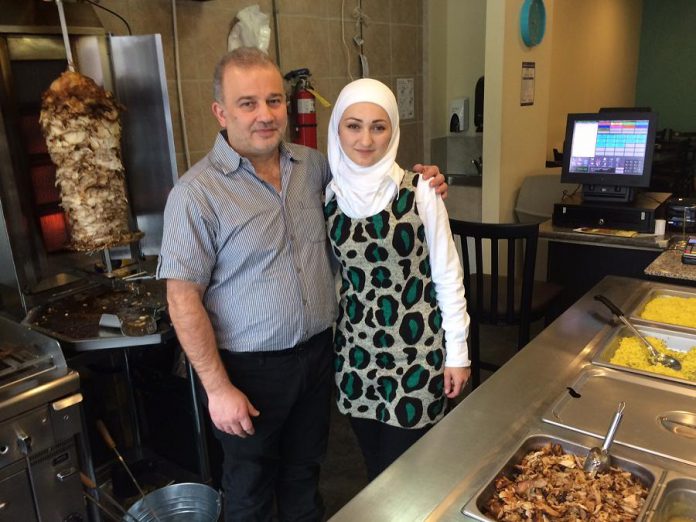 Mohammad and Randa Alftih came from Syria last year as refugees with their four children. Now they have opened a new restaurant, OMG – Oasis Mediterranean Grill (460 George St. N., Peterborough, 705-872-2975). The restaurant features Mediterranean cuisine prepared by Randa.
Mohammad favours the shawarma, a shaved marinated rotisserie chicken. "Everyone in Syria, they like shawarma. I think that they will also like it in Canada."
Randa recommends the stuffed grape leaves, which she fills with a mixture of rice, tomatoes and onions.
The menu also contains sambousek: dough stuffed with either ground beef, onions and pine nuts or feta cheese, spinach and onions. Or you can try soujook, a beef sausage wrapped in a pita with lettuce, tomatoes, onions and garlic sauce.
Through the restaurant, Mohammad and Randa have been able to provide work for other Syrian refugees. They have hired four employees so far, and they hope to hire more as the business expands.
The business was started in partnership with Kenzu Abdella, a mathematics professor at Trent University. Mohammad offered his and Randa's thanks to him, to their sponsorship group Safe Haven for Refugees, and to the people of Peterborough. "I like so much Peterborough. I feel like it's my city."
OMG is open Monday through Thursday from 11:30 a.m. to 9 p.m., and Friday and Saturday from 11:30 a.m. to 10 p.m.
Menu – December 2016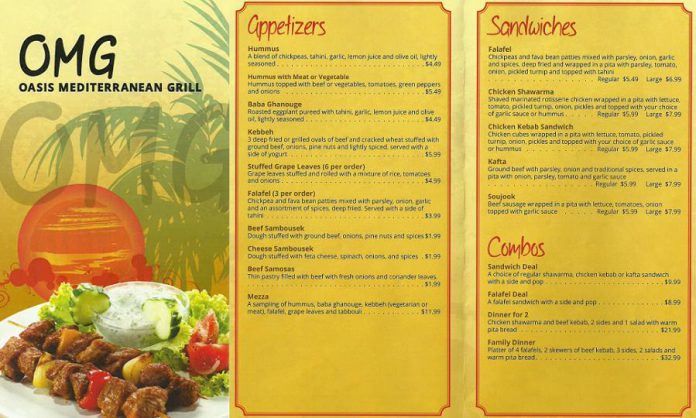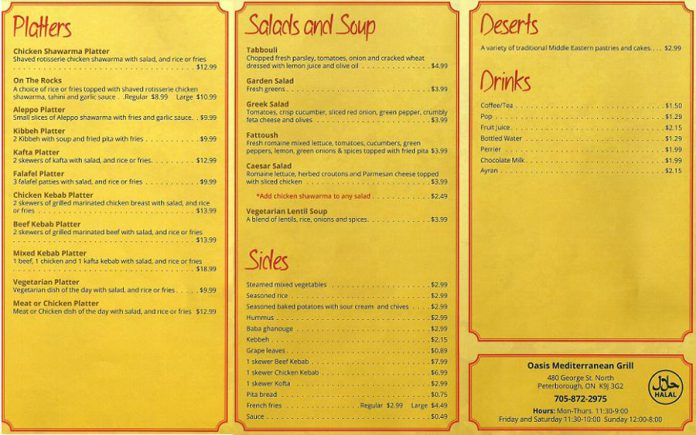 Caffè Euphoria brings a taste of the Magic Rolling Pin to the spa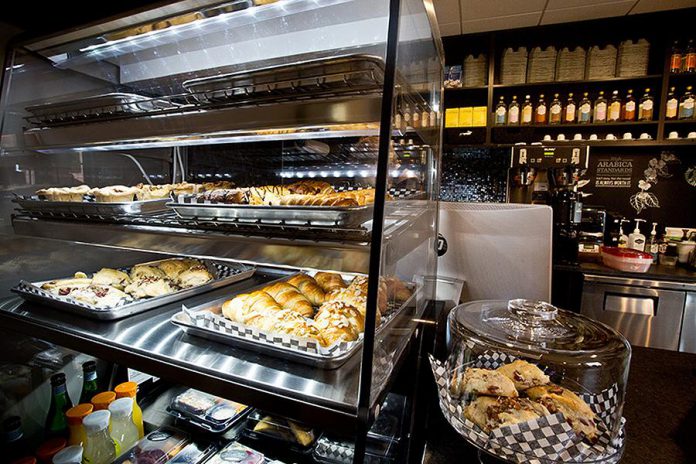 Euphoria Wellness Spa (290 Water Street, Peterborough, 705-741-4772) has opened a cafe at their new downtown location. Open since mid November, Caffè Euphoria serves baked goods, salads and sandwiches in partnership with Nick and Natalie Wittek of the Magic Rolling Pin (302 King Street, Peterborough, 705-745-6556). They also serve Starbucks beverages.
The Magic Rolling Pin was chosen to provide food for the cafe in part because of their reputation for making outstanding high tea. According to Manager Tiffany Arcari, this was an important part of the vision for the cafe. "We wanted an opportunity for clients to enjoy high tea while they come for spa services because it really makes the experience."
While the menu changes almost weekly, a few items have become signatures, including the kale caesar salad with the Magic Rolling Pin's bacon jam. Customers have also enjoyed their kale and quinoa salad, a beet salad, and a poached pear salad.
The baked goods are all baked fresh each morning by the Magic Rolling Pin. Tiffany recommends the danishes. "I have never had a danish filled with so much cream cheese in my life. It is delicious."
They have also served raspberry lemon scones, gingerbread scones, ham and cheese scones, almond croissants, chocolate croissants, cookies and cupcakes.
The cafe is just one element of the new spa facility, which also offers fitness classes, a wellness team, a salon and esthetic treatments.
Franz's Christmas turkey: a tradition for 34 years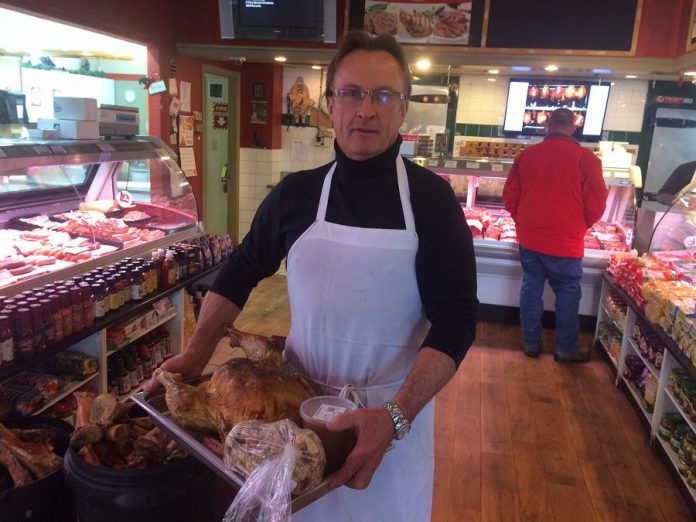 This Christmas, over 1,000 local families will sit down to a turkey from Franz's Butchershop and Catering (172 Lansdowne St. E, Peterborough, 705-742-8888). That's how many fresh turkeys the butchershop orders each holiday season.
"Just imagine a tractor trailer load of fresh turkeys," says owner Franz Roessl. That is how the turkeys arrive, all at the same time, fresh from an Ontario farm.
Franz's Butchershop has been selling turkeys for the past 34 years, but last year was the first year they sold over 1,000. They sell the turkeys raw, but they also offer cooked and sliced turkeys.
"The smaller oven holds 40 turkeys at one time," Franz notes.
Franz's Butchershop also makes their own gravy and stuffing. Some of their customers will buy their turkey elsewhere, but will choose Franz's gravy and stuffing to make the meal special. For those looking for a festive novelty, Franz's also sells Turducken — deboned chicken stuffed into a deboned duck, which is then stuffed into a deboned turkey.
One piece of advice Franz offers to those coming for a turkey: make sure you know what you're coming for.
"We have husbands whose wives have placed the order and we ask them whether they want it cooked or stuffed, and they have no idea."