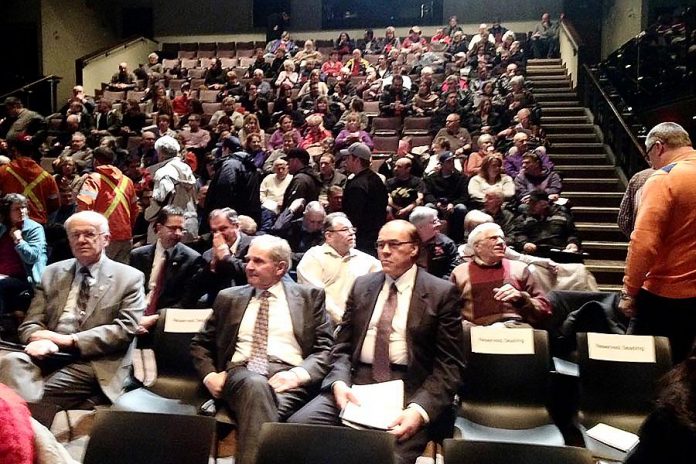 Last week in a 6-5 vote, city council voted in favour of the sale of Peterborough Distribution Inc. (PDI) to Hydro One.
Mayor Daryl Bennett, Coun. Henry Clarke, Coun. Dan McWilliams, Coun. Lesley Parnell, Coun. Dave Haacke and Coun. Andrew Beamer all voted in favour of the sale, while Coun. Dean Pappas, Coun. Keith Riel, Coun. Don Vassiliadis, Coun. Diane Therrien and Coun. Gary Baldwin voted against.
If you turn on your noise filters and avoid social media. you can see that there are solid arguments to be made for the sale of PDI. The major one that kept being put forward by PDI leadership was its inability to maintain profitability in the future. Rising costs could have hypothetically reduced profits over the coming years and put the organization into the red.
The validity of that argument may be suspect — but frankly so is the argument that maintaining private ownership of our own utilities distribution will save us money as consumers. Either side of that proverbial coin is based on opinions and not hard facts. Anecdotally, friends of mine living near Madoc have seen a significant decrease in their utility bills after moving out of the City of Peterborough and into a home that is both less efficient than their old home and is serviced by Hydro One.
One recent poll by Environics said that 90% of respondents were against the sale. Other findings in that poll include:
91% want Peterborough Council to keep PDI in public hands
87% believe the Hydro One offer is a bad deal for Peterborough
81% say they will be less likely to vote for their councillor if they support the sale of PDI
83% believe selling PDI will lead to higher rates
78% believe selling PDI will result in less reliable service.
That's pretty overwhelming evidence that people didn't want the sale of PDI to move forward.
Or is it?
The approximate population of the Greater Peterborough Area (GPA) is 135,000. The poll conducted by Environics surveyed 791 people in the City of Peterborough. For rounding purposes, that's 0.6% of the population in the GPA. [Editor's note: According to Environics, the poll can be considered accurate to within plus or minus 3.5 percentage points, 19 times out of 20.]
What furthers my suspicion of the poll was commissioned by CUPE — a major opponent of the sale. At the risk of sounding cynical, anyone with enough money in hand can get a poll completed that proves their point of view. That's the world we live in. For all intents and purposes, that's what CUPE did.
But my problem doesn't lie in the sale of PDI or in CUPE's poll that they commissioned Environics to complete. My problem is that monumental decisions like the sale of PDI or the casino or the Parkway should be voted on by the public.
Instead of spending $30,000 on a consultant, put that towards a public vote on these important issues that have echoing effects on future generations.
I know, I know — "we voted for these people to make the decisions in our best interests" — but let me ask you this, when was the last time your city councillor asked you your opinion? How would that even be possible with 11 councillors representing 135,000 people?
I know that if people had voted on these issues then we'd be harping on the fact there was only a 45% voter turn out or some ridiculous stat, but at least then the public would have had the opportunity to truly make a difference with their opinion.
Essentially it comes down to optics. Because you and your circle of like-minded internet friends were against the sale of PDI doesn't mean that the entire city was. In the same breath, the sale of PDI isn't celery sticks that your mom packed in your school lunch because it's good for you — it's a major public asset.
In the future, maybe a little more than ill-conceived "town hall" meetings should be in order.
Editor's note: The decision to sell PDI will be ratified at a council meeting at 6 p.m. on Thursday, December 15th at the Market Hall. Members of the public will have an opportunity to address council at this meeting.