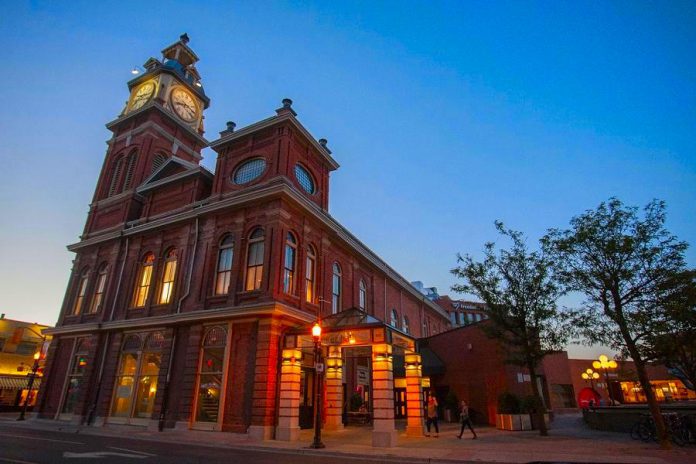 There's a lot happening at Peterborough's Market Hall Performing Arts Centre over the next few weeks.
In addition to next week's concert kawarthaNOW is co-presenting with the Market Hall — Lee Harvey Osmond featuring Tom Wilson, Thompson Wilson, Ray Farrugia, and Aaron Goldstein on Thursday, January 19th — you can see a night of cabaret from New Stages Theatre Company with an all-star cast of singers, and harmonica virtuoso Carlos del Junco performing with his Blues Mongrels.
Then there's three days of documentary film from ReFrame Film Festival followed by the Peterborough Pop Ensemble's presentation of classic songs from George and Ira Gershwin, Cole Porter, and Irving Berlin. And, to feed your spirit, Sunday morning services continue at Peterborough City Church.
---
New Stages' Cabaret Night Broadway Gender Benders on January 20 at 8 p.m.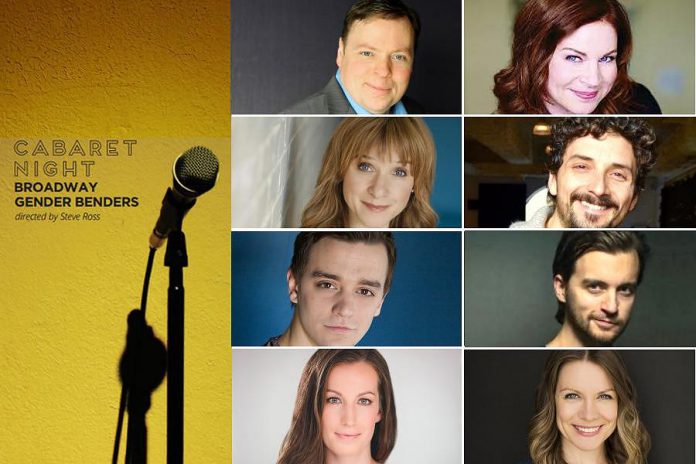 Here's a fun way to beat the winter blues while enjoying some of Canada's best performers: New Stages Theatre Company's popular annual cabaret night. This year the theme is "Broadway Gender Benders" and features songs made famous by women, which will be sung by the male performers, and songs originally sung by men, which will be performed by women.
The all-star cast includes performers from the Stratford Festival along with Peterborough performers who have gone on to have successful professional careers. This show is directed by Stratford's Steve Ross, who'll be co-hosting along with Peterborough's (dare we say famous?) Linda Kash.
The evening's line up also boasts: Glynis Ranney, originally from Peterborough and now a Stratford Festival stalwart, and her husband Mike Nadajewski, also a Stratford Festival veteran; Peterborough's Jonathan Cullen, who recently toured and played the lead in the hilarious award-winning musical The Book of Mormon, and his equally successful and talented brother Stephen Cullen; Peterborough's Shannon McCracken who sings, acts, and dances on stages across Canada; and Peterborough's incomparable Kate Suhr, who will be returning fresh from her successful runs in Mary Poppins, The Little Mermaid, and The Secret Garden in Toronto.
VIDEO: "Jealous" performed by Stephen Cullen and Kate Suhr

New Stages' cabaret night always sells out, so get your tickets now! They're $30 and are available from the box office at the Market Hall (140 Charlotte St., Peterborough), by phone at 705-749-1146, or online at www.markethall.org. Tickets are also available (cash only) at Moondance (425 George St., Peterborough, 705-742-9425).
Carlos del Junco and the Blues Mongrels Quartet on January 21 at 8 p.m.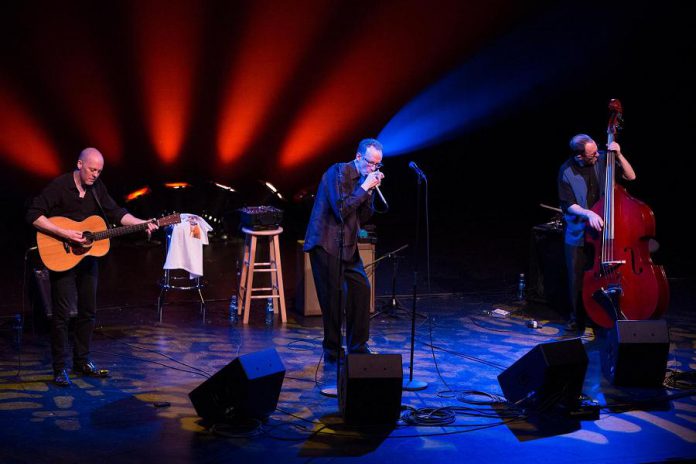 It's almost as if Carlos del Junco were destined to play the harmonica: the musician's Spanish surname means "of the reeds" (in a harmonica, the reeds are the metal plates producing musical tones).
The 58-year-old del Junco was born in Havana, Cuba, and emigrated to Canada with his family when he was one year old. He first picked up a harmonica at 14, playing in front of a live audience at a student talent night when he jammed on a couple of Leadbelly tunes with his high school math teacher. Although he eventually graduated with a degree in visual arts (majoring in sculpture) from the Ontario College of Art, his first love has always been playing the harmonica.
But saying Carlos plays the harmonica is like saying Jimi Hendrix plays the guitar. The virtuoso plays a 10-hole diatonic harmonica, the same instrument used in blues and folk music, but he overcomes its seven-note limitation by using a special "overblow" technique taught to him by jazz virtuoso Howard Levy. This difficult technique allows Carlos to play the harmonica chromatically — covering every note in the musical scale — and greatly expands the genres and styles of music he can play. It also allows him to be more expressive than he could with the chromatic harmonica, the full-scale instrument favoured by jazz harmonica players like the late Toots Thielemans.
VIDEO: "Just Your Fool" – Carlos del Junco and The Blues Mongrels

Carlos is one of the most respected and awarded harmonica musicians in Canada. He's received multiple Juno Award nominations, won the Canadian Maple Blues Awards "Harmonica Player of the Year" eight times, was voted Blues Musician of the Year by Jazz Report Magazine, and won two gold medals at the Hohner World Harmonica Championship in Germany.
Most recently, his new record Blues Etc. — a collaboration with Bailieboro's talented Jimmy Bowskill — has been nominated for Maple Leaf Blues Awards Acoustic Act of The Year and Carlos has again been nominated as Harmonica Player of The Year.
VIDEO: "Mamblues" – Carlos del Junco and The Blues Mongrels

With his band The Blues Mongrels — guitarist Eric St. Laurent, bassist Henry Heillig, and drummer Charlie Coolie — the emphasis is on blues, but Carlos and the boys don't hesitate to head off in other directions including New Orleans second line grooves, swing, Latin, hip-hop or ska melodies, and even swampy roots rock.
Forget everything you thought you knew about the harmonica, and head to the Market Hall on January 21 to witness a no-holds-barred display of fun and melodic virtuosity. Tickets are $35 and are available from the box office at the Market Hall (140 Charlotte St., Peterborough), by phone at 705-749-1146, or online at www.markethall.org. Tickets are also available (cash only) at Moondance (425 George St., Peterborough, 705-742-9425).
2017 ReFrame Film Festival from January 27 to 29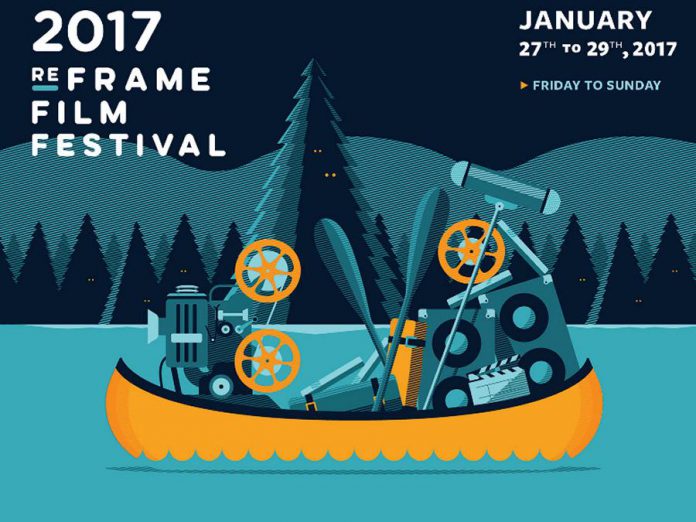 ReFrame, Peterborough's annual film festival, returns this year from Friday, January 27th to Sunday, January 29th with screenings and special events at the Market Hall, Showplace, The Venue, Galaxy Cinemas, and Catalina's.
The ReFrame Film Festival celebrates the latest works created by filmmakers from around the world, with a focus on documentaries on human rights and social justice.
The festival's screenings at Market Hall include two feature presentations, 13 short and full-length documentaries, and family friendly films, as well as a panel discussion and a benefit evening of music and spoken word.
VIDEO: Freightened: The Real Price of Shipping Trailer

On Friday, January 27th at 7:30 p.m., ReFrame presents the short film Microworld in a Balcony — the beauty of bugs, up close, in colour, and in constant motion — followed by the full-length documentary Freightened: The Real Price of Shipping, which examines the perils of cargo shipping and its hidden costs … including a devastating contribution to climate change.
Then on Saturday, January 29th at 7:30 p.m., ReFrame presents Obit, the story of obituary writers at the New York Times who have to condense a person's lifetime into 500 words, often within a few short hours, by digging through a catacomb-like archive of meticulously ordered files and photographs for the raw material.
VIDEO: Obit Trailer

There are another 13 short and feature-length documentaries screening during the day at the Market Hall from Friday to Sunday, along with REELKids at Reframe from 10 a.m. to 12 p.m. on Sunday, January 29th. REELKids is a family-friendly event featuring a live performance by circus artists along with animated and live-action shorts from the North.
On Saturday, January 28th, there's also the panel discussion "Family Filmmaking – Autobiographical and Biographical Portraits" at 3:15 p.m. and the late-night event "Water is Life", a benefit for Standing Rock featuring indigeous artists Words on Fire, Dawn Martin, Angela Semple, Tara Williamson, and Sean Conway, at 10 p.m.
Daytime passes for ReFrame are $30 adults ($20 students/underwaged) and advance tickets for evening feature films cost $15 ($10 if you have a daytime pass). For daytime films, rush seats are $10 at the door (if available).
For all the details about tickets and the schedule of films, visit reframefilmfestival.ca/.
Peterborough Pop Ensemble presents "A Delightful Afternoon with Gershwin, Porter and Berlin" on February 4 at 2 p.m.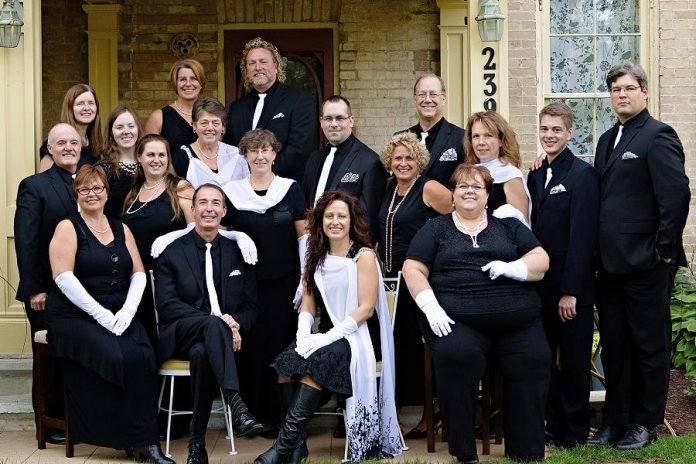 George and Ira Gershwin, Cole Porter, and Irving Berlin from the golden age of Hollywood and Broadway are considered to be the greatest songwriters of all time. The haunting melodies and enchanting lyrics of music composed by these great American composers is not at all like the music of today.
Led by artistic director Barbara Monahan, the Peterborough Pop Ensemble will bring the songs of these greats back to life with a matinee concert on Sunday, February 4th. For the first time, the ensemble will be accompanied by a string quartet.
Songs will include: the Gershwins' "Long Ago (and Far Away)", "I've Got a Crush On You", and "Summertime"; Cole Porter's "Night and Day", "You're the Top", "Another Op'nin', Another Show", and "I've Got You Under My Skin"; and Irving Berlin's "There's No Business Like Show Business", "Let's Face the Music and Dance", and "Always".
VIDEO: "It's Delovely" performed by Peterborough Pop Ensemble in 2014

"It's music which has stood the test of time — sending messages of love and hope to every generation, " says Barbara. "The Peterborough Pop Ensemble is looking forward to sharing this wonderful music with each of you."
Tickets are $23 for adults and $13 for studnets, available from the box office at the Market Hall (140 Charlotte St., Peterborough), by phone at 705-749-1146, or online at www.markethall.org. Tickets are also available (cash only) at Moondance (425 George St., Peterborough, 705-742-9425).
Sunday morning services with Peterborough City Church

When you think of the Market Hall, you probably imagine performing arts rather than religious services. But the latter is one of the more innovative uses of the venue this year, after the formation of Peterborough City Church a year ago this month.
Pastors Chad Trivett and Sasha Trivett hold services every Sunday morning at 10 a.m. at Market Hall as part of their non-denominational church.
Both Trivetts are ordained with the Fellowship of Christian Assemblies, a pentecostal Christian association. They met at Toronto's Tyndale University College and Seminary and eventually married. Just after getting married, they moved to Tokyo in Japan, where they started an international, interdenominational church.
In 2007, after spending six years in Tokyo (where their son Ari was born), they moved back to Sasha's hometown in Peterborough to be closer to family, and decided to form another interdenominational church. Peterborough City Church was born.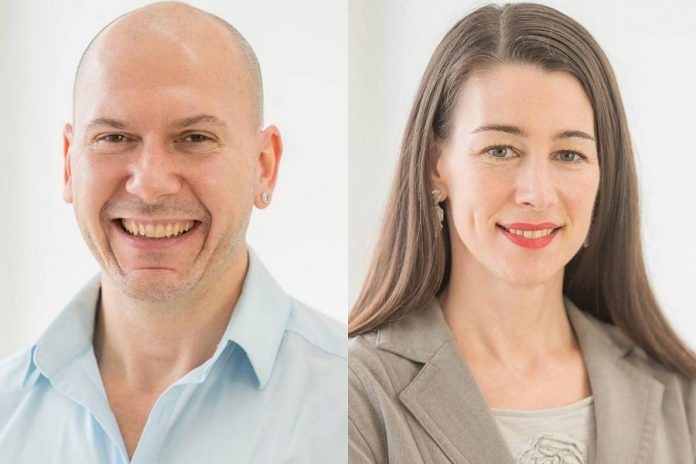 But the Trivetts needed a location to hold their weekly services, and realized the Market Hall would be an ideal space. There's also a connection between the church and the performing arts: Chad is in a band that performs contemporary music at the church.
Peterborough City Church offers "inspirational messages and music in an educational and engaging atmosphere where each can worship, pray and learn at their own pace." For a calendar of Sunday services at the Market Hall, including topics and special speakers, visit www.ptbocitychurch.com.