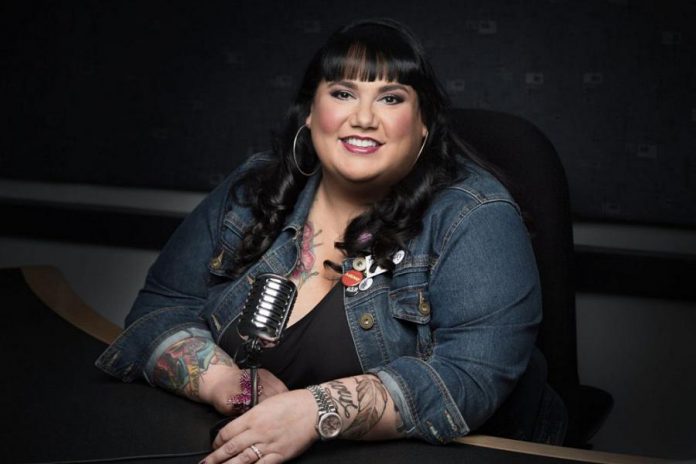 Candy Palmater remembers the first joke she ever told.
She'd been so shy as a child that her mother had enrolled her in majorettes to "help bring her out of her shell."
"The room was full of grown-ups, and I told this joke and it cracked the room up," Palmater says. "That felt kinda good. And I remember my mom looking at me with a sense of 'Wow, I can't believe that's my kid!'"
"That was the first hint of things to come," she says, although she adds it wasn't until much later she realized that humour was actually serious business.
In fact, all joking aside, Palmater's first career was as a lawyer.
"I went back and forth in high school, wanting to be a brain surgeon, and a judge, but I always came back to lawyer, so I went to law school," she says.
Palmater was born to a white mother and Mi'kmaw father in Point La Nim, New Brunswick. She now refers to herself as a "gay native recovered lawyer turned feminist comic."
Her television experience includes her own comedy variety program on APTN The Candy Show, as well as a recurring role on Trailer Park Boys. She had a radio program on CBC, and currently participates as a panelist in the 2017 Canada Reads project while owning a vibrant business as a motivational speaker.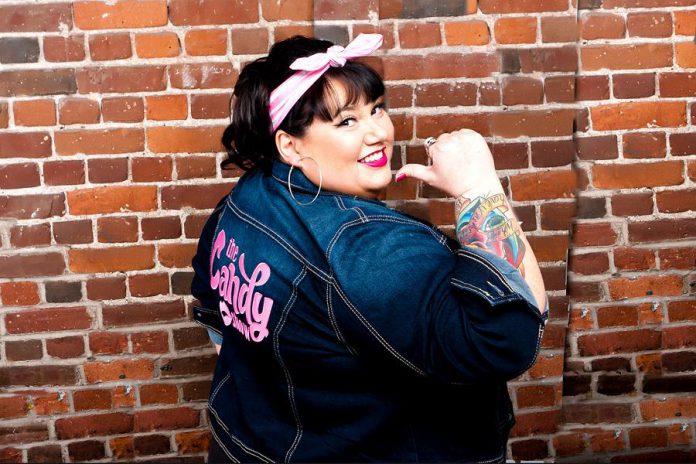 It's as a motivational speaker that Palmater will bring her unique brand of "serious humour" to Peterborough area women. She is one of three keynote speakers at Peterborough's first International Women's Day Conference, hosted by the Women's Business Network, that takes place on Wednesday, March 8th at the Ashburnham Reception Centre.
In her words, the experience of corporate law fit Palmater "like a bad suit." After the novelty wore off of a big glass office tower and staff whose job it was to get coffee, Palmater knew she had to jump ship.
A few other things played into the decision: Palmater had also awakened to her sexual identity; that led to a phone call to her boyfriend in which she said "I'm gay, I love you, goodbye."
The perfect storm of life events also included a conversation with her dying brother, who impressed on Palmater that time was a precious gift. When trying to decide what to do with her life, she was determined that she would live each day as if she would die the next without regret, having left nothing undone.
It's at this crossroads in her life that the 32-year-old "recovered lawyer" says she fell back on that long-ago lesson she'd learned in the room full of grown-ups when she was a shy, young majorette.
Enter the new Candy Palmater, who says trying her hand at the performance was the "best decision she ever made." She's been a resounding success, and continues to engage and inspire crowds wherever she goes.
VIDEO: Candy Palmater at the 2013 Indspire Awards

A defining moment for Palmater came shortly after her move into the world of comedy and it took her deep into a new realm. She was asked to cheer up the victims of residential school abuse after they gave testimony to a government committee about their abusive experiences. At first Palmater said it wasn't a "good fit." But when an Mi'kmaw elder called her and requested her attendance, there was really, in her mind, no option.
"You don't say 'no' to an elder," she says.
So, she did the gig, and after her performance in front of 500 survivors and their families, many thanked her.
But it was something else that curiously happened after that gig that took Palmater deeper into the psychology of humour. When the survivors thanked her for her speech, they also whispered in her ear, "Thank you so much, Candy, I spent five years in residential school" or "Thank you, I spent three years there." And on it went.
"They were wanting me to witness their pain," she says now. "I realized then how serious this funny business really is."
Now, Palmater says she is gentle with her humour, she is careful, and she makes a promise: you'll never go away feeling bad.
You will, however, go away inspired, because if Palmater's own story isn't enough — and there's a few secrets she is keeping back to reveal to her Peterborough audience — she will leave you with new tools for your toolbox. And while she's at it, she'll help you clear out the old tools that you don't need anymore.
"Humour is an incredible healer," Palmater says. "It's really no coincidence that when you laugh really hard, you also cry."
Don't miss your chance to hear Palmater speak at International Women's Day Conference Peterborough, as there are fewer than 20 seats left! For more information about the conference and to register, visit www.iwdptbo.ca.
VIDEO: Candy Palmater: 5 Authors That Changed My Life