4th Line Theatre, the acclaimed outdoor theatre company located in Millbrook, is preparing for its 2017 summer season with a free theatre workshop and staged reading on Saturday, February 4th, followed by the official opening of the theatre's box office on Monday, February 6th.
On Saturday, February 4th, the theatre company is hosting a free theatre workshop for aspiring actors from 10 a.m. to 4 p.m., followed by a free staged reading for the public. The workshop and reading will be of Leanna Brodie's Schoolhouse, ne of the most popular plays that 4th Line has ever produced.
The play, about one-room schools and the teachers who led them, includes many lead roles for young actors. During the workshop, actors will work with 4th Line Theatre's Managing Artistic Director Kim Blackwell and Creative Director Robert Winslow.
"This workshop is an opportunity to involve folks from our wonderful and talented community in an off-season artistic project," Blackwell says. Blackwell will direct the reading and Winslow will work alongside volunteers as an actor in the workshop and reading.
While the theatre workshop has already been cast, there are still seats available for the staged reading, which takes place at 4 p.m. at Centreville Presbyterian Church (574 County Rd 28, Bailieboro). Seating is limited and admission is free.
If you want to attend the staged reading, call the 4th Line Theatre box office at 705-932-4448 before 5 p.m. on Friday, February 3rd to reserve a seat. If you can't reserve a seat, you are still welcome to show up, as seats may still be available.
4th Line Theatre is also opening its box office to the public for ticket purchases and gift certificate redemptions for the 2017 summer season on Monday, February 6th.
This July, 4th Line Theatre will be staging the world premiere of David S. Craig's Bombers: Reaping the Whirlwind. Directed by David Ferry, the play tells the story of Peter, a man in his nineties, who is visited by a mysterious young woman whose curiosity about his wartime experience forces him to relive his memories of love, loss, and friendship.
Set against the electrified and heightened backdrop of World War II, the story follows Canadian bomber crews as they struggle to win the war. This action-packed epic has romance, danger, and music.
In August, the theatre company will also present another world premiere; The History of Drinking in Cavan. Written and directed by Robert Winslow, the play looks at alcohol consumption (or the lack thereof) in the local area over the past 200 years. Winslow and his alter-ego (King the town drunk) will take audiences on a wild historical ride from the early days of Irish settlement in the township through to present-day drinking practices.
The play veers from the anecdotal to the personal and from the outrageous to the serious, as Winslow shares the rich stories of local residents and his own experiences growing up in Cavan.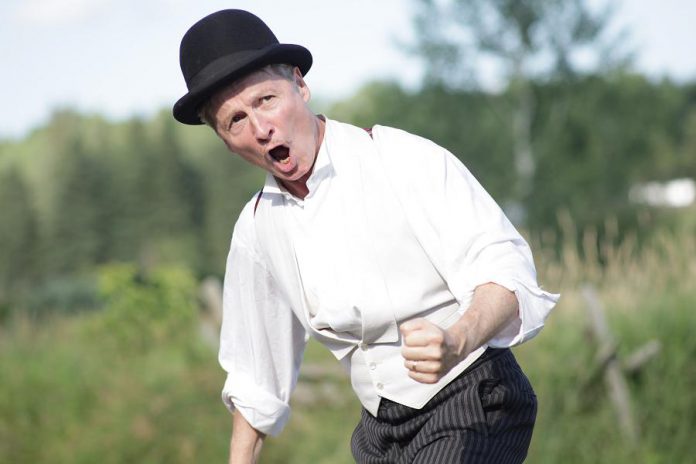 Beginning on February 6th, you can purchase tickets or gift certificates for the 2017 season at 4th Line Theatre's Box Office (4 Tupper St., Millbrook) or at the ticket outlet at the Peterborough Museum & Archives (300 Hunter St. E., Peterborough, 705-743-5180). You can also call 705-932-4445 or visit 4thlinetheatre.on.ca.
If you book tickets for a group of 12 or more, you'll save $1 on each ticket and, if booking 25 or more tickets, you'll save $2 per ticket. All groups get reserved seating, based on availability.