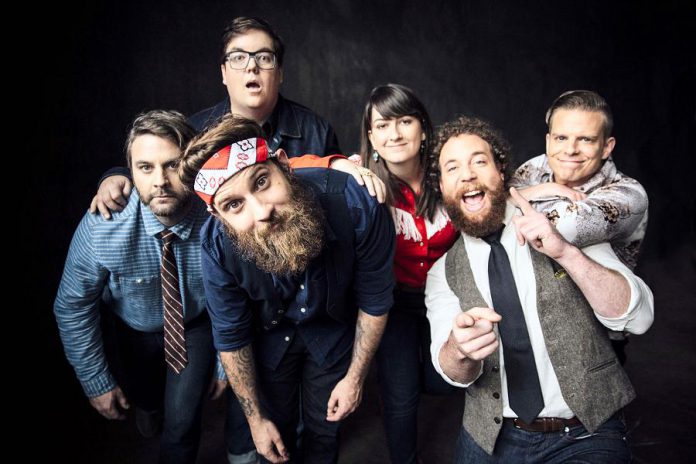 It's been quite a year for Lindsay's roots-rock band The Strumbellas.
First, the single "Spirits" from their April 2016 release Hope became a worldwide hit and they performed the tune on Jimmy Kimmel Live. Now they've been nominated for three JUNO Awards: Single of the Year for "Spirits", Group of the Year, and the JUNO Fan Choice Award.
The indie group faces some heavy competition in all three categories though.
Advertisement - story continues below
For single of the year, "Spirits" is up against "Wild Things" by Alessia Cara, "One Dance ft. Wizkid & Kyla" by Drake, "Starboy ft. Daft Punk" by The Weeknd, and "Treat You Better" by Shawn Mendes.
Other nominees in group of the year are Billy Talent, The Tragically Hip (the sentimental favourite), Arkells, and Tegan and Sara.
For Fan Choice Award, The Strumbellas are competing with Hedley, Justin Bieber, Drake, Shawn Mendiz, Allesia Cara, Belly, Ruth B, The Weeknd, amd Tony Lanez. You can help The Strumbellas win by voting for them or by using the hashtag #JFCTheStrumbellas on Facebook, Twitter, and Instagram.
VIDEO: The Strumbellas perform "Spirits" on Jimmy Kimmel Live! in 2016
Advertisement - story continues below
Despite their most recent success, The Strumbellas are no strangers to the JUNO Awards. They were nominated in 2013 for Roots & Traditional Album of the Year: Group for My Father and The Hunter and they won the 2014 JUNO for Roots & Traditional Album of the Year: Group for their record We Still Move On Dance Floors.
Formed in Toronto in 2008, The Strumbellas comprise songwriter Simon Ward on vocals and guitar, David Ritter on vocals and keys, Jon Hembrey on lead guitar, Isabel Ritchie on violin, Darryl James on bass guitar, and Jeremy Drury on drums. All members except Ritter and Ritchie hail from Lindsay.
If you want to see The Strumbellas perform locally in the near future, you're out of luck. They are going touring in Australia for a few dates in April followed by a tour of the U.S. in May and June. However, they will be performing during the JUNO Awards show on April 2nd in Ottawa so you can catch them on the broadcast.