When local songstress Mary-Kate Edwards was 15 years old, she almost didn't make it to her first major performance in Peterborough.
"I remember my first show at Market Hall when I was fifteen for the Youth for Music concert, and I had been practicing my song for four months," she recalls. "The song was 'Please Please Let Me Get What I Want' by The Smiths. But two hours before the show I started crying and I told my mom that I wasn't going to go."
"My mom said 'Mary-Kate, you've been playing this song every single day until midnight for the past four months. I'm going to die if you don't go tonight.' So she dragged me out the door and I did play. It's always been that way."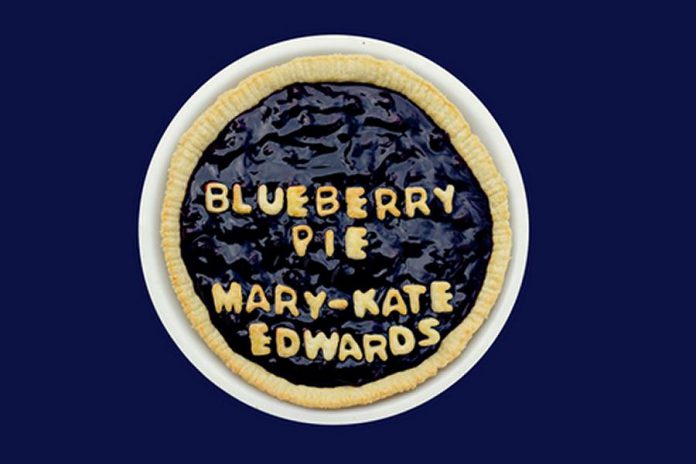 In the time since then, despite a few pitfalls along the way, Mary-Kate has become one of the most buzz-worthy singer-songwriters in the Kawarthas. On Friday. March 3rd, Mary-Kate will be releasing her first EP, Blueberry Pie, at The Spill in downtown Peterborough.
With deeply personal lyrics and a soft yet intense vocal delivery, Mary-Kate has been writing music since she was five years old. As the daughter of a writer and a musician, words and music has always been a major part of Mary-Kate's life.
"I'm a poet before I'm a musician," she says. "I've been writing poetry since a really young age. It's always something I did. My dad is a writer as well, so I was always inspired by him, and my mom is a musician."
"Normally my songs are based on emotional highs and emotional lows. I can't just get up and say I'm going to write a song today; I get a feeling and I need to write right now."
Musically active as a teenager, Mary-Kate was often seen at open stages at The Spill or the occasional performance at The Black Horse. However, upon entering Trent University, she nearly gave up her music for her studies.
"I guess I was having a little bit of an identity crisis," she explains. "My parents are very supportive of my music, and they were so supportive of me studying music, but I had it in my head that I should pursue something else."
"I love school, but I remember in first year it would be three a.m. and I'd be watching videos of Joni Mitchell and thinking to myself 'Why am I not doing this?' and I'd be so sad. I'd say to myself that fourteen-year-old me would hate me. She would say 'You promised yourself you'd always play music. You need to play music again.'"
Still writing music throughout this time, Mary-Kate began playing shows around Peterborough again and got to the point where she was performing a gig about once a week.
Then, in May 2016, Mary-Kate joined Kate Suhr, Chelsey Bennett, Missy Knott, Melissa Payne, and Celeste Terry at the YWCA Women for Women fundraiser at Market Hall. She found a bigger audience than ever before, and was further embraced by the local music community.
"I was super nervous because I hadn't played a show that big," Mary-Kate recalls. "I was the youngest person there, but everyone was really nice to me. The music scene is still very male dominated, but all the women in music in Peterborough really stick together. When I started getting back into music, I was welcomed with open arms by them."
Mary-Kate reveals that when she decided to record her album, she paid a visit to Chelsey Bennett in Toronto, who really encouraged her to put her plans into motion.
"Chelsey was the person who said 'Yes, do it!'," Mary-Kate says. "She just made it happen for me. She gave me all these contacts in Toronto. She was amazing."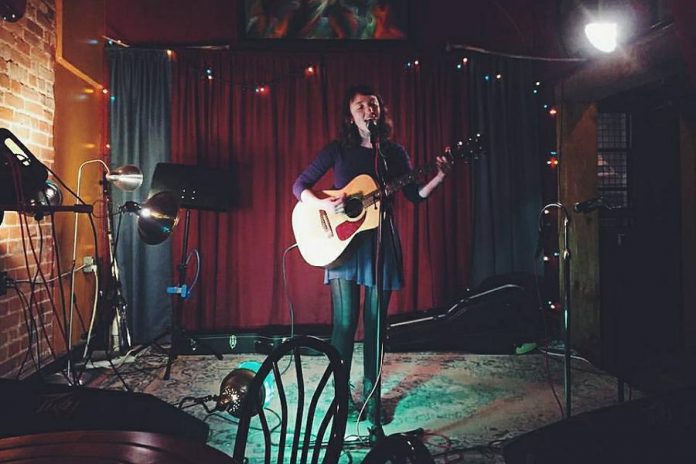 However, just prior to recording the album at James McKenty's studio, the old self-doubt from years before began to creep up on her once again.
"The week before I went into the studio I was crying and I called my mom and told her I wasn't going," Mary-Kate reveals. "But I've always been like that. I don't know why I'm like that. There is part of me that is grateful because it always pushes me to be the best I can be."
"I'm more scared of not making music. I'm terrified of that. Even when I came up with the idea of recording an album, I was terrified of doing it. But the worse feeling is thinking that I'm not going to do it."
Of course, Mary-Kate made her way into the studio to record the album and she says James and his family made her feel welcome and comfortable. In fact, the experience was so positive that she is already writing and preparing for her second release. Meanwhile, Mary-Kate has a busy schedule this summer performing at numerous folk festivals, and she'll be appearing at Pop Montreal in September.
"All the songs on Blueberry Pie are under a year old," Mary-Kate says. "It was my first time doing something and I wanted all the songs to be good. I didn't want them to be just another record that is thrown together. I'm really happy with all the songs on the record."
"I had seven friends in the studio helping me, and I really regard those people as family. I am so happy to have them in the studio with me, and they had such a big influence on my music."
Mary-Kate says it's the impact her words and music have on other people which drives her to continue making music.
"I wrote a song called Never Mine, which is on the album, and I remember when I played the song for the first time for an audience. I was really nervous because it's a lot different than the other songs I've written. But I was sitting at the bar after my set and a guy came up to me and said 'I really want to tell you that the last song of you set really hit me hard. It's exactly what I needed to hear.'"
"I think that's the beauty of art. Being able to comfort people, and bring an entire room to the high of a feeling, or to bring it down and quiet and make them think. The fact that everybody can have a mirror of a feeling, but at the same time have it be unique to them, I think that's a really beautiful thing."
For her EP release show on Friday, March 3rd at The Spill (414 George St. N., Peterborough, 705-748-6167), Mary-Kate will be joined by Adam Tario, Andrew Vatcher, and Missy Knott. The music starts at 9:30 p.m. and the cover is $10, which includes a copy of Blueberry Pie.