Two local businesswomen have teamed up for an initiative that's having a big impact on charities throughout the Kawarthas. PTBO Needs connects with the community to collect donations for the local charities that need them the most.
Amy McLeish of County Home Inspection and Jennine Hadfield of Mortgage Intelligence get a lot of requests for charitable donations directed to their businesses. They wanted to help the community, but like most businesses they couldn't afford to support every charity that came to their door.
That's when they came up with an idea: they would advocate for a different charity every month, making it easier for everyone in the community to support local charities directly.
Jennine says that involving the community meant that their efforts could have more impact.
"You can do a donation every month, but it's not going to be as significant as getting the community to work together."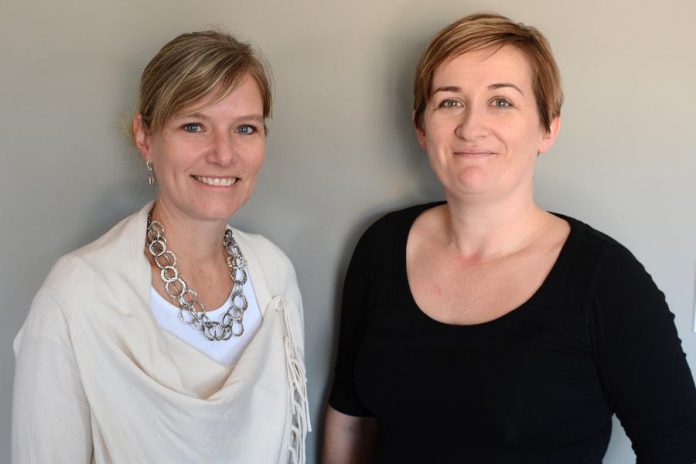 Every month, PTBO Needs posts a list of items needed by a local charity. People can drop donations at one of three drop boxes:
Blushed Beauty Makeup & Aesthetics (464 George St N, Peterborough, 705-772-5987)
Euphoria Wellness Spa (290 Water St, Peterborough, 705-741-4772)
That's A Wrap Catering (840 Armour Road, Peterborough, 705-768-7168)
If you want to make a donation but can't access a drop box, you can contact PTBO Needs for a pickup.
Amy says that removing obstacles to charitable donation has brought forth incredible generosity from the community.
"It's amazing how it took, how people grabbed hold of it and went for it. I think it's because most people want to do something to help people, but you just assume it's going to cost you a lot of money, or it's going to take up a lot of time, or you can't get to places to donate stuff."
In their first month (December 2016), PTBO Needs supported YWCA Peterborough Haliburton. Amy says that she was surprised with the huge response. "It really amazed me the amount of stuff that came in."
Jennine tried to take a photo of all of the donations they collected. "We put it all on my staircase and tried to take a picture. We couldn't fit it all in."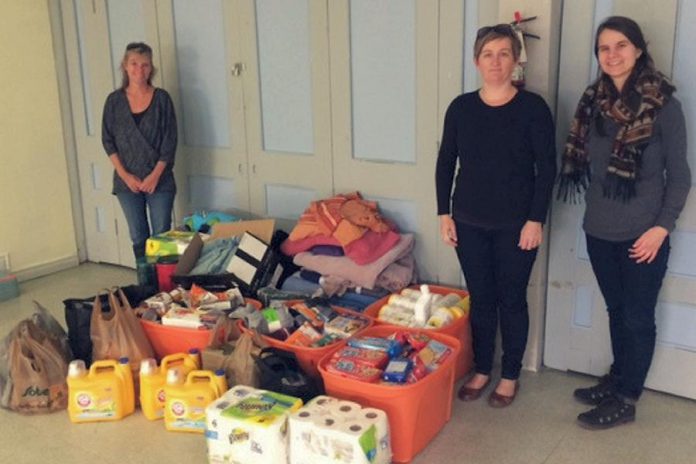 For their campaign for The Warming Room in January, they requested food, bedding and cleaning supplies. They collected enough fleece blankets to cover every cot in the Warming Room. Amy remembers one particularly generous donation.
"A lady contacted me to say that she had a couple of things for the warming room. I drove up to her house to go and get them and her husband told me 'you'll have to reverse your car up.' They opened their minivan and it was just full: 36 juice packs, bleach, all of this stuff. It was so lovely."
Last month they collected donations for the Peterborough Humane Society, including old blankets and towels, pet food, and treats.
This month, PTBO Needs is supporting YES Shelter for Youth and Families. Recently they posted a request for suitcases and Amy was surprised by the flood of responses.
"I thought people probably wouldn't bother with that one, but now everybody seems to have suitcases!"
Switching charities each month allows Jennine and Amy to reach out to a variety of causes. In April, they will be supporting cancer charities — including Cuddles for Cancer — to coincide with the Canadian Cancer society's fundraising month.
In May, they are working with the Multiple Sclerosis Society of Canada. They also have plans to assist the Brock Mission and the Kawartha Haliburton Children's Aid Society.
Amy and Jennine both make monthly donations with their families. They have had a great response not only from their own children, but from other youth in the community.
Fisher and River Stevenson, aged 7 and 9, also donate monthly. They became involved when PTBO Needs was advocating for The Warming Room. According to their mom, Sherry Stevenson, an experience downtown inspired them to get involved.
"In January, we were driving downtown and passed a man sitting on the curb asking for money. We were right beside him at a red light and I looked in my rear view mirror and saw Fisher looking at him. I told him not to stare or say anything.
"So he waited and when the light turned green and we left he asked me why the man was there. I explained that he was probably homeless, and he was asking for money. Fisher immediately asked why I hadn't given him anything and stated 'maybe his mother has died and that's why he's homeless'. He mentioned it a few times that evening."
That evening Sherry saw PTBO Needs' Warming Room campaign on Facebook and showed the boys, suggesting that the man they had seen might use The Warming Room's services. Sherry thought PTBO Needs was a great way to get her sons more involved in charity.
"My boys have a comfortable life. We aren't rich, but they have beds and clothing and Pokémon toys, and eat McDonald's more often than they should. I just think they need to realize that there are so many people needing help for different reasons. It seemed like time to do more."
Jennine says that at this point they are looking to get more of the community involved. "Our major goal is to get the word out there."
She appeals to local businesses to consider donating. "It's a way to help the community and get good exposure for your business."
Amy stresses that any donation, no matter how small, will have an impact.
"You don't have to bring a great big ton of stuff. Just bring one thing and that one thing, with everyone else's one thing, could be huge."
You can stay up to date with PTBO Needs on Facebook, Twitter, or Instagram.
VIDEO: Jennine Hadfield and Amy McLeish explain how PTBO Needs works

All photos courtesy of PTBO Needs.