Peterborough & The Kawarthas Tourism — in partnership with Parks Canada and The Canadian Canoe Museum — is offering a unique tourism experience this summer: a combination tour and dining experience at the Peterborough Lift Lock.
The "Under Water Dining at Lock 21" concept was tested last June, when 12 people had the first opportunity to dine under the Lift Lock, and now the tourism agency is offering four more chances to experience it: Thursday, June 15th from 3 to 8 p.m., Monday, July 17th from 5 to 10 p.m., Thursday, August 17th from 5 to 10 p.m., and Friday, September 15th from 3 to 8 p.m.
Each event is limited to 16 people, at a cost of $265 per person (plus HST). Bookings can be made beginning at 10 a.m. on Monday, March 27th by visiting thekawarthas.ca/uwd/.
The test run last summer was extremely popular, receiving attention from national media including a feature in The Toronto Star.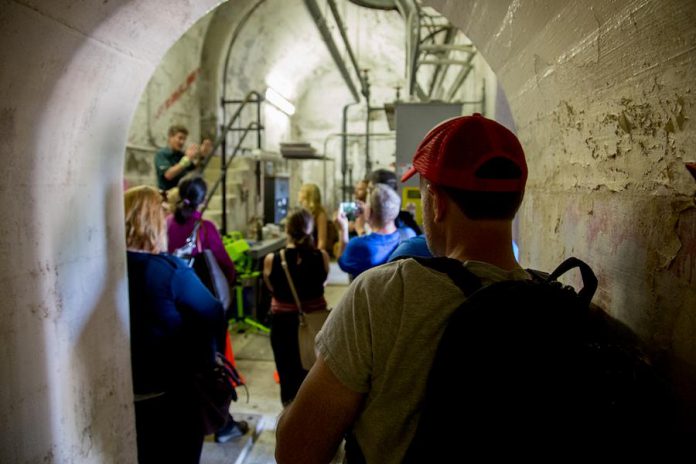 "Under Water Dining at Lock 21" begins with a trip through The Peterborough Lift Lock in The Canadian Canoe Museum's 36-foot Voyageur canoe, guided by an actor portraying "Richard Birdsall Rogers", the man who engineered the lift lock, who will share stories of the design, construction, and workings of the world's highest hydraulic lift lock. Particpants will then join the Lockmaster in his booth where he will describe the current day's operations.
After the canoe trip, participants will enjoy mocktails and hors d'oeuvres while listening to live music from local musicians, and meet Tres Hombres — the trio of local chefs who are known for preparing culinary delights in unexpected locations.
The Lockmaster will then guide guests down the tunnels, stairways and chambers inside the Lift Lock, while explaining how it operates. The tour ends in the lower chamber where Tres Hombres Chefs Brad, Kevin, and Mike will prepare a five-course dinner featuring fresh local ingredients sourced from local farmers and producers and paired with a tasting of specially selected wines or beer.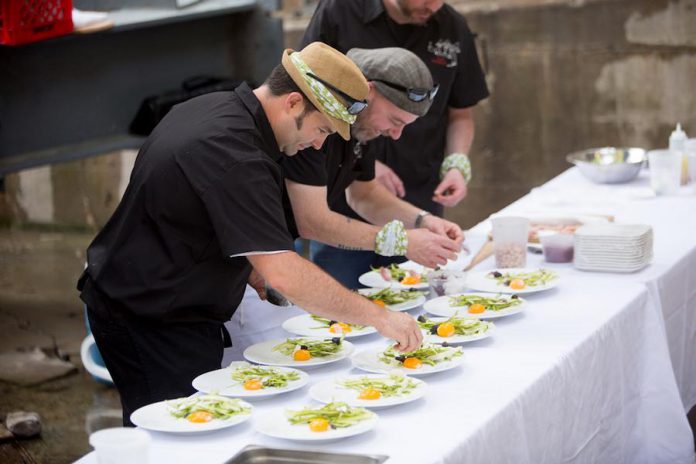 After dinner, guests will retire to the Turbine room for dessert and appertifs while the Lockmaster shares stories about the ghostly residents of the Lift Lock. At the end of the event, each guest will receive a special memento of the experience.
For more information about "Under Water Dining at Lock 21", including more details about the experience, visit thekawarthas.ca/under-water-dining-lock-21-overview/.