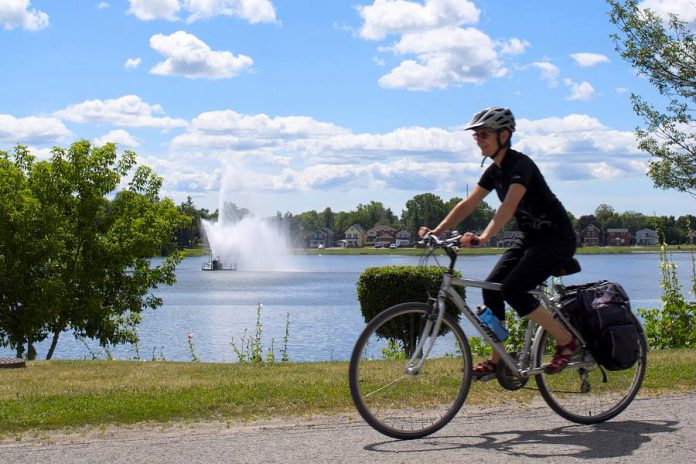 Making changes to your daily habits can be difficult, and though the fair weather is calling you outside to walk or bike to your next class, shift, or appointment, there may be some obstacles you face in making it happen.
Community Shifting Gears, Peterborough's month-long transportation challenge, hopes to help you overcome those obstacles by providing workshops, resources, and prizes this May. When you sign up, you will become part of the on-line Shifting Gears community, receiving tips and incentives that will support and motivate your shift to more active and sustainable transportation options.
Support from the community doesn't solely come from the on-line challenge. Many workplaces, schools, and groups are finding creative new ways to support the shift with innovative programs, infrastructure, and policy.
Peterborough Public Health has been a long-time partner of Community Shifting Gears; active and sustainable transportation helps to meet many public health goals.
"There is evidence that active transportation increases physical activity, improves mental health, reduces vehicle-related injuries and deaths, reduces air pollution, and can reduce health inequity," says Kate Dunford, Public Health Nurse at Peterborough Public Health, "Supporting the move towards active travel within our organization helps us reach these goals in our community."
The Peterborough Public Health Green Team created a new employee bike share program to support the shift within their organization. Management and employees have worked together to develop a workplace policy that supports active transportation. As part of this policy, they now provide bikes geared up with commuter accessories like locks and bells, which can be signed out by employees who are off to a meeting or local event.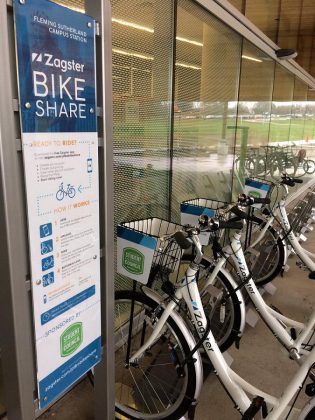 "The bike share makes cycling more accessible and allows employees the option to commute actively throughout the workday," says Dunford.
With offices downtown, Public Health is less than seven kilometres from most places in Peterborough, making a commute by bike possible. The bike share makes it easy and convenient, even for those employees who live outside of town.
Teachers also see the value in shifting gears for their students. An active and sustainable morning commute can help the school promote personal and environmental health, but they are also aware that a daily walk or bike ride to school can help students arrive to class more alert and ready to learn.
Thomas A. Stewart Secondary School (TAS) has been the winner of the Community Shifting Gears Top School Travel Wise award, two years running.
TAS already had a few things going for them to motivate the shift. They are located along the popular Rotary Trail, have a number of bike parking spots, and many students already use Peterborough Transit as their school bus on a daily basis.
In addition, TAS has taken advantage of the resources offered during the community challenge. They have held registration events with free draw prizes provided by Shifting Gears, and hosted bike tune-up workshops throughout May. Weekly draws for student participants at all high schools will include cafeteria gift certificates to encourage students to log their sustainable trips, and this year a TREK bike is up for grabs as the Student Grand Prize!
Community groups and clubs are motivating the shift, too. Some participants have been at it almost as long as Community Shifting Gears itself.
In 2007, the Peterborough Ultimate Frisbee League introduced the Carbon Flip. Instead of flipping a coin to determine which team pulls and which receives the Frisbee to start the game, this was determined by the percentage of players who walked, biked, or carpooled.
"The Carbon Flip intended to encourage more car-pooling and cycling to games, but it is also a way to keep environmental issues top of mind and provide a tangible example to our community of how green priorities can easily complement regular activities," says Cam Taylor, past-president of the Peterborough Ultimate League.
The benefits of winning The Flip may be modest within the game itself, but the social implications of increased car-pooling and cycling convoys have served to strengthen the friendships within the league.
"The camaraderie aspect was a bigger influence than we could have ever envisioned, but it makes complete sense," reflects Taylor, "Teammates who were car pooling would arrive at someone's house half an hour before the game, and then ride to and from the game together. The social implications of that time together meant people got to know one another outside of the game itself. This has been, I believe, a huge benefit to our community."
Whether you are an individual looking to shift gears this spring, a manager looking to encourage the shift in your employees, or a teacher hoping to inspire sustainable travel by your students, Community Shifting Gears can help you support the shift.
This year's challenge offers workshops, services, and incentives. As a new incentive this year, the first 500 participants to log 15 trips in May will receive gift cards towards gear that will make walking, biking, and transit trips more convenient.
New consultation services are available this year to help workplaces and schools support and motivate the shift. For instance, Community Shifting Gears can help you complete a bike-friendly audit, develop new transportation policies, and build employee incentive programs.
From April through June, workshops are available to help you plan and prepare for your new commute. Bike Night workshops, offered by GreenUP and B!KE, are open to all community members, workplaces, and schools; groups can also book special workshops for their employees, students, and members.
The challenge runs the entire month of May and is supported by GreenUP, the City of Peterborough, B!KE, Peterborough Public Health, and Wild Rock Outfitters.
For more information on the Community Shifting Gears challenge and services, visit peterboroughmoves.com, or get in touch with Lindsay Stroud, Manager, Transportation and Urban Design programs at lindsay.stroud@greenup.on.ca or 705-745-3238 x209.